This edition of Today in Books is sponsored by Litworld Publishing House. Get Patch 17 for FREE today by clicking the cover below: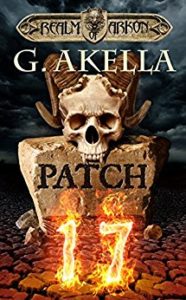 ---
Author, Can You Spare a Dime? (No, They Cannot)
I don't think any clear-eyed person decides to become an author in order to accumulate obscene wealth. But as it turns out, it's almost impossible to eke out a living by writing alone. A new report by the UK nonprofit Authors' Licensing and Collecting Society says that professional writers have a median income of under £10,500 a year, or $13,774. And like their counterparts across all industries, women authors are earning just 75% of what men get.
J. K. Rowling Gets Her Letter
Authors in the UK have another reason to envy outlier J. K. Rowling: she just got invited to join the Academy of Motion Pictures in the Writer category. She joins 927 other new members, 49% of whom are female. But my favorite stat about the new class? The new additions mean the people of color in the Academy have doubled since 2015…to 16% of overall membership. It's a low bar, but we need something to celebrate.
First Look at Kristen Wiig in "Wonder Woman 1984"
More film adaptation news! It's the teensiest of sneak peeks, but director Patty Jenkins shared a photo of Kristen Wiig as Barbara Minerva, aka Wonder Woman villain the Cheetah. She's shown in a museum, wearing an outfit I am sure my mild-mannered mom had back then, so we'll have to wait for a more Cheetah-licious lewk later.