Hello mystery fans! I've got a fictional serial killer, a British detective, a #MeToo novel, plus a bunch of releases for you this week. Also, The Tonight Show is doing a summer book club and IQ and The Good Son are on the list of 5 book choices. You can see the other three options and vote here!
---
Just for Book Riot readers: sign up for an Audible account, and get two audiobooks free!
---
Dark Serial Killer Page-Turner (TW: rape scenes/ domestic violence/ pedophilia off page)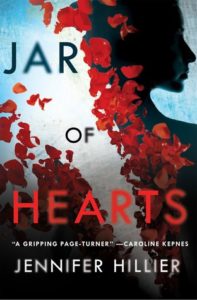 Jar of Hearts by Jennifer Hillier: Geo Shaw is a wealthy 30-year-old executive who is now going to jail because the body of her high school best friend has finally been found, 14 years later. She's cooperating with authorities, doing her time, and trying to get her life back on track. Problem is, there's a string of new murders, and the bodies are being left with a message. Is Geo being targeted, or does she still know more than she's told? I inhaled the audiobook, as I really quite liked getting to know Geo (especially her time in jail) and was definitely doing the "gimme more" while waiting for the reveals. (I find the summary gives away a lot of the book, so if you don't like knowing a lot before hand you may want to avoid reading the entire summary.)
A Novel for Our #MeToo Times (TW: rape scenes/ suicide/ cutting)
Any Man by Amber Tamblyn: Tamblyn has effectively spotlighted our rape culture, focusing on how we treat and talk about victims and perpetrators, through the use of prose and poetry that focuses on male victims of a female serial rapist. It's a difficult, yet important book to read that doesn't let you look away. It succeeds in continuing the very necessary conversations of the #MeToo movement, but also left me with questions rattling around in my brain: Was the centering of fictional male victims so powerful because the genre is essentially always female victims? Is it partly because we've been trained to center men's stories and feelings as most important? Are we just not "used to" hearing male stories because, fictionally and in real life, they come forward even less than women? There were a few parts of the novel that felt like Tamblyn just cut herself open and poured herself onto the page the way Roxane Gay does, and it stayed with me. And most likely will for a long time.
Just What My Procedural-Loving Heart Needed (TW: rape)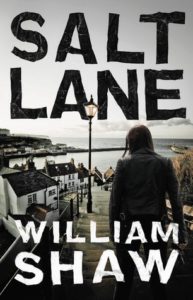 Salt Lane (DS Alexandra Cupidi #1) by William Shaw: I loved Shaw's The Birdwatcher (review) and my only note at the time had been that I'd wish there had been more of a side-character. Well, let me tell you, dreams do come true because that character is the star of this new series! DS Alexandra Cupidi is having a difficult time in her private life–new home, struggling teen daughter, still settling in her new job, visiting mother, new partner–when a difficult case of a dead Jane Doe is assigned to her. Then a John Doe. Will Cupidi be able to keep her quick temper, big mouth, and inability to follow procedure to stay safe in check in order to solve these cases? A great procedure, with a flawed lead you root for, which incorporates current political issues. I'm already counting down the days for #2! (You do not need to have read The Birdwatcher to read Salt Lane, but I recommend both because they're great reads.)
Recent Releases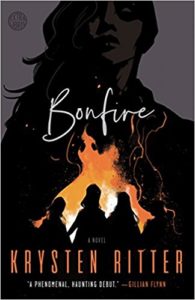 Bonfire by Krysten Ritter (Paperback) (Jessica Jones wrote a good thriller: Review)
Dead Girls: Essays on Surviving an American Obsession by Alice Bolin (Currently reading: A really good exploration of the dead girl trope in films and novels and our society's obsession with dead women.)
Murder at the Mansion (Victorian Village Mysteries #1) by Sheila Connolly (TBR: Cozy mystery set in Maryland.)
Bimini Twist (Jane Bunker Mystery #4) by Linda Greenlaw (Currently reading: A non-nonsense former Miami homicide detective is now living in Maine as an insurance investigator and deputy sheriff.)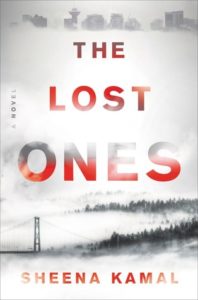 The Lost Ones by Sheena Kamal (Paperback) (Great noir with thriller ending: Review)
Conan Doyle for the Defense: The True Story of a Sensational British Murder, a Quest for Justice, and the World's Most Famous Detective Writer by Margalit Fox (Currently listening to the audiobook: Really interesting look at the author of Sherlock and how he used his own deduction skills on a real case.)
Peril & Prayers (A Sister Lou Mystery #2) by Olivia Matthews (Currently reading: Cozy mystery where Sister Lou, her nephew, and a reporter try to solve the murder of a retreat's owner.)
On Her Majesty's Frightfully Secret Service: A Royal Spyness Mystery by Rhys Bowen (Paperback) (Historical mystery)
The Girl Who Takes an Eye for an Eye: A Lisbeth Salander Novel by David Lagercrantz (Paperback)
Browse all the books recommended in Unusual Suspects previous newsletters on this shelf. And here's an Unusual Suspects Pinterest board.
Until next time, keep investigating! And in the meantime come talk books with me on Twitter, Instagram, and Litsy–you can find me under Jamie Canaves.
If a mystery fan forwarded this newsletter to you and you'd like your very own you can sign up here.