Welcome back to In The Club, a newsletter of resources to keep your book group well-met and well-read. Let's dive in.
---
This newsletter is sponsored by Those Other Women by Nicola Moriarty.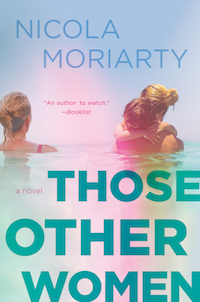 Nicola Moriarty weaves another stunning domestic novel in this story of working women whose Facebook group, designed to forge a connection and solidarity among childless women, quickly descends into something much more sinister when one of the members starts leaking secrets. Those Other Women is a story of privilege, unspoken rivalries, and small acts of vengeance with huge repercussions.
---
Cheese club! Here's a round-up of five books about cheese, to which I would like to add The Telling Room by Michael Paterniti.
Book group bonus: Obviously, you need the right cheese pairing depending on the book!
More Pride recs!
– LGBT Authors pick books to read during Pride month
– How about some LGBTQ YA?
– Prefer historical fiction? We've got 28 queer reads for you.
– For the audiobook fans, here are memoirs written AND read by their LGBTQ authors.
– And for those who want nonfiction, here are 50 must-reads about LGBTQ history.
The World Cup continues, and perhaps you would like read-alongs? Here are book recs organized by competing country!
Book group bonus: My new dream is to do a book group "bracket" during a World Cup, either with soccer-related books or with regional novel picks, with votes taken at each meeting to move the books along until there is an ultimate winner. Someone steal that please.
File under "highly anticipated": Here are CrimeReads' summer picks for mystery/thrillers.
Book group bonus: I am personally so excited to see Cara Black and Aya de Leon on there, if you're looking for a particular place to start since 72 is A LOT.
Want something current? A Book Rioter rounded up 2018 books that she thinks are must-reads for book clubs.
Book group bonus: I love that this list has multiple genre options as well as nonfiction!
Page and screen alert: Some romances to pair with your Ocean's 8 viewing.
Book group bonus: Whether or not you want to read a romance, a heist-focused book club pick is bound to be a fun one. And then you could plot your own imaginary heist! (Totally imaginary. Obviously. Ahem.)
Need shorter options? Here are some famous authors' first published stories.
Book group bonus: If you're nervous that discussing a short story won't generate enough to talk about, you could do multiple stories for one meeting, or pair one of these author's short stories with a novel you've already read, or plan to read.
And that's a wrap: Happy discussing! If you're interested in more science fiction and fantasy talk, you can catch me and my co-host Sharifah on the SFF Yeah! podcast. For many many more book recommendations (including the occasional book club question!) you can find me on the Get Booked podcast with the inimitable Amanda.
Your fellow booknerd,
Jenn
More Resources:
– Our Book Group In A Box guide
– List your group on the Book Group Resources page