This edition of Today in Books is sponsored by Hangman by Jack Heath, new from Hanover Square Press.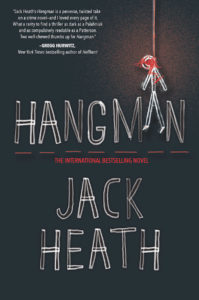 ---
The World's Most Beautiful Bookstores
Electric Literature has rounded-up the bookstores worth traveling around the world to see, and if these photos are any indication I'd happily live in any of these shops. From grand ceilings and staircases to you're-gonna-need-a-gondola, start packing now because we all deserve this trip.
3 Writers Diversifying Detective Fiction
While publishing as a whole has a lot of work to do when it comes to inclusion, the crime genre is especially in need of major work: "For every PI novel with a protagonist of colour, there are about 10 books about gruff white cops falling in love with murdered white women, 10 'girl' books about murderous white women, and 10 more about serial killers in Scandinavia," says Cha. Authors Steph Cha (Juniper Song noir series), Alex Segura (Pete Fernandez series), and AA Dhand (D.I. Harry Virdee series) spoke with the Guardian about their detective novels and the lack of diversity in the crime genre.
Watch The Trailer For The Sinner Season 2
USA Network's adaptation of Petra Hammesfahr's The Sinner was such a hit that they decided to continue by turning it into an anthology series. Detective Harry Ambrose is back in season 2, and it appears the creators are continuing with the whydunnit mystery, again with another seemingly kind, innocent appearing character that no one would ever suspect could commit such a horrific act. The series returns August 1st.
AND Book Riot is giving away $500 (look at those zeros!) to the bookstore of your choice! Enter here you lucky people!