Welcome to Check Your Shelf! This is your guide to all things book talk worth knowing to help librarians like you up your game when it comes to doing your job (& rocking it).
"Check Your Shelf" is sponsored by Dream Country by Shannon Gibney.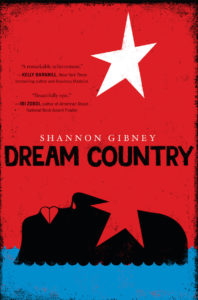 A story across countries, generations, and time, Dream Country follows one single African-and-American family pursuing an elusive dream of freedom from Liberia to America back. Told in five different sections, Shannon Gibney spins a riveting tale of the nightmarish spiral of death and exile connecting America and Africa, and of how one determined young dreamer tries to break free and gain control of her destiny.
---
Before we dive in…
If you're attending ALA in New Orleans next week, hop by the Networking Uncommons Saturday morning, June 23, between 8:30 and 9:00 AM. Kelly will be there and wants your input on how Book Riot can better serve librarians. Bring ideas and suggestions for what we might do to make your work even better and easier.
Libraries & Librarians
Book Adaptations in the News
Books in the News
By the Numbers
Award News
Pop Cultured
All Things Comics
Audiophilia
Book Lists, Book Lists, Book Lists
Bookish Curiosities & Miscellaneous
Level Up
Do you take part in LibraryReads, the monthly list of best books selected by librarians only? Whether or not you read and nominate titles, we'll end every newsletter with a few upcoming titles worth reading and sharing (and nominating for LibraryReads, if you so choose!). inks here will direct to Edelweiss digital review copies. These books hit shelves in September, giving you plenty of time to read and nominate by July 20th.
And to help librarians find more diverse titles for Library Reads, Kelly put together this awesome database & reference guide with a list of upcoming diverse books. No more excuses, fellow librarians. Time to diversify our reading suggestions.
Always Another Country by Sisonke Msimang. "An intimate story of exile and homecoming by the South African author whose TED Talk touched millions."
I Should Have Honor: A Memoir of Hope and Pride in Pakistan by Khalida Brohi. "A fearless memoir about tribal life in Pakistan—and the act of violence that inspired one ambitious young woman to pursue a life of activism and female empowerment."
Washington Black by Esi Edugyan. "From the author of the award-winning international best seller Half-Blood Blues comes a dazzling new novel, about a boy who rises from the ashes of slavery to become a free man of the world."
Thanks for hanging out! We'll see you back here in two weeks with another edition of Check Your Shelf.
–Katie McLain, @kt_librarylady on Twitter
Currently reading The Witch Elm by Tana French.