Welcome back to In The Club, a newsletter of resources to keep your book group well-met and well-read. Let's dive in.
---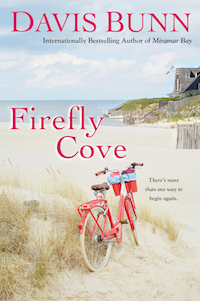 This newsletter is sponsored by Kensington Publishing Corp and Firefly Cove by Davis Bunn.
Internationally bestselling author with more than 7 million novels in print, Davis Bunn welcomes readers to Miramar Bay, a special seaside town of hope and renewal, where even a man with a fatal heart defect can get a second chance at life and love.
---
Persist is back! Our next feminist book club pick is Eloquent Rage by Brittney Cooper, the discussion will run June 18 – July 9, and you can participate on Instagram!
Bolster your Pride month and/or general LGBTQ reading with the Lambda Award winners!
Book group bonus: I can personally vouch for Her Body and Other Parties and Autonomous, both of which are difficult and complicated reads — perfect for an in-depth discussion.
Related! Here's a list of LGBTQ+ poets.
Book group bonus: When was the last time you picked a poetry book for discussion? How did it go? There's an opportunity here for the poetry-shy and -resistant members to be in conversation with the poetry-fluent members of the group about what the medium means to them, what their struggles are, and different approaches for reading poetry.
And speaking of award winners, Kamila Shamsie's Home Fire has won this year's Womens Prize For Fiction.
Book group bonus: You could get a lot of mileage out of the list of past winners as well.
Wedding season is in full swing, and we have a list for that.
Book group bonus: Not only do I feel like everyone has a favorite wedding novel, but I bet they also have a favorite wedding movie! Have a discussion focused around those, and/or add a screening. Related: Mamma Mia! Here We Go Again will be in theaters in July.
Love history and Southern literature? Here are eight novels that combine them.
Book group bonus: This is a great opportunity to look through your previous picks and see what your geographic distribution is like. Do you tend to stick to certain areas? Why/why not?
Have you read a kids' book lately? If not, here's a great starting point: middle grade books about the immigrant experience.
Book group bonus: I've mentioned before how interesting it can be to see a certain issue handled in fiction for various target audiences, and this is a great one to dig into.
We've also got a list of books about the refugee experience, specifically in comic/graphic novel form.
Book group bonus: Same as above, except substitute format for target demo!
Here's a reminder that our bookstore gift card giveaway is still open, and you can enter here to win a $500 gift card to the bookstore of your choice!
And that's a wrap: Happy discussing! If you're interested in more science fiction and fantasy talk, you can catch me and my co-host Sharifah on the SFF Yeah! podcast. For many many more book recommendations (including the occasional book club question!) you can find me on the Get Booked podcast with the inimitable Amanda.
Your fellow booknerd,
Jenn
More Resources: 
– Our Book Group In A Box guide
– List your group on the Book Group Resources page