Hey Kid Lit friends,
There have been so many fantastic middle grade books out this year so far, and I really tried to keep the list to ten but really could not cut anything, so I'm just going to drop twenty-one on here. Happy reading!
---
Sponsored by The Boy from Tomorrow, by Camille DeAngelis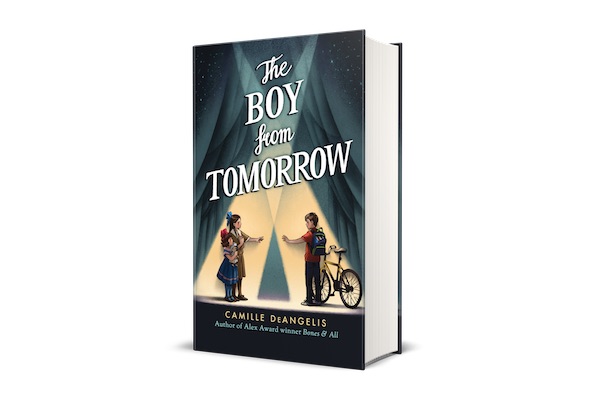 Josie and Alec live at 444 Sparrow Street. They sleep in the same room, but they've never laid eyes on each other. They are 12 years old and 100 years apart. The children meet through a hand-painted talking board—Josie in 1915, Alec in 2015—and form a friendship across the century that separates them. But a chain of events leave Josie and her little sister Cass trapped in the house and afraid for their safety, and Alec must find out what's going to happen to them. Can he help them change their future when it's already past?
---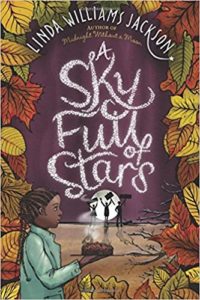 A Sky Full of Stars by Linda Williams Jackson
This sequel to Midnight Without a Moon by Linda Williams Jackson is set in Mississippi in the 1950's. Rose Lee Carter lives with her sharecropper grandparents, and in the first book she grapples with the murder of Emmett Till, a young man who is convicted and then killed for whistling at a white woman. In this book, Rose continues to struggle with staying in the south when opportunities arise for her to go north, while also feeling caught between the mounting racial tension and differing ways her friends want to address the injustice. This book is gorgeously written and the author is a much needed voice in children's literature. Note: Ghost Boys by Jewell Parker Rhodes (also on this list) incorporates the true story of Emmett Till as well.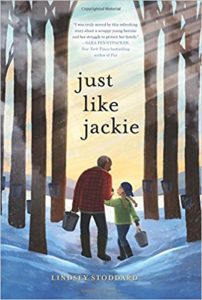 Just Like Jackie by Lindsay Stoddard
For as long as Robinson Hart can remember, it's just been her and Grandpa. He taught her about cars, baseball, and everything else worth knowing. But Grandpa's memory has been getting bad—so bad that he sometimes can't even remember Robbie's name. She's sure that she's making things worse by getting in trouble at school, but she can't resist using her fists when bullies like Alex Carter make fun of her for not having a mom. Now she's stuck in group guidance. There's no way Robbie's going to open up about her life to some therapy group, especially not with Alex in the room. Besides, if she told anyone how forgetful Grandpa's been getting lately, they'd take her away from him. He's the only family she has—and it's up to her to keep them together, no matter what.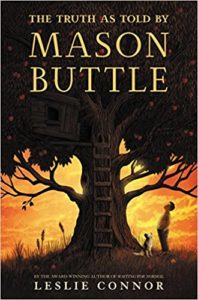 The Truth as Told by Mason Buttle by Leslie Connor
I love the way author Leslie Connor writes about unusual circumstances and characters with such warmth and heart. (Her previous book, All Rise for the Honorable Perry T. Cook, was amazing). Her new book is about Mason Buttle, the biggest, sweatiest kid in his grade, and everyone knows he can barely read or write. Mason's learning disabilities are compounded by grief. Fifteen months ago, Mason's best friend, Benny Kilmartin, turned up dead in the Buttle family's orchard. An investigation drags on, and Mason, honest as the day is long, can't understand why Lieutenant Baird won't believe the story Mason has told about that day.
Checked by Cynthia Kadohata
This book had me completely hooked from the first page. It's about a middle schooler who loves his Doberman, hockey, and his dad. I absolutely love the voice in this book and found the hockey references both informative and fascinating. There are not too many books that talk in detail about kids who are determined to be professional athletes, and this doesn't mince both the highs and lows of training to be the best in their sport.
Stanley Will Probably Be Fine by Sally J. Pla
We need more characters like Stanley Fortinbras in children's literature! Stanley struggles with anxiety, which prevents him from making friends, trying new things, and participating in a much anticipated comics trivia scavenger hunt. I loved this book and have already recommended it to many kids who struggle with anxiety.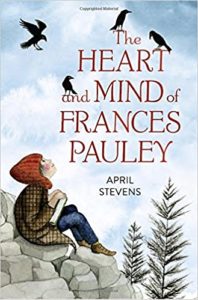 The Heart and Mind of Frances Pauley by April Stevens
I cried my way through this story by April Stevens, a beautifully written book about Frances (she prefers to be called Figgrotten), who is happiest when she's all alone sitting in her rock cave observing the world around her. But things around her keep changing and Figgrotten can't seem to keep up: her sister suddenly hates her, a new boy who breaks all the etiquette rules enters her class, and her best friend Alvin, her bus driver, gets sick. This book is a beautiful homage to quiet, nature-loving, world wondering kids all over.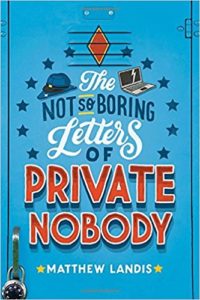 The Not-So-Boring Letters of a Private Nobody by Matt Landis
This book had me laughing out loud in every chapter. Twelve-year-old Oliver Prichard is obsessed with the Civil War, so when the last assignment of seventh-grade history is a project on the Civil War, Oliver is over the moon–until he's partnered with Ella Berry, the slacker girl with the messy hair who does nothing but stare out the window. And when Oliver finds out they have to research a random soldier named Private Raymond Stone who didn't even fight in any battles before dying of some boring disease, Oliver knows he's doomed.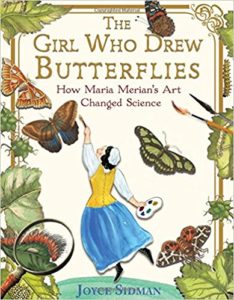 The Girl Who Drew Butterflies by Joyce Sidman
I first read this book a few months ago and promptly shared my love for it with my local librarian, who used to work at the New York Botanical Garden library and who loves Maria Merian. This biography is stunning; I learned so much about this pioneer, one of the first naturalists to study live insects and document the metamorphosis of the butterfly.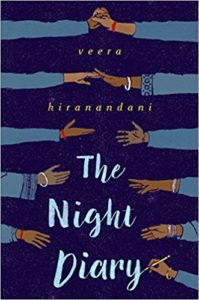 The Night Diary by Veera Hiranandani
An epistolary novel about a girl growing up in 1947 after India's separation into two countries: India and Pakistan. Half-Muslim, half-Hindu twelve-year-old Nisha doesn't know where she belongs, or what her country is anymore. When Papa decides it's too dangerous to stay in what is now Pakistan, Nisha and her family become refugees and embark first by train but later on foot to reach her new home. The journey is long, difficult, and dangerous, and after losing her mother as a baby, Nisha can't imagine losing her homeland, too. But even if her country has been ripped apart, Nisha still believes in the possibility of putting herself back together.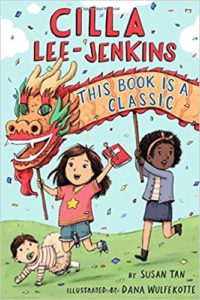 Cilla Lee-Jenkins: This Book Is A Classic by Susan Tan, illustrated by Dana Wulfekotte
I'm very excited about the continuation of Susan Tan's Cilla Lee-Jenkins series! In this second book, Priscilla "Cilla" Lee-Jenkins has just finished her (future) bestselling memoir, and now she's ready to write a Classic. This one promises to have everything: Romance, Adventure, and plenty of Drama―like Cilla's struggles to "be more Chinese," be the perfect flower girl at Aunt Eva's wedding, and learn how to share her best friend.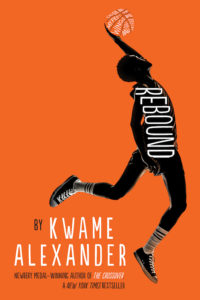 Rebound by Kwame Alexander
Kwame Alexander's prequel to The Crossover is coming out on April 2, 2018 with HMH Books for Young Readers. I didn't think the author could pull off a book as great as The Crossover, but he did with Rebound. In this book, Josh and Jordan Bell's father, Chuck Bell, takes center stage as readers get a glimpse of his childhood and how he became the jazz music worshiping, basketball star his sons look up to.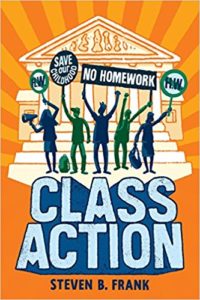 Class Action by Steven B. Frank
I loved Steven's debut middle grade book, Armstrong and Charlie, and his sophomore book is just as hilarious, important, and touching as his first. This is about a group of kids who bring a lawsuit against homework, and it goes all the way to the Supreme Court! In today's society of over scheduled, stressed out kids, I found this very relevant and timely. I recommend this for fans of Gary Schmidt, Gordon Korman, Richard Peck, and Andrew Clements.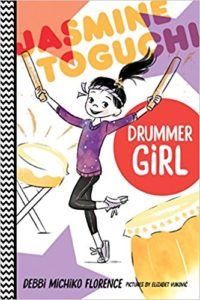 Jasmine Toguchi: Drummer Girl by Debbi Michiko Florence
If you've read this newsletter in the past, you know that I LOVE Jasmine Toguchi! In this latest installment, Jasmine takes up the taiko drums for the local talent show. Can she make the taiko as cool as the other talents her friends (and enemies) have? I adore this series because it blends cultural elements with struggles that any kid can relate to, regardless of ethnicity or background.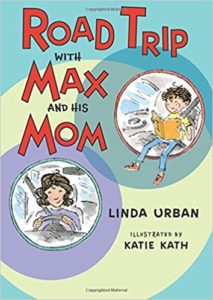 Road Trip with Max and His Mom by Linda Urban, illustrated by Kathy Kath
The follow-up to Weekends with Max and His Dad, this new book continues with Max and his mom planning a road trip. With miles to travel, cousins to meet, and a tall roller coaster to ride (maybe), it will be an adventure! But Max always spends weekends with Dad; will Dad be okay if he's left behind? And will Max be brave enough for all the new explorations ahead of him?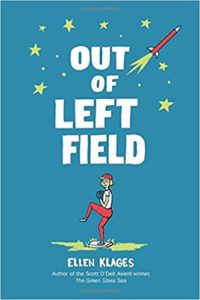 Out of Left Field by Ellen Klages
This amazing book is about Katy Gordon, the best pitcher in the neighborhood. But when she tries out for Little League, it's a whole different story. Girls are not eligible, period. It is a boy's game and always has been. It's not fair, and Katy's going to fight back. The back matter is filled with true stories about female baseball players and their roll in making baseball accessible to all people. This book is funny, informative, and fun!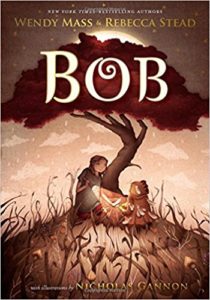 Bob by Wendy Mass and Rebecca Stead
This lovely book is told in alternating perspectives… only one of those perspectives is told by an undefined creature wearing a chicken costume. It's been five years since Livy and her family have visited Livy's grandmother in Australia. Now that she's back, Livy has the feeling she's forgotten something really, really important about Gran's house. It turns out she's right. Bob, a short, greenish creature dressed in a chicken suit, didn't forget Livy, or her promise. He's been waiting five years for her to come back, hiding in a closet like she told him to. He can't remember who―or what―he is, where he came from, or if he even has a family. But five years ago Livy promised she would help him find his way back home. Now it's time to keep that promise.
The Alcatraz Escape by Jennifer Chambliss Bertman
This third book in the Book Scavengers series is a real treat, filled with puzzles, intrigue, and mystery. Legendary literary game-maker Garrison Griswold is back in action―this time with "Unlock the Rock." For his latest game, Griswold has partnered with the famous–and famously reclusive–mystery writer Errol Roy to plan an epic escape room challenge on Alcatraz Island.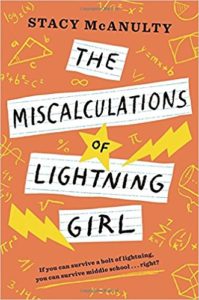 The Miscalculations of Lightning Girl by Stacy McAnuty
I loved this book by Stacy McAnulty. It is about twelve-year-old Lucy who was hit by lightning when she was eight. The zap gave her genius-level math skills, and ever since, Lucy has been homeschooled. Now, at 12 years old, she's technically ready for college. Then, Lucy's grandma decides that Lucy needs a change in routine. She insists that Lucy do four things: Go to middle school for 1 year. Make 1 friend. Join 1 activity. And read 1 book (that's not a math textbook!). I adored Lucy and found her so endearing and funny. This book is entertaining from beginning to end.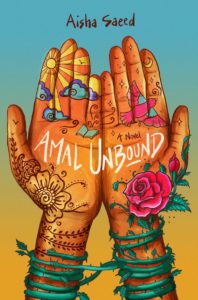 Amal Unbound by Aisha Saeed
Life is quiet and ordinary in Amal's Pakistani village, but she had no complaints, and besides, she's busy pursuing her dream of becoming a teacher one day. Her dreams are temporarily dashed when–as the eldest daughter–she must stay home from school to take care of her siblings. Amal is upset, but she doesn't lose hope and finds ways to continue learning. Then the unimaginable happens–after an accidental run-in with the son of her village's corrupt landlord, Amal must work as his family's servant to pay off her own family's debt.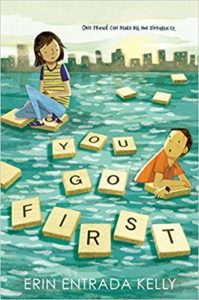 You Go First by Erin Entrada Kelly
Told in two perspectives, two quiet kids living in very different parts of America are going through difficult family situations. They are connected through their online games of Scrabble, and their lives with interweave within the same week in unexpected ways. A sweet, honest book that captures the complexities of growing up, from Newbery award winning author Erin Entrada Kelly.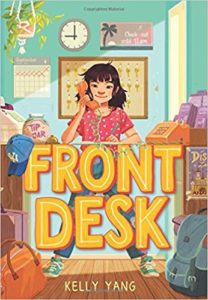 Front Desk by Kelly Yang
This middle grade book is inspired by the author's own childhood. Mia Tang's parents, immigrants from China, take the job as motel managers at the Calivista Motel, and the owner Mr. Yao is cruel and stingy. Mia works the front desk to help out her parents, and through a mix of humor, bravery, and intelligence, she sets out to help her family in every way she knows how. I loved this story.
New Releases
All of these books release this Tuesday unless otherwise noted. The book descriptions are from Goodreads, but I'll add a 
 if I particularly loved a title.
Picture Book New Releases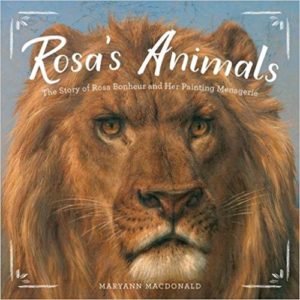 Rosa's Animals: The Story of Rosa Bonheur and Her Painting Menagerie by Maryann Macdonald (Abrams)
Painter and sculptor Rosa Bonheur (1822–1899) led a highly nontraditional life, especially for a woman in the nineteenth century. She kept lions as pets, was awarded the Legion of Honor by Empress Eugénie, and befriended "Buffalo Bill" Cody. She became a painter at a time when women were often only reluctantly educated as artists. Her unconventional artistic work habits, including visiting slaughterhouses to sketch an animal's anatomy and wearing men's clothing to gain access to places like a horse fair, where women were not allowed, helped her become one of the most beloved female painters of her time.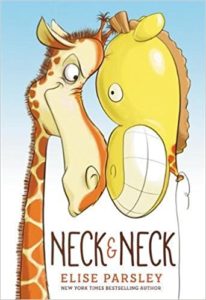 Neck & Neck by Elise Parsley (Little, Brown)
Everybody loves Leopold the giraffe. He inspires awe and wonder. His adoring fans gaze and cheer. Best of all, they feed him lots of deeeelicious snacks! But, one day, a shiny, bobble-headed new rival comes in and ruins everything…a giraffe-shaped balloon! Just how far will Leopold go to prove that he's the hero of the zoo?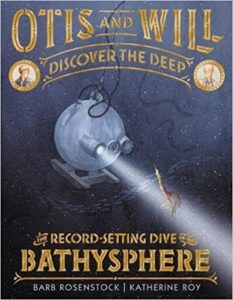 Otis and Will Discover the Deep: The Record-Setting Dive of the Bathyspere by Barb Rosenstock and Katherine Roy (Little, Brown)
On June 6, 1930, engineer Otis Barton and explorer Will Beebe dove into the ocean inside a hollow metal ball of their own invention called the Bathysphere. They knew dozens of things might go wrong. A tiny leak could shoot pressurized water straight through the men like bullets! A single spark could cause their oxygen tanks to explode! No one had ever dived lower than a few hundred feet…and come back. But Otis and Will were determined to become the first people to see what the deep ocean looks like.
If You Ever Want to Bring a Pirate to Meet Santa, DON'T! by Elise Parsley (Little, Brown)
If your dad says you're going to meet a bearded guy with a red suit and a bag full of treasures…he is not talking about meeting a pirate! But Magnolia has already invited the misbehaving swashbuckler to jump in line to meet Santa. So what if pirates are on the Naughty List? She'll just teach this one to change his scurvy ways–no plundering or sword-fighting or plank-walking allowed! Plus, Santa is happy to hear everyone's wish list. Right?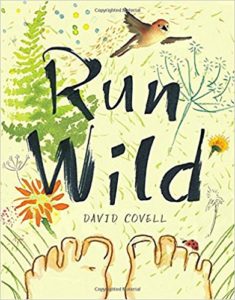 Run Wild by David Covell (Penguin Random House)
"Hey, you! Sky's blue!" a girl shouts as she runs by the window of a boy bent over his digital device. Intrigued, the boy runs out after her, leaving his shoes (and phone) behind, and into a world of sunshine, dewey grass, and warm sand. Filled with the pleasures of being alive in the natural world, Run Wild is an exquisite and kid-friendly reminder of how wonderful life can be beyond doors and screens.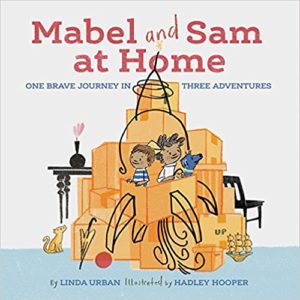 Mabel and Sam at Home by Linda Urban, illustrated by Hadley Hooper (Chronicle)
At the new house, there were movers and shouting and boxes and blankets. There were many places a girl like Mabel and a boy like Sam could be tripped over or smooshed or trod upon. There was one safe place where they would not. And that is how Mabel became a Sea Captain. In this three-part picture book of moving house and imaginative play, Mabel and Sam sail the high seas of their new home; tour the intriguing museum of their living room; journey through outer space to the safety of their own beds; and discover how far afield—and how close to home—imagination can take them.
Middle Grade New Releases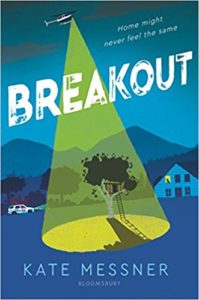 Breakout by Kate Messner (Bloomsbury)
Nora Tucker is looking forward to summer vacation in Wolf Creek–two months of swimming, popsicles, and brushing up on her journalism skills for the school paper. But when two inmates break out of the town's maximum security prison, everything changes. Doors are locked, helicopters fly over the woods, and police patrol the school grounds. Worst of all, everyone is on edge, and fear brings out the worst in some people Nora has known her whole life. Even if the inmates are caught, she worries that home might never feel the same.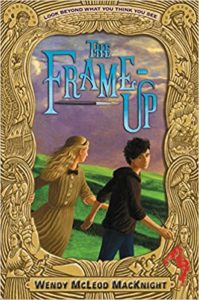 The Frame-Up by Wendy McLeod MacKnight (HarperCollins)
There's one important rule at the Beaverbrook Gallery—don't let anyone know the paintings are alive. Mona Dunn, forever frozen at thirteen when her portrait was painted by William Orpen, has just broken that rule. Luckily twelve-year-old Sargent Singer, an aspiring artist himself, is more interested in learning about the vast and intriguing world behind the frame than he is in sharing her secret. And when Mona and Sargent suspect shady dealings are happening behind the scenes at the gallery, they set out to find the culprit. They must find a way to save the gallery—and each other—before they are lost forever.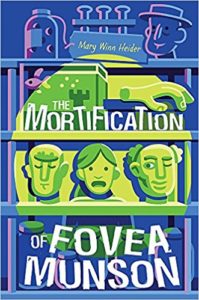 The Mortification of Fovea Munson (Disney Hyperion)
Fovea Munson is nobody's Igor. True, her parents own a cadaver lab where they perform surgeries on dead bodies. And yes, that makes her gross by association, at least according to everyone in seventh grade. And sure, Fovea's stuck working at the lab now that her summer camp plans have fallen through. But she is by no means Dr. Frankenstein's snuffling assistant! That is, until three disembodied heads, left to thaw in the wet lab, start talking. To her. Out loud. What seems like a nightmare, or bizarre hallucination, is not. Fovea is somebody's Igor, all right. Three somebodies, actually. And they need a favor.
 Heartseeker by Melinda Beatty (Penguin Random House)
Fallow was just six harvests old when she realized that not everyone sees lies. For Only, seeing lies is as beautiful as looking through a kaleidoscope, but telling them is as painful as gnawing on cut glass. Only's family warns her to keep her cunning hidden, but secrets are seldom content to stay secret. When word of Only's ability makes its way to the King, she's plucked from her home at the orchard and brought to the castle at Bellskeep. There she learns that the kingdom is plagued by traitors, and that her task is to help the King distinguish between friend and foe. But being able to see lies doesn't necessarily mean that others aren't able to disguise their dishonesty with cunnings of their own.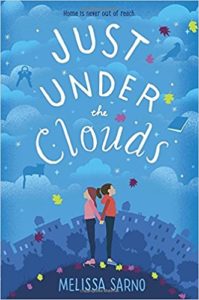 Just Under the Clouds by Melissa Sarno (Random House Children's Books)
Always think in threes and you'll never fall, Cora's father told her when she was a little girl. Two feet, one hand. Two hands, one foot. That was all Cora needed to know to climb the trees of Brooklyn. But now Cora is a middle schooler, a big sister, and homeless. Her mother is trying to hold the family together after her father's death, and Cora must look after her sister, Adare, who's just different, their mother insists. Quick to smile, Adare hates wearing shoes, rarely speaks, and appears untroubled by the question Cora can't help but ask: How will she find a place to call home?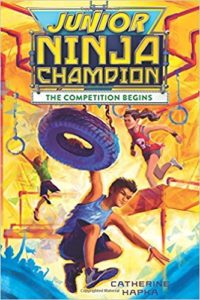 Junior Ninja Champion: The Competition Begins (Catherine Hapka)
Izzy, Ty, Kevin, JJ, and Mackenzie don't have a lot in common. But they have all seen the reality TV obstacle competition National Ninja Champion. When news breaks that there's going to be a kids' version of the show—and tryouts are just a few miles away—all five find themselves drawn to the obstacle course at Fit Kidz Gym. Before they know it, they've become a team—training together and helping one another overcome all kinds of obstacles as they compete for the title of Junior Ninja Champion. With lots of heart and edge-of-your-seat excitement, Junior Ninja Champion packs in the action of the competition along with all the ups and downs on the journey to making it.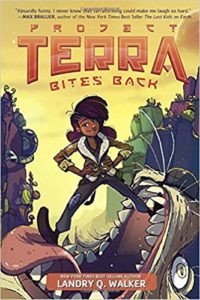 Project Terra Bites Back by Landry Q. Walker (Penguin Random House)
After narrowly escaping death and saving Paragon from destruction, Elara Adele Vaughn is back in action to start her second year at the Seven Systems Academy of Terraforming Arts. But she's done being a hero this time around–Elara just wants to learn how to build new worlds with her best friends Knot, Beezle, Sabik, and her alien-sponge roommate, Clare. But when an evil time-hopping force threatens to take down the galactic order, Elara's "normal" school year might turn into something weird. But what's a little danger for the Academy's most troublemaking student and her oddball crew of friends?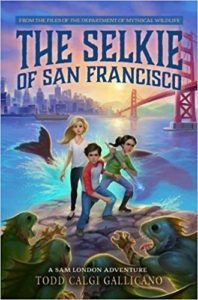 The Selkie of San Francisco by Todd Calgi Gallicano (Random House Children's Books)
Sam London didn't mean to uncover an ancient secret, but when he found out that mythical creatures are real and living in our national parks, he became the newest recruit to the Department of Mythical Wildlife. Ever since, the middle schooler has been anxiously awaiting the call for his next case . . . and it finally arrives with the brazen appearance of a selkie in San Francisco Bay. Along with Dr. Vance Vantana and the guardian Tashi, Sam pursues the selkie, who has taken a peculiar interest in fashion's newest "it" girl and social media star, Pearl Eklund. But the closer he gets, the more questions emerge about Pearl's mysterious connection to the mythical world. Is she the long-lost hope for an entire civilization or the harbinger of its doom? It's up to Sam to find out the truth, and fast. . . . The fate of humanity hangs in the balance.
Hey, did you know that Book Riot is giving away $500 to the bookstore of your choice? Enter here!
I'd love to know what you are reading this week! Find me on Twitter at @KarinaYanGlaser, on Instagram at @KarinaIsReadingAndWriting, or email me at karina@bookriot.com.
Until next week!
Karina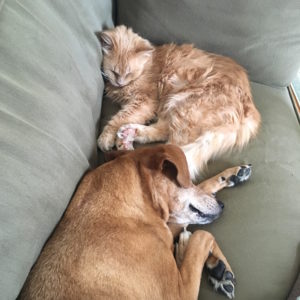 Nala and Ginger Pye, sleeping on the job.
*If this e-mail was forwarded to you, follow this link to subscribe to "The Kids Are All Right" newsletter and other fabulous Book Riot newsletters for your own customized e-mail delivery. Thank you!*