Happy Friday, banshees and bounty hunters! This week, I've got reviews of Hunger Makes the Wolf by Alex Wells and Heroine Complex by Sarah Kuhn, plus Afrofuturism, YA sci-fi, time travel, queer reads, and more.
---
This newsletter is sponsored by Flatiron Books and Legendary by Stephanie Garber.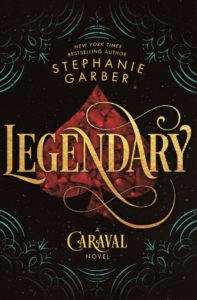 After being swept up in the magical world of Caraval, Donatella Dragna has finally escaped her father and saved her sister Scarlett from a disastrous arranged marriage. The girls should be celebrating, but Tella isn't yet free. She made a desperate bargain with a mysterious criminal, and the time to repay the debt has come.
---
Reminder: you've got til June 21 to enter our $500 bookstore gift card giveaway, right here.
Where is the YA sci-fi? That's what Fonda Lee wants to know, in this piece discussing the publication process for Exo and Cross Fire. It's an interesting question; as she notes, there are plenty being published, but anecdotally, they're definitely not getting the same amount of public recognition. I checked my reading spreadsheet, and I'm reading at least double the amount of YA fantasy as YA sci-fi.
When I get around to fixing that ratio, here's where I'm going to start: 100 Must-Read YA Sci-Fi!
For time travel fans: Jess has assembled a list of time travel romances, to scratch that Outlander/The Time Traveler's Wife itch. I confess that time travel stories (specifically ones with time loops) frequently drive me batty, and yet I can't stop reading them…
A reading pathway for a movie director: That's right! You can read your way into Guillermo Del Toro's work, not just watch it.
"Breathtaking" is admittedly a wiggly category, but Martin Cahill makes his case for five SF/F novels. One of these days I really need to read Max Gladstone.
Did Black Panther leave you wanting more Afrofuturism? I made you a list of options!
Are you reading along with Tor's QUILTBAG book club? Here's the latest book review, for Sea, Swallow Me and Other Stories.
Today in reviews, I give you space motorcycle gangs and an even weirder San Francisco, with bonus fire powers!
Hunger Makes the Wolf by Alex Wells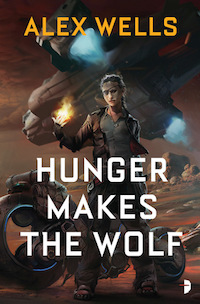 I picked this book up both because it is by a Book Riot contributor (oh hey!) and because it won a Golden Tentacle for Debut (I adore the Kitchies). You should pick it up immediately, for those reasons and also because it's one of the most fun, most unexpected additions to the Weird Space Western genre I've read in a long while.
Set on the dusty, arid planet called Tanegawa's World, it follows several characters as they navigate an increasingly overlapping tangle of personal and political crises. Hob, part of a mercenary biker gang, is still working her way up the hierarchy from a huge error in judgement a few years back. She gets no special treatment being the adopted daughter of the leader — if anything, the opposite. Her former best friend, Mags, is supposed to be headed off-world for a chance at a better life, away from the corporation that controls life on their world, but her father is murdered and Mags herself disappears under strange circumstances. There are a few others, but I'll leave you to discover them on your own. Suffice it to say that Wells tosses the narrative back and forth with ease and great timing, unfolding both the backstory of Tanegawa's World and the characters while balancing it nicely with action.
And there is action aplenty — train heists, miner strikes, gun battles, covert operations, undercover hijinks, backstabbing, murder, mayhem, you name it. There's also a hefty dose of magic that reminded me of nothing so much as the earth-shifting powers from the Earth 2 series (oh, '90s sci-fi), in the best way. If you're craving an inclusive found family story that's also an outerspace Western, and/or a new read in the vein of Becky Chambers' Wayfarer series, Felix Gilman's The Half-Made World, and Firefly, you need this on your shelf. Bonus: the sequel, Blood Binds the Pack, is out now!
Heroine Complex (Heroine Complex #1) by Sarah Kuhn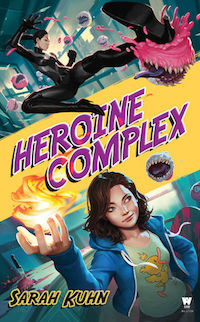 This book features demon cupcakes, quirky super powers, friendships and sibling shenanigans, a romance, and an alternate San Fransisco. Some of you have already TBR'd it; for the rest of you, let me tell you a bit more.
Evie Tanaka is the personal assistant to a highly strung crime-fighting diva called Aveda Jupiter, and she's great at her job. She's also been best friends with Aveda since they were little, which is why she puts up with all the drama. That, and Evie has a secret, one that means she needs a secure, steady, predictable job to keep her calm. One wouldn't think that chasing around after a demon-killing superhero would work for that, but it does for Evie. That is, until Aveda gets injured and Evie has to pose as her until she's better. All bets are suddenly off, and Evie has to contend with her own secrets, her changing friend status with Aveda, a sudden attraction for a geeky and infuriating scientist, her rebellious younger sister, and, of course, the ever-present demon infestation.
This book is an absolute delight, and I inhaled it from start to finish. Evie is a snarky and entertaining narrator, the relationships among the characters are both drama-filled and beautifully complex, and the plot moves along at a brisk pace. This is a perfect summer read — take it to a cabin or a beach or a pool, make sure you have some cupcakes handy, and dive in.
And that's a wrap! You can find all of the books recommended in this newsletter on a handy Goodreads shelf. If you're interested in more science fiction and fantasy talk, you can catch me and my co-host Sharifah on the SFF Yeah! podcast. For many many more book recommendations you can find me on the Get Booked podcast with the inimitable Amanda.
Peace favor your sword,
Jenn