Hello, nonfiction readers! Memorial Day weekend always feels like a big one on the calendar. For some, it's the first true weekend of summer, marked with BBQs and lakes and all that good stuff. For others, it's a time to reflect on the sacrifices of men and women who have died while serving the military. And for many, it's a time for both.
---
We're giving away $500 to spend at the bookstore of your choice! Click here, or on the image below to enter:
---
This week I wanted to take a break from new books to recommend a couple of older titles I love that would make excellent reading this Memorial Day weekend, if you're in a more reflective mood.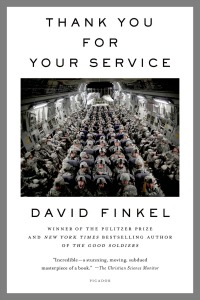 Thank You for Your Service by David Finkel – In the book, journalist David Finkel follows several soldiers returning home from a tour of duty on the front lines in Baghdad. Many of them are suffering from PTSD or other physical and mental injuries, and their struggle to adjust and reintegrate affects their families and the other professionals trying to help them. It's a really compelling portrait about the sacrifices we ask from soldiers, and the less obvious sacrifices that a deployment can ask from others. I was just blown away at the honesty and depth of this book. While there were moments when Finkel relies on some linguistic flourishes that I didn't think were necessary, overall this was a compelling, sobering, important book.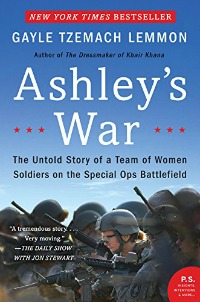 Ashley's War by Gayle Tzemach Lemmon – In 2010, the United States Army began piloting a new program that would allow women to serve alongside Special Operations soldiers in Afghanistan. As part of Cultural Support Teams, these female soldiers went on raids out in the field with a specific focus on connecting with the women in insurgent compounds to look for weapons and gather intelligence. In this book, Gayle Tzemach Lemmon follows one of the first CST units through their recruitment, training, and first experiences in combat. This book was really stellar, and opened my eyes to some of the unique challenges and dangers facing female soldiers. Without spoiling too much, I'll just say that the book is a heart-breaker that is a truly excellent read.
Nonfiction News You Can Use
Another group of Marjory Stoneman Douglas High School students are publishing a book. We Say #NeverAgain will be a book for young readers, edited by high school journalism teachers Melissa Falkowski and Eric Garner. The book includes "first-person accounts, richly researched and reported articles, and photographs by and about the students" who attend the school.
Masha Gessen's epic look at totalitarianism in Russia, The Future is History has racked up another award. This week, Gessen was recognized with the New York Public Library's Helen Bernstein Book Award for Excellence in Journalism. Be sure to click through and check out the other finalists – there are some great titles there.
This one's a little bit of a stretch, but hear me out. This week, lawyer/author Stacey Abrams became the "first black woman to be a major party nominee for governor of the United States." She'll be running for governor of Georgia this fall. Abrams recently published a memoir, Minority Leader, and previously published a series of romance novels under the pen name Selena Montgomery.
Last, but certainly not list, a giveaway alert! Book Riot is giving away $500 to the bookstore of your choice. Enter here!
And with that, I want to wish you a wonderful, relaxing, and reflective Memorial Day weekend. You can find me on Twitter @kimthedork, and co-hosting the For Real podcast here at Book Riot. Happy reading!