Welcome back to In The Club, a newsletter of resources to keep your book group well-met and well-read. Let's dive in.
---
This newsletter is sponsored by Epic Reads.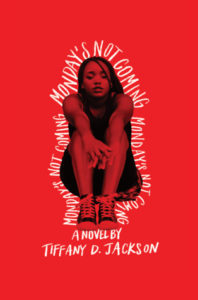 Monday Charles is missing, and only her best friend Claudia seems to notice. As days turn to weeks with no sign of Monday, Claudia knows something is wrong. Monday wouldn't leave her to endure tests and bullies alone. Claudia needs her best—and only—friend more than ever. But Monday's family refuses to give Claudia a straight answer.
As Claudia digs deeper into Monday's disappearance, she discovers that no one remembers the last time they saw Monday. How can a teenage girl just vanish without anyone noticing that she's gone?
---
Enter this giveaway for a $500 gift card to the bookstore of your choice, and you could buy your book group SO MANY BOOKS.
It is Asian American Pacific Islander Heritage month! So this list is timely, but you should read them regardless because they are So Good.
Book group bonus: For extra thematically-appropriate-reading points, pick The Astonishing Color of After for your next read; it's both by an Asian American and deals with mental health (as May is also Mental Health Awareness month!)
Translated works galore: The shortlist for the Best Translated Books of 2018 has been announced!
Book group bonus: Pick a translated novel to read, and then read a novel about a translator — I recommend An Unnecessary Woman by Rabih Alameddine.
Get on that ToMo train: Haven't read Toni Morrison yet? Or not since high school/college? We've got some starting points for you.
Book group bonus: Whether or not you decide to read Beloved, you should definitely make these biscuits for your ToMo discussion meeting.
Speaking of food, one of our contributors hosts a cookbook club, and she's got club-approved recs for you.
Book group bonus: Everyone picks a recipe from the assigned book, naturally!
For when you want an adventure: Here are 10 books about intrepid girls, and I extremely cosign Adaptation and The Epic Crush of Genie Lo.
Book group bonus: Pair one of these with a nonfiction read about women. I recommend Wonder Women by Sam Maggs, illustrated by Sophia Foster-Dimino — it's fun, reads quickly, and you could probably manage it in the same month as one of the above YA novels!
How about another regionally themed reading list? Here are Latina authors, specifically Dominican and Dominican American, that you should know.
Book group bonus: I am particularly fond of Julia Alvarez, and have been yearning to do a discussion of her adult works (for example, In the Time of the Butterflies) alongside her children's books (for example, Return to Sender). Does her voice change with the audience? Any major differences in structure or tone? So much to think about.
There's a whole movie, just about book club. And it's called …. Book Club!
Book group bonus: Group outing! Popcorn for all.
And that's a wrap: Happy discussing! If you're interested in more science fiction and fantasy talk, you can catch me and my co-host Sharifah on the SFF Yeah! podcast. For many many more book recommendations (including the occasional book club question!) you can find me on the Get Booked podcast with the inimitable Amanda.
Your fellow booknerd,
Jenn
More Resources: 
– Our Book Group In A Box guide
– List your group on the Book Group Resources page