Hey, Kid Lit friends,
I love a good sports story, and children's books are filled with sports themes and athlete biographies. Here are some of my favorites! (All descriptions from Goodreads.)
---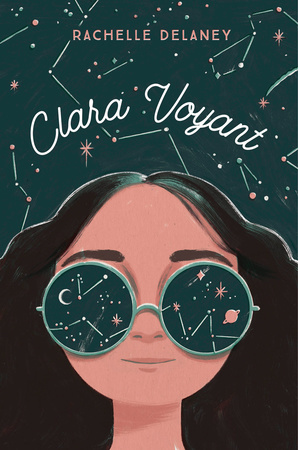 Sponsored by Clara Voyant by Rachelle Delaney
Clara's mother has decided to "follow her bliss," which involves moving to a tiny apartment, working at a herbal remedy shop and trying to develop her mystical powers. Clara tries to make the best of a bad situation by joining the newspaper at her new school, where she can sharpen her investigative skills and tell the kind of hard-news stories she appreciates. But the editor relegates her to the horoscopes. When Clara's horoscopes come true everyone at school is talking about ClaraVoyant, the talented fortune-teller. Clara is horrified — horoscopes and clairvoyance aren't real. But when a mystery unfolds at school, she finds herself in a strange situation: having an opportunity to prove herself as an investigative journalist . . . with the help of her own mystical powers.
---
Picture Books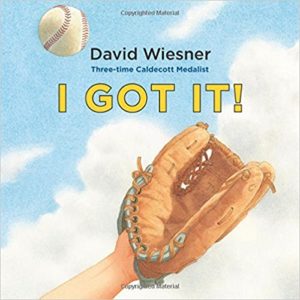 I Got It! by David Wiesner
The few seconds after the ball leaves the bat can be infinitely long. For this eager young outfielder, there's plenty of time to envision the increasingly fantastic and funny situations that might interfere with making the catch. Summoning determination and courage, he overcomes the imaginary obstacles and turns them into a springboard for success.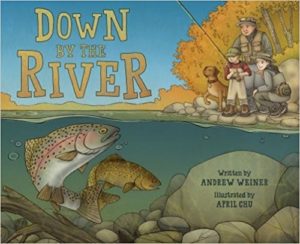 Down By The River by Andrew Weiner, illustrated by April Chu
One beautiful autumn day, Art sets out with his mother and grandfather for a fishing trip. Fishing days are Art's favorite. He loves learning the ropes from Grandpa—the different kinds of flies and tackle and the trout that frequent their favorite river. Art especially appreciates Grandpa's stories. But, this time, hearing the story about Mom's big catch on her first cast ever makes Art feel insecure about his own fishing skills. But, as Art hooks a beautiful brown trout, he finds reassurance in Grandpa's stories and marvels in the sport and a day spent with family, promising to continue the tradition with his own grandkids generations later.
*Editor's Note: I went down an internet rabbit hole trying to determine whether fishing was a sport. There are lots of strong (and opposing opinions) about it, but I made a game day decision (see what I did there?) to add this fishing book in this sport's round-up anyways.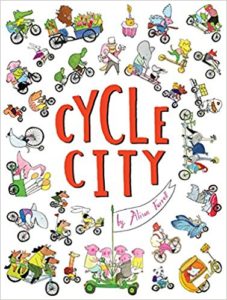 Cycle City by Alison Farrell
When little Etta the Elephant goes to her Aunt Ellen's house, she takes a journey through bicycle-filled Cycle City, a town filled with bikes of all kinds! At the end of the day, a special surprise awaits Etta—the most amazing bicycle parade imaginable. Detail-rich illustrations in this fun seek-and-find book paint the colors of this unusual town where everyone rides some kind of bike—whether a penny-farthing, a two-wheeled unicycle, or a conference bike, everyone is on wheels! Packed with prompts and lots to see on every page, this is a sweet story for the sharpest of eyes.
Middle Grade Fiction
Checked by Cynthia Kadohata
Hockey is Conor's life. His whole life. He'll say it himself, he's a hockey beast. It's his dad's whole life too–and Conor is sure that's why his stepmom, Jenny, left. There are very few things Conor and his dad love more than the game, and one of those things is their Doberman, Sinbad. When Sinbad is diagnosed with cancer, Conor chooses to put his hockey lessons and practices on hold so they can pay for Sinbad's chemotherapy. But without hockey to distract him, Conor begins to notice more. Like his dad's crying bouts, and his friend's difficult family life. And then Conor notices one more thing: Without hockey, the one thing that makes him feel special, is he really special at all?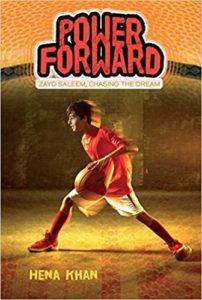 Power Forward by Hena Khan
Fourth grader Zayd Saleem has some serious hoop dreams. He's not just going to be a professional basketball player. He's going to be a star. A legend. The first Pakistani-American kid to make it to the NBA. He knows this deep in his soul. It's his destiny. There are only a few small things in his way. When Zayd gets caught blowing off his violin lessons to practice, Zayd's parents lay down the ultimate punishment: he has to hang up his high tops and isn't allowed to play basketball anymore.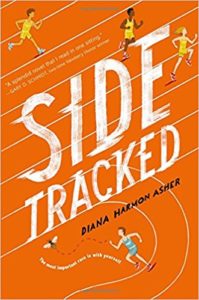 Sidetracked by Diana Harmon Asher
If middle school were a race, Joseph Friedman wouldn't even be in last place—he'd be on the sidelines. With an overactive mind and phobias of everything from hard-boiled eggs to gargoyles, he struggles to understand his classes, let alone his fellow classmates. So he spends most of his time avoiding school bully Charlie Kastner and hiding out in the Resource Room, a safe place for misfit kids like him. But then, on the first day of seventh grade, two important things happen. First, his Resource Room teacher encourages (i.e., practically forces) him to join the school track team, and second, he meets Heather, a crazy-fast runner who isn't going to be pushed around by Charlie Kastner or anybody else. With a new friend and a new team, Joseph finds himself off the sidelines and in the race (quite literally) for the first time. Is he a good runner? Well, no, he's terrible. But the funny thing about running is, once you're in the race, anything can happen.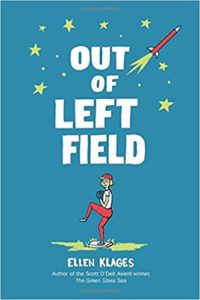 Out of Left Field by Ellen Klages
Every boy in the neighborhood knows Katy Gordon is their best pitcher, even though she's a girl. But when she tries out for Little League, it's a whole different story. Girls are not eligible, period. It is a boy's game and always has been. It's not fair, and Katy's going to fight back. Inspired by what she's learning about civil rights in school, she sets out to prove that she's not the only girl who plays baseball. With the help of friendly librarians and some tenacious research skills, Katy discovers the forgotten history of female ball players. Why does no one know about them? Where are they now? And how can one ten-year-old change people's minds about what girls can do?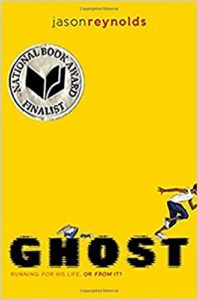 Ghost by Jason Reynolds
Running. That's all Ghost (real name Castle Cranshaw) has ever known. But Ghost has been running for the wrong reasons—it all started with running away from his father, who, when Ghost was a very little boy, chased him and his mother through their apartment, then down the street, with a loaded gun, aiming to kill. Since then, Ghost has been the one causing problems—and running away from them—until he meets Coach, an ex-Olympic Medalist who sees something in Ghost: crazy natural talent. If Ghost can stay on track, literally and figuratively, he could be the best sprinter in the city. Can Ghost harness his raw talent for speed, or will his past finally catch up to him?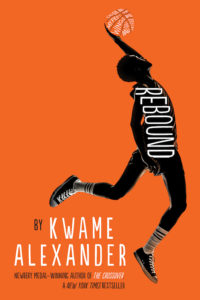 Rebound by Kwame Alexander
Before Josh and Jordan Bell were streaking up and down the court, their father was learning his own moves. In this prequel to Newbery Medal winner The Crossover, Chuck Bell takes center stage, as readers get a glimpse of his childhood and how he became the jazz music worshiping, basketball star his sons look up to.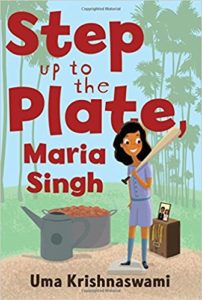 Step Up to the Plate, Maria Singh by Uma Krishnaswami
Nine-year-old Maria Singh longs to play softball in the first-ever girls' team forming in Yuba City, California. It's the spring of 1945, and World War II is dragging on. Miss Newman, Maria's teacher, is inspired by Babe Ruth and the All-American Girls' League to start a girls' softball team at their school. Meanwhile, Maria's parents–Papi from India and Mama from Mexico–can no longer protect their children from prejudice and from the discriminatory laws of the land. When the family is on the brink of losing their farm, Maria must decide if she has what it takes to step up and find her voice in an unfair world.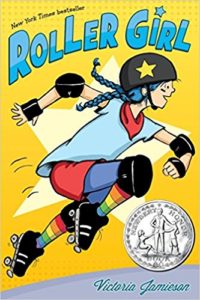 Roller Girl by Victoria Jamieson
For most of her twelve years, Astrid has done everything with her best friend Nicole. But after Astrid falls in love with roller derby and signs up for derby camp, Nicole decides to go to dance camp instead. And so begins the most difficult summer of Astrid's life as she struggles to keep up with the older girls at camp, hang on to the friend she feels slipping away, and cautiously embark on a new friendship. As the end of summer nears and her first roller derby bout (and junior high!) draws closer, Astrid realizes that maybe she is strong enough to handle the bout, a lost friendship, and middle school… in short, strong enough to be a roller girl.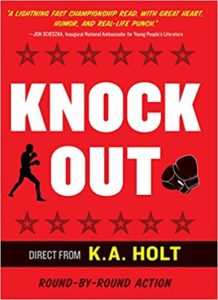 Knockout by K.A. Holt
Levi just wants to be treated like a typical kid. As a baby, he had a serious disease that caused him respiratory issues. He's fine now, but his mom and overprotective brother still think of him as damaged, and his schoolmates see him as the same class clown he's always been. He feels stuck. So when his dad—divorced from his mom—suggests he take up boxing, he falls in love with the sport. And when he finds out about a school with a killer boxing team and a free-study curriculum, it feels like he's found a ticket to a new Levi. But how can he tell his mom about boxing? And how can he convince his family to set him free?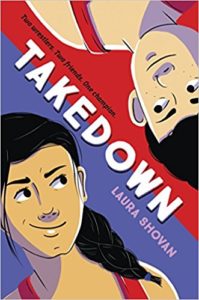 Takedown (June 19, 2018, Wendy Lamb Books) by Laura Shovan
Mikayla is a wrestler; when you grow up in a house full of brothers who wrestle, it's inevitable. It's also a way to stay connected to her oldest brother, Evan, who moved in with their dad. Some people object to having a girl on the team. But that's not stopping Mikayla. She's determined to work harder than ever, and win. Lev is determined to make it to the state championships this year. He's used to training with his two buddies as the Fearsome Threesome; they know how to work together. At the beginning of sixth grade, he's paired with a new partner–a girl. This better not get in the way of his goal. Mikayla and Lev work hard together and become friends. But when they face each other, only one of them can win.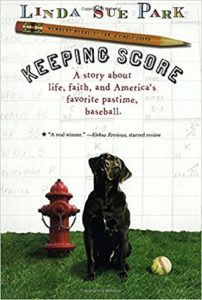 Keeping Score by Linda Sue Park
Both Maggie Fortini and her brother, Joey-Mick, were named for baseball great Joe DiMaggio. Unlike Joey-Mick, Maggie doesn't play baseball—but at almost ten years old, she is a dyed-in-the-wool fan of the Brooklyn Dodgers. Maggie can recite all the players' statistics and understands the subtleties of the game. Unfortunately, Jim Maine is a Giants fan, but it's Jim who teaches Maggie the fine art of scoring a baseball game. Not only can she revisit every play of every inning, but by keeping score she feels she's more than just a fan: she's helping her team.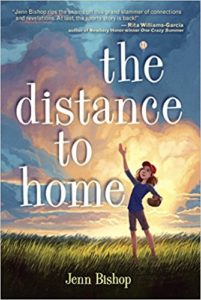 The Distance to Home by Jenn Bishop
Last summer, Quinnen was the star pitcher of her baseball team, the Panthers. They were headed for the championship, and her loudest supporter at every game was her best friend and older sister, Haley. This summer, everything is different. Haley's death, at the end of last summer, has left Quinnen and her parents reeling. Without Haley in the stands, Quinnen doesn't want to play baseball. It seems like nothing can fill the Haley-sized hole in her world. The one glimmer of happiness comes from the Bandits, the local minor-league baseball team. For the first time, Quinnen and her family are hosting one of the players for the season. Without her sister, Quinnen's not sure it will be any fun, but soon she befriends a few players. With their help, can she make peace with the past and return to the pitcher's mound?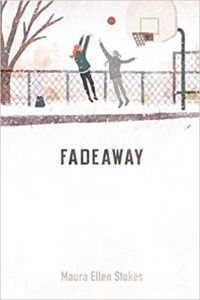 Fadeaway by Maura Ellen Stokes (6/5/18, Yellow Jacket) *Upper Middle Grade*
Fourteen-year-old Sam thinks she has all summer to hang out with her best friend, Reagan. But then her life changes forever. Sam's world, once filled with school, basketball, and Reagan, has now abruptly changed and she must learn to navigate high school on and off the court without her best friend. But when Reagan suddenly "reappears," Sam clings to her friend's presence, even as it hurts rather than helps her grief. Can Sam learn to accept herself without her other half?
Picture Book and Middle Grade Biographies and Nonfiction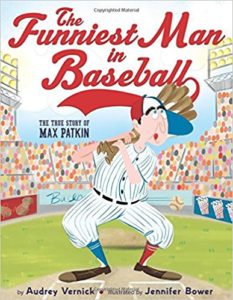 The Funniest Man in Baseball by Audrey Vernick, illustrated by Jennifer Bower
Max Patkin was pitching in the minor leagues when he was injured and had to leave his dreams behind. He joined the Navy and eventually was able to play again while in the military . . . and this time he got to pitch against superstar Joe DiMaggio. When Joe hit one of Max's throws out of the park, Max threw down his glove, left the mound, and chased Joe around the bases, making faces and imitating his every move. The crowd loved it! And a baseball clown was born.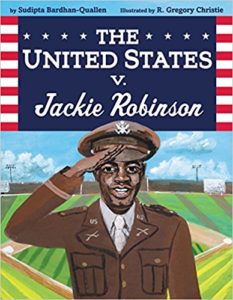 The United States v. Jackie Robinson by Sudipta Barhan-Quallen, illustrated by R. Gregory Christie
Jackie Robinson broke boundaries as the first African American player in Major League Baseball. But long before Jackie changed the world in a Dodger uniform, he did it in an army uniform. As a soldier during World War II, Jackie experienced segregation every day—separate places for black soldiers to sit, to eat, and to live. When the army outlawed segregation on military posts and buses, things were supposed to change. So when Jackie was ordered by a white bus driver to move to the back of a military bus, he refused. Instead of defending Jackie's rights, the military police took him to trial. But Jackie would stand up for what was right, even when it was difficult to do.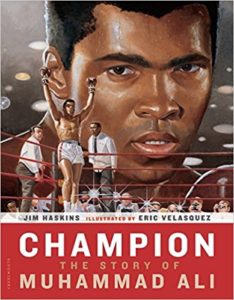 Champion: The Story of Muhammad Ali by Jim Haskins, illustrated by Eric Velasquez
Muhammad Ali was one of the most electrifying, inspiring, and confrontational athletes of his generation. At the height of his boxing career, Ali was as despised as he was adored. Loud and aggressive as well as confident and dedicated, he was the quintessential showman, the undeniable champion of his sport, and one of the most recognizable faces in the world. He was challenged at every turn: faced with racial discrimination in his everyday life, mocked by the sports media as his career began, ridiculed for adopting a new religion, and stripped by the U.S. government of his very livelihood for refusing to go to war.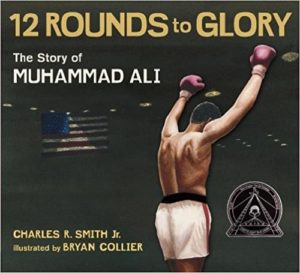 Twelve Rounds to Glory: The Story of Muhammad Ali by Charles R. Smith, Jr. and Bryan Collier
From the moment a fired-up teenager won 1960 Olympic gold to the day when a retired legend, hands shaking from Parkinson's, returned to raise the Olympic torch, the boxer known as "The Greatest" waged many a fight. Some were in the ring, against opponents like Sonny Liston and Joe Frazier; others were against societal prejudice and a war he refused to support because of his Islamic faith. The rap-inspired verse weaves and bobs and jabs, while bold collage artwork matches every move, capturing the "Louisville loudmouth with the great gift of rhyme" who shed the name Cassius Clay to take on the world as Muhammad Ali.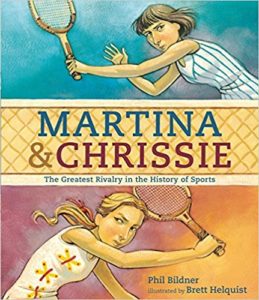 Martina and Chrissie: The Greatest Rivalry in the History of Sports by Phil Bildner, illustrated by Brett Helquist
Martina Navratilova and Chris Evert come from completely different places and play tennis in completely different ways. Chrissie is the all-American girl: practiced, poised, with perfect technique. Martina hails from Czechoslovakia, a Communist country, and her game is ruled by emotion. Everything about them is different, except one thing: they both want to be the best. But as their intense rivalry grows, something else begins to swing into place, and a friendship forms that will outlast all their tennis victories.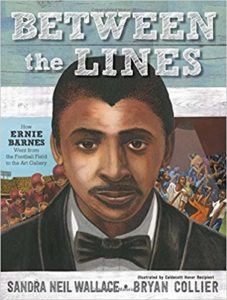 Between the Lines: How Ernie Barnes Went from the Football Field to the Art Gallery by Sandra Neil Wallace, illustrated by Bryan Collier
When Ernie Barnes was growing up in North Carolina in the 1940s, he loved to draw. Even when he played as a boy with his friends he drew with a stick in the mud. And he never left home without a sketchbook. He would draw families walking home from church, or the old man on the sofa. He drew what he saw. But in the segregated south, Ernie didn't know how to make a living as an artist. Ernie grew tall and athletic and became a football star. Soon enough the colleges came calling. Still, in his heart Ernie longed to paint. Would that day ever come?
Courage to Soar by Simone Biles
Simone Biles' entrance into the world of gymnastics may have started on a daycare field trip in her hometown of Spring, Texas, but her God-given talent, passion, and perseverance have made her one of the top gymnasts in the world, as well as a four-time winner of Olympic gold in Rio de Janeiro. But there is more to Simone than the nineteen medals—fourteen of them gold—and the Olympic successes. Through years of hard work and determination, she has relied on her faith and family to stay focused and positive, while having fun competing at the highest level and doing what she loves.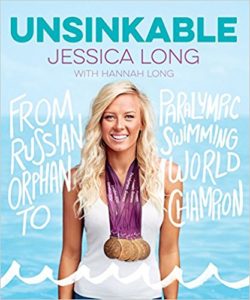 Unsinkable (6/26/18, HMH Books for Young Readers) by Jessica Long with Hannah Long
Born in Siberia with fibular hemimelia, Jessica Long was adopted from a Russian orphanage at thirteen months old and has since become the second most decorated U.S. Paralympic athlete of all time. Now, Jessica shares all the moments in her life—big and small, heartbreaking and uplifting—that led to her domination in the Paralympic swimming world.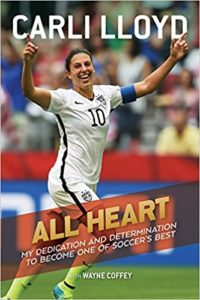 All Heart: My Dedication and Determination to Be One of Soccer's Best by Carli Lloyd and Wayne Coffey
There was a time when Carli Lloyd almost quit soccer. Then she met James Galanis, a trainer who believed in her and saw her as a player with rare talent and skill who needed to work on her weaknesses. He offered to help her, but only if she made soccer her number one priority. Carli said yes. In her own words, Carli Lloyd, the two-time recipient of the FIFA World Player of the Year award, tells her inspirational story of going from near defeat to the ultimate goal. All Heart is for players, fans, coaches, dreamers, and anyone who has ever thought about giving up.
Champions of Women's Soccer and Champions of Men's Soccer by Ann Killon
Featuring Top Ten Lists and stunning photos of history-making moments, this comprehensive collection catalogs the rise of women's soccer in America; the greatest American players such as Mia Hamm, Hope Solo, and Alex Morgan; the greatest international stars, including Marta and Homare Sawa; the future class of superstars; and the most thrilling World Cup and Olympic matches.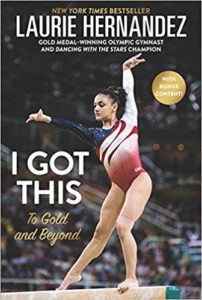 I've Got This by Laurie Hernandez
At sixteen years old, Laurie Hernandez has already made many of her dreams come true—and yet it's only the beginning for this highly accomplished athlete. A Latina Jersey girl, Laurie saw her life take a dramatic turn last summer when she was chosen to be a part of the 2016 US Olympic gymnastics team. After winning gold in Rio as part of the Final Five, Laurie also earned an individual silver medal for her performance on the balance beam. Nicknamed "the Human Emoji" for her wide-eyed and animated expressions, Laurie continued to dance her way into everyone's hearts while competing on the hit reality TV show Dancing with the Stars, where she was the youngest-ever winner of the Mirrorball Trophy.
New Releases
All of these books release this Tuesday unless otherwise noted. The book descriptions are from Goodreads, but I'll add a 
 if I particularly loved a title.
Picture Book New Releases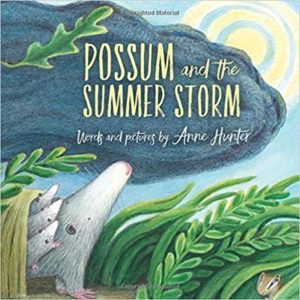 Possum and the Summer Storm by Anne Hunter (HMH Books for Young Readers)
Possum calls his children out of the summer storm—but what can he do when their home is swept away by rising water? The possum family must rely on their friends to construct a new house. At first it seems that no other animal's home is suited for a possum, but they come up with something spectacular!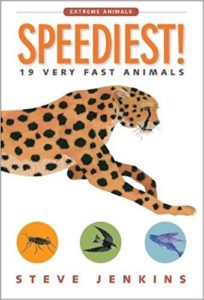 Speediest: 19 Very Fast Animals and Stinkiest: 20 Smelly Animals by Steve Jenkins (HMH Books for Young Readers)
Steve Jenkins' Extreme Animals reader series explores nature's truly superlative animals. These readers are fact-packed and span the globe, detailing the astounding abilities of every shape, size, and species. Each installment focuses on amazing and unusual animals, making these nonfiction readers accessible, informative, and fascinating.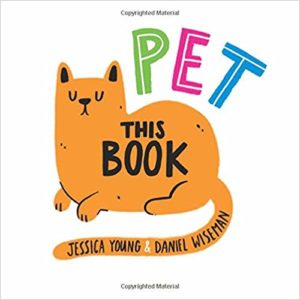 Pet This Book by Jessica Young and Daniel Wiseman (Bloomsbury)
There are lots of ways little hands can care for animals. Each page of this book invites readers to pet the cat, wash the puppy, brush the horse's mane, and more–no animals required! With a delightful rhyming text and engaging illustrations, this book is full of pets who can't wait to play. The only thing they need is YOU! Just use your imagination, turn the pages, and Pet This Book!
Middle Grade New Releases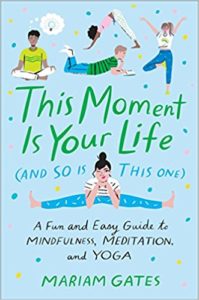 This Moment is Your Life (And So Is This One) by Mariam Gates, illustrated by Libby VanderPloeg (Dial Books)
The key to happiness is being able to find comfort in this moment, here and now. When you are completely present and not distracted by regrets, worries, and plans, even for a little while, you begin to feel more confident and can deal more easily with everything you experience. This is mindfulness: paying attention to this very moment, on purpose and without judgment–simply being present with curiosity. This engaging guide, packed with simple exercises and endearing full-color artwork, provides a handy starting point for bringing mindfulness into your daily life. Chapters on meditation, yoga, and mindful breathing explain the benefits of these practices, and you are free to pick and choose what to try.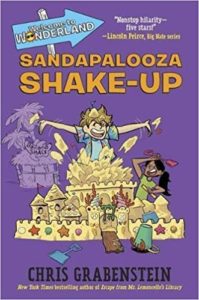 Sandapalooza Shake-Up by Chris Grabenstein (Random House)
Life's a vacation when you live in the world's wackiest motel! P.T. and his best friend, Gloria, are getting ready for St. Pete Beach's first-ever Sandapalooza! The Wonderland's biggest rival, the Conch Reef Resort, is doing everything it can to win the sand sculpture contest, but P.T. has bigger problems: The Wonderland has opened a new restaurant–the Banana Shack–and running a restaurant is harder than it looks! And to make matters worse, a royal guest's priceless tiara has gone missing, and the prime suspect is the Wonderland's beloved housekeeper! Can P.T. and Gloria win the contest, keep the restaurant going, and clear Clara's name?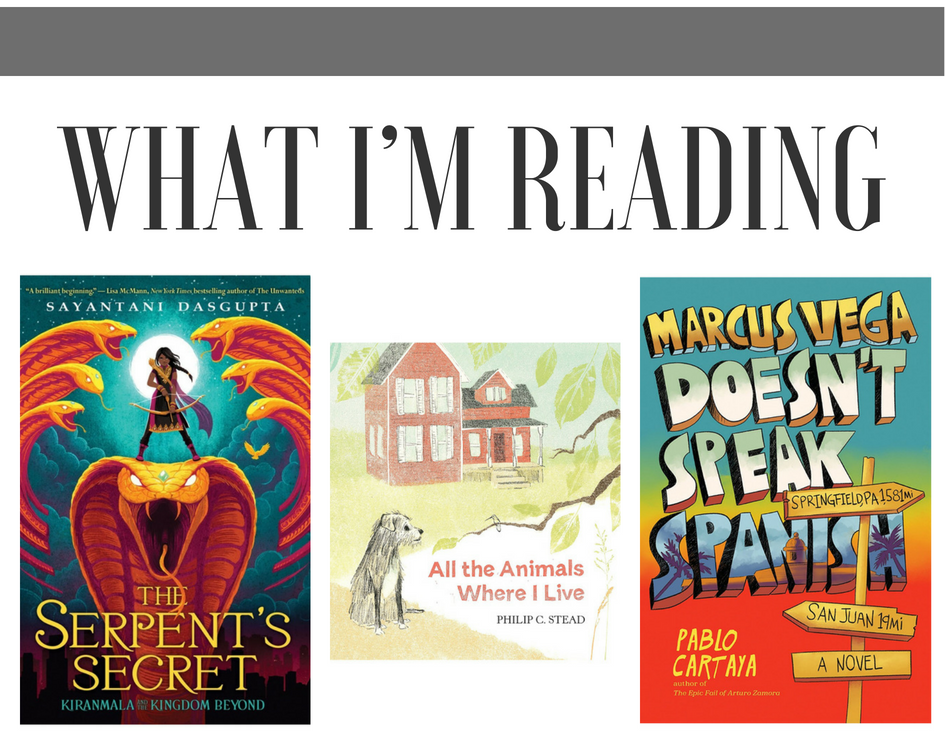 My daughter loved The Serpent's Secret by Sayantani Dasgupta, and after she finished it (and spoiled the ending for me), she made me read it. I love the humor, the action, and the Indian mythology. Great for readers who love Margaret Dilloway's Momotaro series and Rick Riordan's Percy Jackson series.
I hadn't heard about All the Animals Where I Live until I saw it at my local indie bookstore, and I immediately snatched it up. I love Philip C. Stead's writing and illustrations, and this one was super sweet. It is about how the author used to live in the city, but now he lives in the country. I definitely related to the story, except I still live in the city (and something wish I lived in the country).
Marcus Vega Doesn't Speak Spanish (Viking, 8/21) is Pablo Cartaya's next book after winning the Bulpré Honor for The Epic Fail of Arturo Zamora (which I loved). The book's protagonist is a six foot tall, 180 pound middle schooler. When a fight leads to a week's worth of suspension, Marcus and his mom and brother head to Puerto Rico to reset and to spend a week with relatives they don't remember or have never met. But Marcus can't focus knowing that his father–who walked out of their lives ten years ago–is somewhere on the island. This was a great read with a multi-faceted protagonist, which I loved!
I'd love to know what you are reading this week! Find me on Twitter at @KarinaYanGlaser, on Instagram at @KarinaIsReadingAndWriting, or email me at karina@bookriot.com.
Until next week!
Karina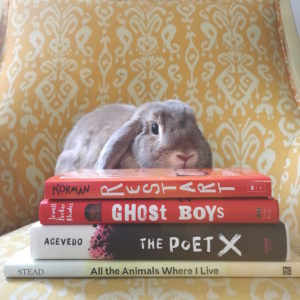 Books I bought myself for Mother's Day
*If this e-mail was forwarded to you, follow this link to subscribe to "The Kids Are All Right" newsletter and other fabulous Book Riot newsletters for your own customized e-mail delivery. Thank you!*