It's new books week here at the True Story newsletter! May is jam-packed month of new nonfiction, which all sounds pretty excellent. This week, I've rounded up seven titles from the first couple of weeks that I think are interesting. I'm hoping to do another round up next week as well. Yay, books!
---
Flatiron Books and The Fact of a Body by Alexandria Marzano-Lesnevich
An intellectual and emotional thriller that is also a different kind of murder mystery, THE FACT OF A BODY is a book not only about how the story of one crime was constructed — but about how we grapple with our own personal histories.
---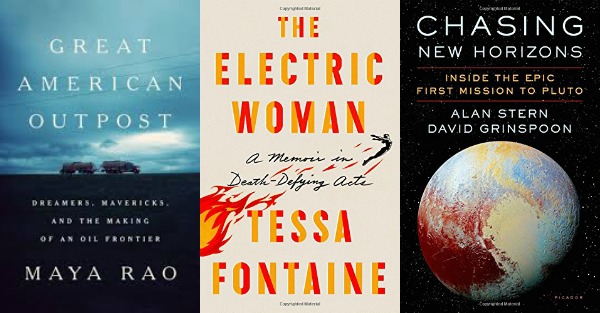 Great American Outpost by Maya Rao – I used to live out on the prairie, close to the border of Minnesota and North Dakota, so news stories about the oil boom in cities like Williston and Dickinson were always catching my attention. This book is one of the first I've seen to try and cover this time and place, so I'm interested. In the book, journalist Maya Rao spent put boots on the ground to chronicle this "modern-day gold rush" and the people affected by it in both good and bad ways.
The Electric Woman by Tessa Fontaine – Of course I am going to get psyched about a memoir with the subtitle "a memoir in death-defying acts" that chronicles a woman's relationship with her mother and her time on the the road as part of the last traveling American sideshow.
Chasing New Horizons by Alan Stern and David Grinspoon – Space nonfiction! This is a weakness of mine. This book is about the first mission to Pluto, when New Horizons made history capturing images of the distant planet, including the men and women inside and outside of NASA who helped make it happen.

Not That Bad, edited by Roxane Gay – This essay anthology of "dispatches from rape culture" is probably one of the most anticipated books of 2018, and for good reason. Contributors include writers, performers, critics, and more, writing about "what it means to live in a world where women have to measure the harassment, violence, and aggression they face." All of the contributors read their pieces for the audio book, so that may be a great format for this one.
Little Shoes by Pamela Everett – Historical true crime! After her father makes a cryptic comment about a tragedy in the family's past, Everett starts digging. She uncovers 1937 triple murder in California that prompted a manhunt, the use of criminal profiling in court casts, and the beginning of modern sex offender laws. I appreciate true crime that connects with victims and families in a humane way, so I think this will be interesting.
Milk by Mark Kurlansky – Mark Kurlansky is back with another global food history! This time, he's looking at milk, from Greek myths and the domestication of animals, to the industrial revolution and the food's role in modern food politics. Salt, one of his previous books, has been on my TBR forever, but I'm almost more excited about picking this one up.
Gaslighting America by Amanda Carpenter – This book, written by a conservative former staff member to a competing presidential campaign, looks at Trump's formula for lying and fabrication, and why it continues to work. As a former journalist, I'm interested in this perspective because I think the media is really struggling about what to do with a president and supporters who just don't seem to care about the truth.
Old Books (and Stuff)!
But to keep this newsletter from being entirely new books, I've got a few links that will recommend some older titles you may have forgotten about:
And that's all the nonfiction I can fit in this newsletter this week. Until next week, find me on Twitter @kimthedork, and co-hosting the For Real podcast here at Book Riot. Happy reading!