Happy Friday, monsters and marauders! Today in reviews we're looking at the Dark Matter anthology and Seth Dickinson's The Traitor Baru Cormorant, plus adaptation news, WakandaCon, animal sidekicks, and more.
---
This newsletter is sponsored by The Unblemished Trilogy by Sara Ella.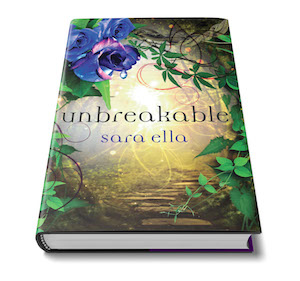 Sara Ella masterfully takes readers to new worlds in the jaw-dropping finale to the Unblemished trilogy, as Eliyana fights to save everything—and everyone—she loves.
With the fate of the Reflections at stake, Eliyana must destroy the void… but at what cost? Traversing the realms of fantasy and reality through a labyrinth of plot twists, Unbreakable delivers a thrilling conclusion to Sara Ella's Unblemished Trilogy. Sara Ella continues to examine real world issues young women face every day regarding their own self-worth, strength, and confidence to define themselves in a complicated, mixed-up world that doesn't always make sense.
---
Wakanda Forever, as well as this August in Chicago: Alert! This is not a drill! You can attend WakandaCon this summer! If you do go, please tell me about it and send pictures!!
Frankenstein turns 200 this year, and you may have noticed the abundance of coverage. There's also a film opening later this May, starring Elle Fanning as Mary Godwin Shelley. In honor of the original horror/sci-fi writer, here are two favorite related posts. This one is a round-up of women writing in horror today, and here's my favorite unpacking of the concept of motherhood in Frankenstein.
Need less capes in your comics? If you too are tapped out on superheroes, we've got a list of comics with plenty of SF/F adventures and zero characters bit by radioactive spiders.
Updates on The Passage's TV adaptation: Back in February, the adaptation underwent reshoots and entirely removed Alicia's character. Earlier this week, Fox gave it the greenlight. I love the casting for Amy and Wolgast (and the continued career renaissance of Mark-Paul Gosselaar, who was fantastic in Pitch), but I cannot believe they took out Alicia. What plot changes have they made alongside character changes, I wonder? I suppose we'll have to stay tuned.
Looking for climate-related fiction? I'm on the record as hating the term "cli-fi" (JUST CALL IT "near future" WHY DOES IT NEED A SPECIAL NAME), but others disagree and here's a primer about the sub-genre if you are one of them.
Need some help selecting Star Wars reads? Our contributors have put together a list of their favorites.
What would your animal sidekick be? This quiz will tell you! I got unicorn and I am DELIGHTED.
Today's reviews cover some backlist titles worth moving to the top of your TBR stack.
Dark Matter: A Century of Speculative Fiction from the African Diaspora, edited by Sheree R. Thomas
Trigger warnings: issues with consent, gender identity, and sexuality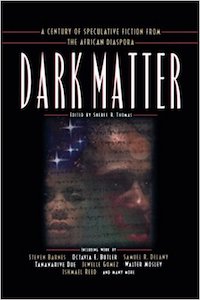 When I fell down the rabbit-hole of trying to find "books like Black Panther" for various askers, this was one of the ones that made it to my library holds list — and I'm here to tell you, it should definitely be on yours.
With 31 works by names that range from familiar (Octavia Butler, Samuel Delaney, Walter Mosley) to potentially surprising (W.E.B. DuBois) to personal favorites (Nalo Hopkinson, Tananarive Due, Nisi Shawl) to less well-known (Akua Lezli Hope, Evie Evie Shockley), this collection is both a revelation and an affirmation of the lengthy history of black writers in sci-fi and fantasy. Reading these stories one after another both builds on their power and contextualizes them. Rather than arrange them in chronological order, Thomas has chosen to move around in both time and space, and they flow beautifully from one to the next.
While all these stories envision fictional (often future) spaces, they are also clearly products of their respective times. But just as it's helpful to envision where we wish to go next, it's important to see where we've been, and these authors all had powerful visions. If you're looking for more black authors in speculative fiction; if you love anthologies; if you're curious about the roots of Afrofuturism; if you want to see what today's authors are building on; you should pick up this collection post-haste.
The Traitor Baru Cormorant by Seth Dickinson
Trigger warnings: institutionalized homophobia, torture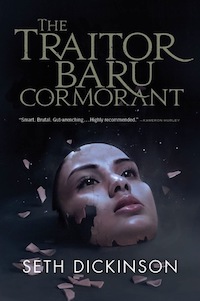 I read this book for our "Lady Vengeance"-themed SFF Yeah! episode, but it was too engrossing not to talk about it here as well. I also want to be sure that I adequately warn readers about the "this book will stomp on your heart" nature of The Traitor Baru Cormorant: seriously, consider yourself warned.
Baru is an anti-heroine, and how. When the Empire of Masks arrive on her isolated island, ostensibly just to trade, her parents are wary. And they are right to be wary: the Empire starts with economic dominance, and ends with the decimation of Baru's culture, society, and her own family. Using her incredible mental talent for numbers and her sheer stubbornness, she attends one of the Empire's schools with one goal: to achieve enough power to free her people from its grip.
When her first posting is to an actively rebellious province, Baru has to decide if her own quest for freedom outweigh that of others. Will she join the rebels, or will she help to crush them? Will the woman she wants but can't have be her downfall, or will she keep up her pretenses? The answers Baru finds are hard, so very hard. The world of the novel is huge, complex, and diverse, and the plot grapples with colonization, war, sexuality, and morality. If you had told me that a fantasy novel about an accountant would punch me in the gut and then rip my heart out of my chest, I would have laughed, but that's exactly what this book did.
If you're feeling strong and enjoy watching characters make terrible mistakes for complicated reasons, this is the book for you. Bonus: the sequel, The Monster Baru Cormorant, comes out October 30th.
And that's a wrap! You can find all of the books recommended in this newsletter on a handy Goodreads shelf. If you're interested in more science fiction and fantasy talk, you can catch me and my co-host Sharifah on the SFF Yeah! podcast. For many many more book recommendations you can find me on the Get Booked podcast with the inimitable Amanda.
Never give up, never surrender,
Jenn