Welcome back to In The Club, a newsletter of resources to keep your book group well-met and well-read. Let's dive in.
---
This newsletter is sponsored by Murder In The Locked Library by Ellery Adams.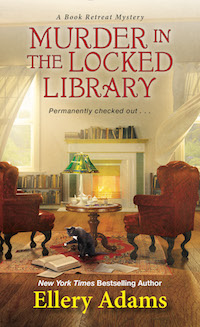 Jane Steward, owner of the Storyton Hall book lover's resort, must pause her plan to build a luxurious, relaxing spa named in honor of Walt Whitman and don her detective hat to uncover a hidden killer when a guest meets an untimely end upon unearthing unusual bones and the remnants of a very old book in the 4th installment of New York Times bestselling author Ellery Adam's Book Retreat Mystery series.
---
What are other groups reading and loving? Reading Group Choices asked their subscribers, and they have answers for us. Here are the Favorite YA, Favorite Nonfiction, and Favorite Fiction from 2017.
Book group bonus: Take a look through the lists. Any that you read? Any that you agree with? Which titles, if any, surprised you?
Read along with all of New York City: Jennifer Egan's Manhattan Beach has been selected for One Book, One New York, chosen from a list of five titles.
Book group bonus: What would you have picked from the list? Take a vote in your group and find out how you line up with the voting readers of NYC.
Bring the outdoors to book club: Here are 50 must-read books about science and nature.
Book group bonus: Plan either an out-door meeting (picnics are wonderful) or an additional nature meet-up! Find a hike, or a park, or maybe a community garden and get some sunshine.
Need some SF/F picks? Unbound Worlds has a list of SF/F titles that are perfect for book groups.
Book group bonus: Assuming you're not actually in a SF/F book club, take a survey of the group. What was the last sci-fi or fantasy title members read? What are their opinions of the genres as a whole? What's preventing you from reading more titles in those genres? Discuss!
Amazing Latinx fiction: Recent #MeToo allegations against Junot Díaz, one of the most (if not the most) well-known Latinx authors writing today, have many readers casting about for other authors to support. This list from Bustle has a lot of great options.
Book group bonus: Depending on the comfort of the group, there are a couple of ways to go with this one. Option A: Discuss reader responses to allegations against popular authors. Can you separate the art from the artist? How does it change your perception of the artist's work? Option B: If a #MeToo discussion would be too heavy, triggering, or otherwise uncomfortable for your group, go straight to discussing one of those other great books!
Mother's Day approaches! For those who want to do a themed read, here are 8 excellent options. And for the more supernaturally inclined, I'm still very proud of this post about parenting in science fiction and fantasy.
Book group bonus: There's no time like the present to discuss the different ways parents are (and are not) portrayed in fiction!
And a reminder: Today is the last day for the mystery giveaway! Go enter!
And that's a wrap: Happy discussing! If you're interested in more science fiction and fantasy talk, you can catch me and my co-host Sharifah on the SFF Yeah! podcast. For many many more book recommendations (including the occasional book club question!) you can find me on the Get Booked podcast with the inimitable Amanda.
Your fellow booknerd,
Jenn
More Resources: 
– Our Book Group In A Box guide
– List your group on the Book Group Resources page