Hi mystery fans! Lately I've been craving fun mystery series. While I'm a huge fan of super dark and twisted–which publishing keeps me filled on–I've found that funny, laugh-out-loud, mysteries don't come along often, at least for me. It's definitely something I would like more of so I thought I'd share three series I've found myself enjoying and laughing along to. And I'd love to hear your favorite fun/funny mysteries!
---
Flatiron Books and The Fact of a Body by Alexandria Marzano-Lesnevich
An intellectual and emotional thriller that is also a different kind of murder mystery, THE FACT OF A BODY is a book not only about how the story of one crime was constructed — but about how we grapple with our own personal histories.
---
Ridiculous Characters And Physical Comedy = Constant Laughs!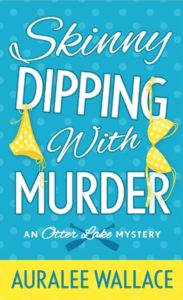 An Otter Lake Mystery series by Auralee Wallace: Every character in this series is ridiculous, there is physical comedy, hilarious conversations, and everything is constantly going wrong (in a humorous way). The series follows Erica Bloom, who doesn't want to return to her hometown of Otter Lake but keeps finding herself in the town where her crush is the town sheriff and her hippie mom lives/runs a retreat. It's also where her best friend is, and he wants to investigate all the murders–which of course keep happening every time Bloom returns home. Like a delicious candy treat, I inhaled this series of 5 books. It starts with Skinny Dipping With Murder and just published Down the Aisle with Murder. There's even a marooned-on-an-island-with-a-murderer for fans of Clue: Snowed in with Murder.
Witty Banter For The Win!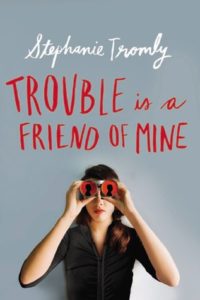 Trouble series by Stephanie Tromly: This series of three books is the closest I've found to fulfilling my need for more Veronica Mars. And by that I mean the Trouble series has really quick and witty dialogue, a romance for #TeamLogan/Veronica, and the character Digby matches Logan in annoyance (but I can't not love him). Also, it has a mystery plot that runs through the entire series–Digby investigating his sister's disappearance– while also having a separate main mystery in each book which works like the seasons/series did. The laughs are in the witty banter between the characters–mostly Zoe and Digby–which feels smart, and fresh, and of course funny. It's also a series that works equally great in print and in audiobook and with only three books it's a quick, satisfying binge: Trouble is a Friend of Mine; Trouble Makes a Comeback; Trouble Never Sleeps.
Long Fun Binge!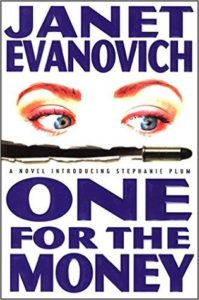 Stephanie Plum series by Janet Evanovich: While this series isn't cozy and does deal with dark matter– the first in the series definitely has trigger warnings for rape/stalking–the main character Stephanie Plum is sarcastic, smart-mouthed, and fast with a joke. She has an opinion about everything and throws herself head first at problems–which is how she became a bounty hunter in the first place–and brings her quick wit into all the situations she gets herself into. This one is a loooooong binge, with 24 books. It starts with One for the Money and the latest release is Hardcore Twenty-Four. On the plus side, you won't have trouble keeping track of where you are in the series since the book number is always in the title.
Recent Releases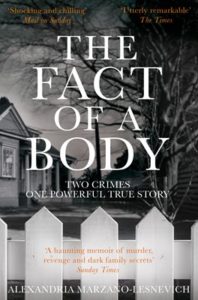 The Fact of a Body: A Murder and a Memoir by Alexandria Marzano-Lesnevich (Paperback) (All the trigger warnings) (Fantastic true crime memoir– Review)
Our Kind of Cruelty by Araminta Hall (TBR: psychological thriller told from male stalker pov.)
Undead Girl Gang by Lily Anderson (Wicca teen brings back dead teens to solve their murder–I am loving this so far but had to pause to get a print copy to read because my eyes went on strike from reading an egalley on my laptop.)
Blackout (Pete Fernandez Mystery #4) by Alex Segura (Currently reading: Fernandez ends up on a case from his high school days when a classmate disappeared, leaving her dead ex-boyfriend behind and no other clues.) (A Little Q&A: Alex Segura)
Browse all the books recommended in Unusual Suspects previous newsletters on this shelf. And here's an Unusual Suspects Pinterest board.
Until next time, keep investigating! And in the meantime come talk books with me on Twitter, Instagram, and Litsy–you can find me under Jamie Canaves.
If a mystery fan forwarded this newsletter to you and you'd like your very own you can sign up here.