Alright, audiobook fans, I'm back with part two of your new audiobook releases for May! We've got a lot of them, so let's dive right in! As always, publisher description in quotes.
---
Sponsored by Everything that Follows by Meg Little Reilly
Three friends take their partying from bar to boat on a misty fall evening. Just as the weather deteriorates, one of them suddenly goes overboard. Is it an accident? The result of an unwanted advance? For fans of Megan Abbott and Chris Bohjalian comes a novel of moral complexity about friends who must choose between self-preservation and doing the right thing in the wake of a fatal boating accident. Set in the moody off-season of Martha's Vineyard, Everything That Follows is a plunge into the dark waters of secrets and flexible morals. The truth becomes whatever we say it is…
---
Tin Man written and read by Sarah Winman; release date: 05-15-18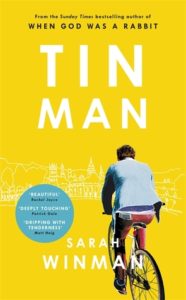 At first, the description of this book reminded me a bit of another EXCELLENT audiobook–-Aristotle and Dante Discover The Secrets of the Universe. It reads, "Ellis and Michael are 12-year-old boys when they first become friends, and for a long time, it is just the two of them, cycling the streets of Oxford, teaching themselves how to swim, discovering poetry, and dodging the fists of overbearing fathers. And then one day, this closest of friendships grows into something more."
So far so good, right? Until this: "But then, we fast-forward a decade or so to find that Ellis is married to Annie, and Michael is nowhere in sight. Which leads to the question: What happened in the years between?" I, for one, would like to know.
So Lucky written and read by Nicola Griffith; release date: 05-15-18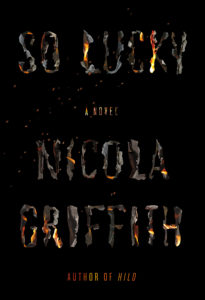 Mara Tagarelli is successful. She's the head of a multi-million dollar AIDS foundation, accomplished in martial arts, and, frankly, used to kicking ass. Then, on the heels of her wife leaving her, Mara is diagnosed with multiple sclerosis. Her family and friends immediately treat her differently–-overnight she's gone from strong woman to weak victim. She wants to fight that narrative, but her body has become untrustworthy and foreign, and frankly, so have the people around her. "Mara makes a decision and acts, but her actions unleash monsters aimed squarely at the heart of her new community."
The Ensemble by Aja Gabel; narrated by Rebecca Lowman; release date: 05-15-18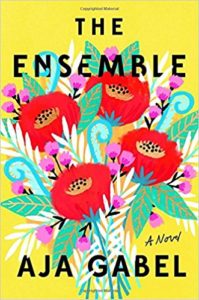 A note on this one: I attended a writing residency with Aja in 2015. But even if I hadn't, I would still think this book sounds really good and also has a gorgeous cover.
"Brit is the second violinist, a beautiful and quiet orphan; the viola is Henry, a prodigy who's always had it easy; the cellist is Daniel, the oldest, the angry skeptic who sleeps around; and on first violin is Jana, their flinty, resilient leader. Together, they are the Van Ness String Quartet.
In The Ensemble, each character takes the spotlight and picks up the melody, from the group's youthful rocky start through to middle age, through both devastating failures and wild success. As they navigate heartbreak and marriage, triumph and loss, betrayal and enduring loyalty, they are always tied together – by career, by necessity, by the intensity of their art, by the secrets they carry together, and by choosing each other over and over again."
This is the book Aja was working on during that residency in 2015 and, honestly, I can't frikking wait to listen to it.
The Storm by Arif Anwar; release date: 05-15-18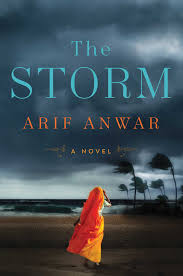 On the verge of his U.S. visa expiring and being sent back to his native country of Bangladesh, Shahryar wants to get everything he can out of his remaining weeks with his American daughter. "Shar reflects upon his family's history, beginning in a village on the Bay of Bengal, where a poor fisherman, Jamir, and his wife, Honufa, prepare to face a storm of historic proportions. With a narrative sweep mirroring the storm's devastating path – leading to the eye's calamitous landing – The Storm explores hope, loss, sacrifice, and the many ways in which families honor, betray, and ultimately love one another."
How to Change Your Mind written and read by Michael Pollan; release date: 05-15-18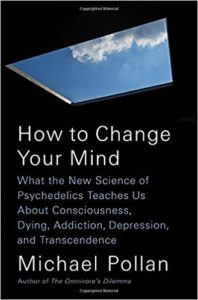 I'll admit it, when I first heard about microdosing or using psychedelics to treat depression and/or a host of other ailments, I was skeptical. But I've looked into some of the research behind it and it sounds promising. "When Michael Pollan set out to research how LSD and psilocybin are being used to provide relief to people suffering from difficult-to-treat conditions such as depression, addiction, and anxiety, he did not intend to write what is undoubtedly his most personal book. But upon discovering how these remarkable substances are improving the lives not only of the mentally ill but also of healthy people coming to grips with the challenges of everyday life, he decided to explore the landscape of the mind in the first person as well as the third." I am super excited to listen to this. I don't know if psychedelics are the answer to depression. But I know that many of us, myself included, have tried all the pills and therapy in the land and many of us are still suffering. I'm really eager to hear about Pollen's experience.
Cult X by Fuminori Nakamura; narrated by Brian Nishii; release date: 05-22-18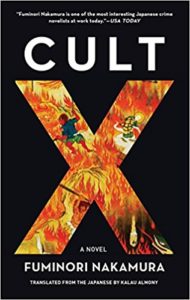 Inspired by the 1995 sarin gas attack on a Tokyo subway (what?!), Cult X explores how a person becomes radicalized or drawn to extremism. "When Toru Narazaki's girlfriend, Ryoko, disappears, he tries to track her down, despite the warnings of a private detective he's hired to find her. Ryoko's past is shrouded in mystery, but the one concrete clue to her whereabouts is a previous address where she lived: in a compound in the heart of Tokyo, with a group that seems to be a cult led by a charismatic guru with a revisionist Buddhist scheme of life, death, and society. Narazaki plunges into the secretive world of the cult, ready to expose himself to any of the guru's brainwashing tactics if it means he can learn the truth about Ryoko. But the cult isn't what he expected, and he has no idea of the bubbling violence beneath its surface".
Well, That Escalated Quickly written and read by Franchesca Ramsey; release date: 05-22-18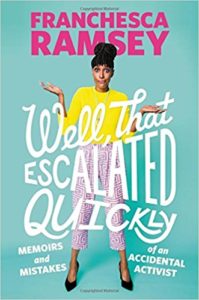 OK, first, if you're not following Franchesca Ramsey on twitter, do that. She's smart and funny and has incisive commentary this crazy world in which we live. "Well, That Escalated Quickly includes Ramsey's advice on dealing with Internet trolls and low-key racists, confessions about being a former online hater herself, and her personal hits and misses in activist debates with everyone from bigoted Facebook friends and misguided relatives to mainstream celebrities and YouTube influencers. With sharp humor and her trademark candor, Ramsey shows readers we can have tough conversations that move the dialogue forward, rather than backward, if we just approach them in the right way."
So Close to Being the Sh*t, Y'all Don't Even Know written and read by Retta; Release date: 05-29-18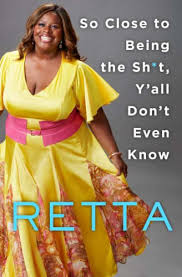 I mentioned this title in my most anticipated audiobooks of 2018 newsletter and it's not just because I am Parks and Recreation's #1 fan (though that is certainly true). "Whether reminiscing about her days as a contract chemist at GlaxoSmithKline, telling "dirty" jokes to Mormons, feeling like the odd man out on Parks, fending off racist trolls on Twitter, flirting with Michael Fassbender, or expertly stalking the cast of Hamilton, Retta's unique voice and refreshing honesty will make you laugh, cry, and laugh so hard you'll cry." It sounds like Retta has got some stories and I want to hear them. (And yay! She narrates it!)
Whew! We did it! Two weeks of new audiobooks! What are you most looking forward to? Let me know. I'm at katie@riotnewmedia.com and on twitter at msmacb.
Until next week,
~Katie