This edition of Today in Books is sponsored by The Cactus by Sarah Haywood.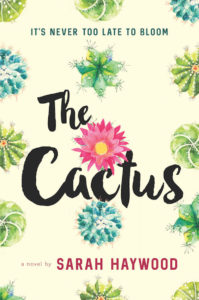 ---
The Black Women Who Are Changing Romance
The romance genre has recently come under fire for its bleak diversity stats. BuzzFeed's feature on the black women working to change the genre's predominantly white narratives was welcome. The piece highlighted some of the movers and shakers at Kensington Publishing Corporation who spoke on the work they're doing and the challenges of diversifying publishing from the inside.
The Shipping News Author Wins The Library Of Congress Prize For American Fiction
Librarian of Congress Carla Hayden announced that E. Annie Proulx, author of The Shipping News, will receive the Library of Congress Prize for American Fiction. Proulx, who said she was surprised by the news because she writes about "poor people plagued with bad luck" added, "I want to believe the people in my writing will step up with me to receive this award, for they are as real as history."
Win Big $$ At The Poker Table Or Write The Poker Book? Hmm…
New Yorker writer Maria Konnikova got into poker to write about her experience; now, she's pushing back the writing of that book to go all in on the game because it turns out she's really good at it. Konnikova, who came to the game as a complete outsider recently finished second in an Asia Pacific Poker Tour Macau event for $57,519. Sorry, book–you'll have to wait until summer or fall of 2019.
And don't forget to enter to win 15 of the year's best mysteries so far!