Welcome back to In The Club, a newsletter of resources to keep your book group well-met and well-read. Let's dive in.
---
This newsletter is sponsored by Bas Bleu Books and Gifts.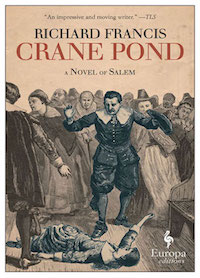 This profoundly moving work of historical fiction about Salem Witch Trial judge Samuel Sewall offers remarkable insight into one of the darkest chapters from America's past. Sewall emerges from the brilliant prose as a complex and fascinating character, doing his best to be a good man in the presence of mysterious evils. Even though the tragic story of Salem is well known, Crane Pond is an absorbing page-turner that's sure to spark thoughtful, spirited discussion among the members of your book club!
---
This story just gets crazier and crazier: Police have arrested a suspect (possibly through open source genetics testing?!) in the formerly-cold Golden State Killer case, which was the subject of Michelle McNamara's posthumously published true-crime book, I'll Be Gone In the Dark. If you've been online at all lately, you've probably seen the tweets and posts overflowing with admiration for McNamara's work, as well as fan theories about how she might have helped crack the case. (If not, just Google for five minutes).
Book group bonus: If your group can stomach a really grisly and frightening true crime story, this book and its context would make for an intense discussion.
Speaking of being creeped out: Here are a whole lot of psychological thrillers. I appreciate the categories here, from messy marriages to double lives and more.
Book group bonus: The post specifically is giving readalikes for Gone Girl, The Girl on the Train, and Big Little Lies. Assuming you've read one of those three (which everyone has, right?), use that book as the basis for a compare-and-contrast discussion with one of the suggested titles.
And now for something completely different: Do you need more Pride & Prejudice retellings in your life? We got you.
Book group bonus: After picking a retelling to read, I also highly recommend discussing favorite film adaptations — there's so much to argue about! Colin Firth or Matthew Macfadyen? Clueless or Emma? (Clueless forever.)
Speaking of adaptations: Here are three YA retellings of Shakespeare's Much Ado About Nothing. (It's one of my favorites too).
Book group bonus: Read an adaptation and the play side by side — and maybe put someone in charge of looking up Shakespearean vocabulary.
Need more authors in the same amount of pages? Anthologies are here for you. I love that list a lot, and can cosign The Fire This Time and My Mother She Killed Me, My Father He Ate Me (which I led a book group discussion of once; it went very well!).
Book group bonus: Pick an anthology to read and have each group member come with the contents ranked, favorite to least. Compare and contrast!
For the historical fiction fans: We've got a list of Kurt Seyit and Sura readalikes, and they're organized by focus (for example, WWI family stories vs. more about the Russian revolution).
Book group bonus: If your book club meeting is long enough, watch an episode together before the discussion! If not, have everyone watch one in advance and come armed with opinions.
Get ready to rock out with these Hall of Fame femmes! I did not realize there were this many rock'n'roll female artist memoirs and now must get Nina Simone's immediately.
Book group bonus: Obviously an appropriate playlist is in order!
And don't forget! Our very excellent mystery giveaway is open until 5/9, so get clicking.
That's a wrap: Happy discussing! If you're interested in more science fiction and fantasy talk, you can catch me and my co-host Sharifah on the SFF Yeah! podcast. For many many more book recommendations (including the occasional book club question!) you can find me on the Get Booked podcast with the inimitable Amanda.
Your fellow booknerd,
Jenn
More Resources: 
– Our Book Group In A Box guide
– List your group on the Book Group Resources page