Hello and happy Friday, fellow nonfiction nerds! There's been some big nonfiction books adjacent news breaking this week — a former California police officer has been identified as the Golden State killer. He was arrested on Wednesday, based on new DNA evidence. The recently-published true crime book I'll Be Gone in the Dark chronicled journalist Michelle McNamara's search for the Golden State Killer before her death in 2016. Exciting!
---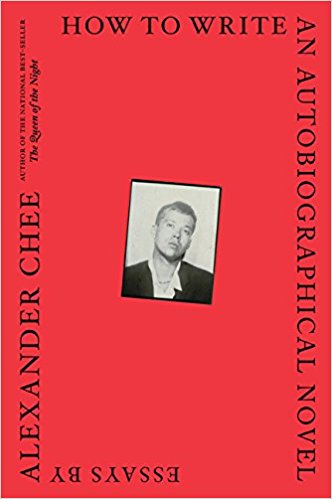 Sponsored by How to Write an Autobiographical Novel by Alexander Chee
From the author of The Queen of the Night, an essay collection exploring his education as a man, writer, and activist—and how we form our identities in life and in art. As a novelist, Alexander Chee has been described as "masterful" by Roxane Gay, "incomparable" by Junot Díaz, and "incendiary" by The New York Times. With How to Write an Autobiographical Novel, his first collection of nonfiction, he's sure to secure his place as one of the finest essayists of his generation as well.
---
Beyond that, this week's newsletter has new books, some sales numbers for the James Comey blockbuster, and news about musicians who are writing memoirs. Let's get going!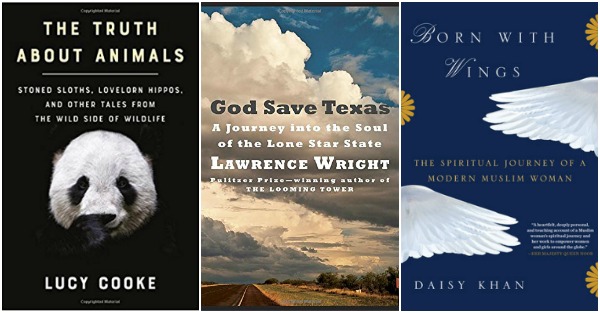 New Books!
The Truth About Animals by Lucy Cooke – The subtitle of this book is what convinced me I needed to read it. What would be better than a book of "stoned sloths, lovelorn hippos, and other tales from the wild side of wildlife"? Lucy Cooke is a great person to share those stories too – she has an MA in zoology from the University of Oxford and is a National Geographic explorer.
Born With Wings by Daisy Kahn – Daisy Kahn, a women's rights activist, grew up in a progressive Sunni Muslim family in India. She came to the United States to finish high school and, after a period of questioning her faith, she returned to Islam and married the imam of a mosque in New York. The book is about her spiritual journey as well as her current mission to empower Muslim women and challenge ideas about what it means to be Muslim.
God Save Texas by Lawrence Wright – There's something really funny to me about the idea that Lawrence Wright would go from writing about Scientologists to writing about Texas. This book is an exploration of the "history, culture and politics" of Texas, looking into the stereotypes and misconceptions many people have about the state. I think this one will be interesting.
Need more new books? In last week's episode of For Real, Alice and I talked about The Rise and Fall of the Dinosaurs by Steve Brusatte, The Feather Thief by Kirk Wallace Johnson, The War on Neighborhoods by Ryan Lugalia Hollon and Daniel Cooper, and The Opposite of Hate by Sally Kohn.
A Higher Loyalty Rolls On
It seems that James Comey's media tour is doing what it's supposed to do – sell a bunch of copies of his book, A Higher Loyalty. In the first week, the book has sold 600,000 copies.
For comparison, the New York Times reports that Hillary Clinton's memoir, What Happened, sold 300,00 copies in its first week on sale, while Michael Wolff's White House exploration Fire and Fury sold "just" (air quotes mine!) 200,000 hardcover copies in its first week. Fire and Fury has sold more than two million copies in total.
The book has been getting so much buzz that Amazon has limited reviews to Amazon customers who they know have purchased the book through the site because of "unusual review behavior" on the book. And Comey's book tour is going strong – no doubt this book is going to break all sorts of sales records.
Musicians Making Memoirs
Prince's official memoir will be published before the end of the year! The musician signed a deal to produce a memoir – and reportedly handwrote more than 50 pages – before he died in 2016. Prince's agent announced this week that the memoir will be out in 2018.
Mariah Carey is also writing a memoir! The book will include mentions of her 2001 diagnosis for bipolar disorder, which she recently revealed to People magazine.
Around the Riot
And finally, I've got a few recent Book Riot posts I wanted to bring to your attention:
Don't forget, Book Riot has an awesome giveaway going on right now – follow this link to be entered in a drawing for 15 of the year's best mystery/thrillers!
Find me on Twitter @kimthedork, and co-hosting the For Real podcast here at Book Riot. Happy reading!