Hi Kid Lit friends!
Happy Earth Day! 2018's Earth Day campaign focuses on the reduction of plastic. According to the Earth Day Network, 300 million tons of plastic are sold each year and 90% of that is thrown away, ending up in our landfills, our oceans, our wildlife and our bodies. The advocacy group The Last Plastic Straw states that 500,000,000 plastic straws are thrown away every day in the United States of America. You can sign the pledge to stop using plastic straws here!
---
Sponsored by Houghton Mifflin Harcourt Books for Young Readers.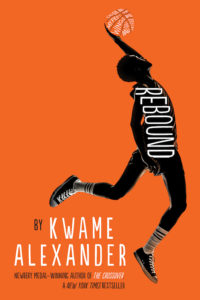 From the New York Times bestselling author Kwame Alexander comes Rebound, the prequel to his Newbery Award-winner, The Crossover. Before he's Chuck "Da Man" Bell, proud father of Jordan and Josh Bell, Charlie is a kid who dreams of basketball glory. In his mind, he can steal, jump, dunk, and make the crowd go wild just like a pro-baller. But when tragedy strikes, Charlie can't help but make all the wrong moves. Will a series of missteps keep him bench, or can he learn how to rebound?
---
And we all know that action combined with knowledge does a world of good, which is why we have a book list (of course!) for Earth Day!
*All book descriptions from Goodreads.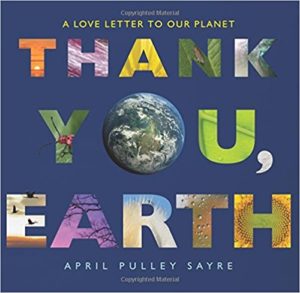 Thank You, Earth: A Love Letter to Our Planet by April Pulley Sayre
April Pulley Sayre, award-winning photographer and acclaimed author of more than sixty-five books, introduces concepts of science, nature, and language arts through stunning photographs and a poetic text structured as a simple thank-you note. Touching on subjects from life cycles to weather, colors, shapes, and patterns, this is an ideal resource for science and language art curriculums and a terrific book for bedtime sharing.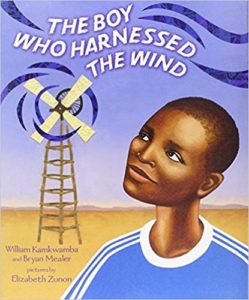 The Boy Who Harnessed the Wind by William Kamkwamba, illustrated by Elizabeth Zunon
When fourteen-year-old William Kamkwamba's Malawi village was hit by a drought, everyone's crops began to fail. Without enough money for food, let alone school, William spent his days in the library . . . and figured out how to bring electricity to his village. Persevering against the odds, William built a functioning windmill out of junkyard scraps, and thus became the local hero who harnessed the wind.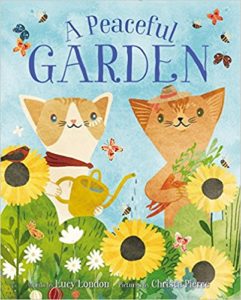 A Peaceful Garden by Lucy London, illustrated by Christa Pierce
Two cats lead the way as young readers learn how to choose seeds, dig holes, and water their plants to create their own peaceful garden. From carrots and lettuce to sunflowers and daisies, this is a garden that children will be eager to plant and tend.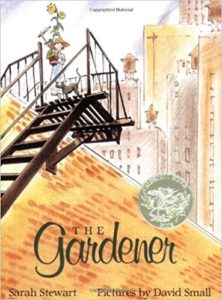 The Gardener by Sarah Stewart, illustrated by David Small
Lydia Grace Finch brings a suitcase full of seeds to the big gray city, where she goes to stay with her Uncle Jim, a cantankerous baker. There she initiates a gradual transformation, bit by bit brightening the shop and bringing smiles to customers' faces with the flowers she grows. But it is in a secret place that Lydia Grace works on her masterpiece — an ambitious rooftop garden — which she hopes will make even Uncle Jim smile.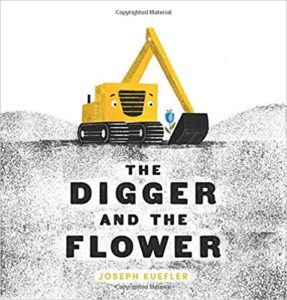 The Digger and the Flower by Joseph Kuefler
Each day, the big trucks go to work. They scoop and hoist and push. But when Digger discovers something growing in the rubble, he sets in motion a series of events that will change him, and the city, forever.
Grandma Gatewood Hikes the Appalachian Trail by Jennifer Thermes (Abrams, 5/8/18)
Emma Gatewood's life was far from easy. In rural Ohio, she managed a household of 11 kids alongside a less-than-supportive husband. One day, at age 67, she decided to go for a nice long walk . . . and ended up completing the Appalachian Trail. With just the clothes on her back and a pair of thin canvas sneakers on her feet, Grandma Gatewood hiked up ridges and down ravines. When the newspapers got wind of her amazing adventure, the whole country cheered her on to the end of her trek, which came just a few months after she set out. A story of true grit and girl power at any age, Grandma Gatewood proves that no peak is insurmountable.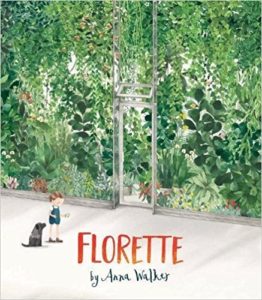 Florette by Anna Walker
When Mae's family moves to a new home, she wishes she could bring her garden with her. She'll miss the apple trees, the daffodils, and chasing butterflies in the wavy grass. But there's no room for a garden in the city. Or is there?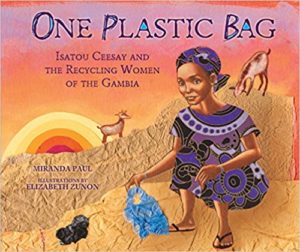 One Plastic Bag by Miranda Paul, illustrated by Elizabeth Zunon
Plastic bags are cheap and easy to use. But what happens when a bag breaks or is no longer needed? In Njau, Gambia, people simply dropped the bags and went on their way. One plastic bag became two. Then ten. Then a hundred. The bags accumulated in ugly heaps alongside roads. Water pooled in them, bringing mosquitoes and disease. Some bags were burned, leaving behind a terrible smell. Some were buried, but they strangled gardens. They killed livestock that tried to eat them. Something had to change. Isatou Ceesay was that change. She found a way to recycle the bags and transform her community. This inspirational true story shows how one person's actions really can make a difference in our world.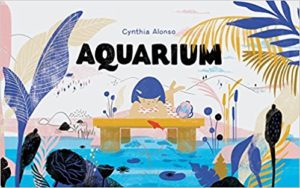 Aquarium by Cynthia Alonso
A girl ventures to the water's edge, dreaming of a new friend. And, just like that, a beguiling red fish leaps into her life. But is friendship a sea these two can navigate together? From debut Argentinian author-illustrator Cynthia Alonso comes a wordless picture book about the timeless beauty of nature, the transcendent power of connection, and the importance of letting go.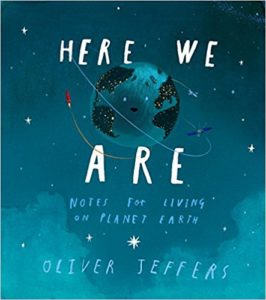 Here We Are: Notes for Living on Planet Earth by Oliver Jeffers
Oliver Jeffers, arguably the most influential creator of picture books today, offers a rare personal look inside his own hopes and wishes for his child–and in doing so gifts children and parents everywhere with a gently sweet and humorous missive about our world and those who call it home. Be it a complex view of our planet's terrain (bumpy, sharp, wet), a deep look at our place in space (it's big), or a guide to all of humanity (don't be fooled, we are all people), Oliver's signature wit and humor combine with a value system of kindness and tolerance to create a must-have book for parents.
Heal the Earth, Julian Lennon
Jump aboard the White Feather Flier, a magical plane that can go wherever you want. This time, Lennon's interactive book immerses children in a fun and unique journey where they can dive below the ocean to bleached coral reefs, visit the city to cultivate green spaces, help the rain forest return and give its animals a home, and explore the planet, meet new people, and help make the world a better place!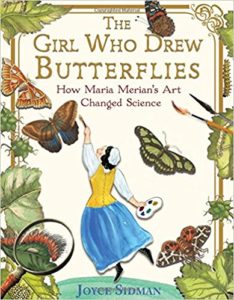 The Girl Who Drew Butterflies by Joyce Sidman
One of the first naturalists to observe live insects directly, Maria Sibylla Merian was also one of the first to document the metamorphosis of the butterfly. In this visual nonfiction biography, richly illustrated throughout with full-color original paintings by Merian herself, the Newbery Honor–winning author Joyce Sidman paints her own picture of one of the first female entomologists and a woman who flouted convention in the pursuit of knowledge and her passion for insects.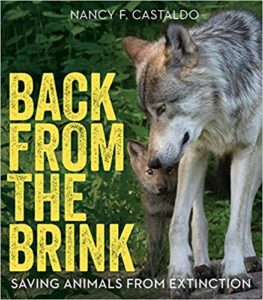 Back from the Brink: Saving Animals from Extinction by Nancy Castaldo (HMH Books for Young Readers)
How could capturing the last wild California condors help save them? Why are some states planning to cull populations of the gray wolf, despite this species only recently making it off the endangered list? How did a decision made during the Civil War to use alligator skin for cheap boots nearly drive the animal to extinction? Back from the Brink answers these questions and more as it delves into the threats to seven species, and the scientific and political efforts to coax them back from the brink of extinction. This rich, informational look at the problem of extinction has a hopeful tone: all of these animals' numbers are now on the rise.
Around the web…
Lil' Libros: Great Bilingual Board Books for Children (via Book Riot)
The Transformative Power of Reading Poetry as a Child (via Brightly)
Reading Harry Potter to My Kid Is Not Working Out As Planned (via Book Riot)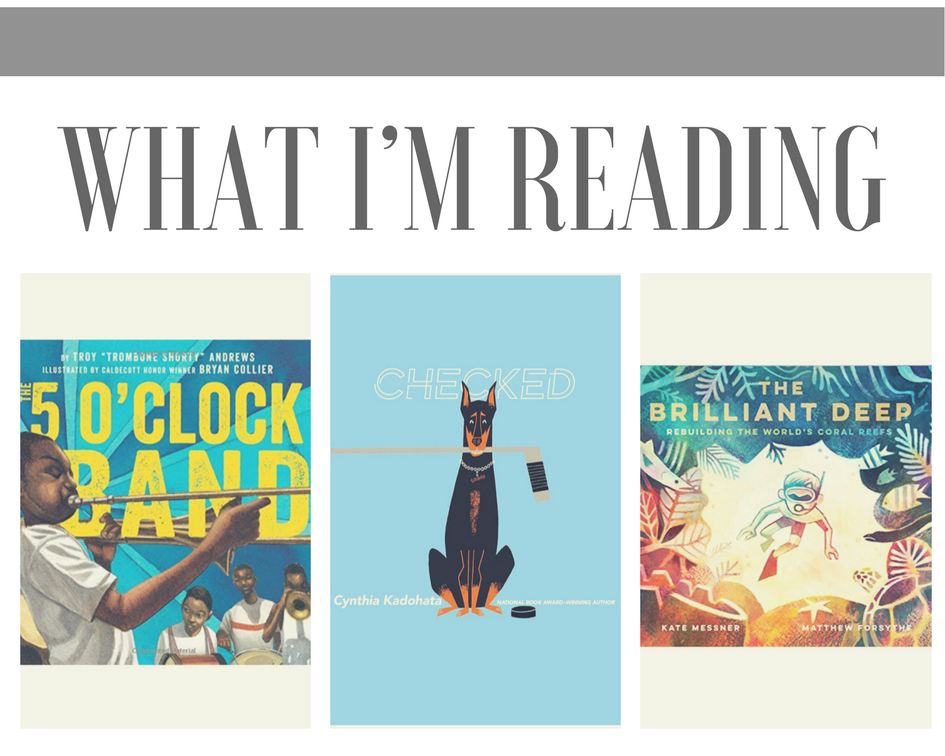 Whoa, the books I read this week were fantastic! First off, The 5 O'Clock Band (Abrams, 6/19/18) by Troy Andrews and illustrated by Bryan Collier is a stunner. This is a companion book to the Caldecott Honor winner, Trombone Shorty, and it's excellent!
I began the middle grade book Checked by Cynthia Kodohata last night and am completely hooked. It's about a middle schooler who loves his Doberman, hockey, and his dad. I absolutely love the voice in this book and already know the story is going to make me cry.
The Brilliant Deep: Rebuilding the World's Coral Reefs (Chronicle, 5/18) by Kate Messner, illustrated by Matthew Forsythe, is a gorgeous gem of a book about Ken Nedimyer, founder of the Coral Restoration Foundation. The cover is quite stunning with foil that glitters in the light.
I would love to know what you are reading this week! Find me on Twitter at @KarinaYanGlaser, on Instagram at @KarinaIsReadingAndWriting, or email me at karina@bookriot.com.
Until next week!
Karina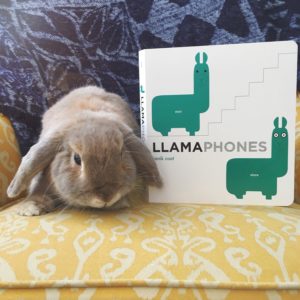 Izzy and I love Llamaphones!
*If this e-mail was forwarded to you, follow this link to subscribe to "The Kids Are All Right" newsletter and other fabulous BookRiot newsletters for your own customized e-mail delivery. Thank you!*