It's been a big week of news in the world of books, especially when it comes to nonfiction! This week's newsletter is going to go a little off format, focusing on two big stories – the Pulitzer Prize winners, and the publication of James Comey's memoir, A Higher Loyalty. Let's dive in!
---
Sponsored by With One Shot by Dorothy Marcic.
The killer was behind bars—a woman who had confessed to the cold-blooded murder of her husband. But Dorothy Marcic suspected a more sinister tale at the heart of her beloved uncle's violent death. And nothing would stop her from getting to the truth.
---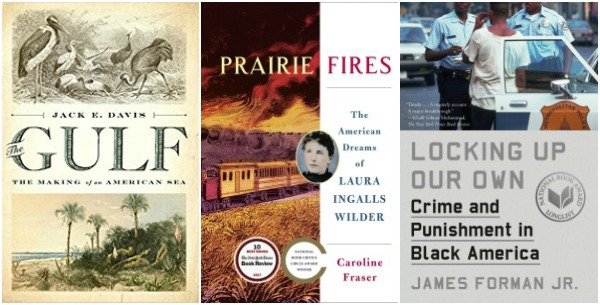 The Pulitzer Prizes!
The Pulitzer Prizes, awarded each year in Journalism and Letters, Drama and Music, are some of my favorite prizes to nerd out about. This year's winners in nonfiction are all books that I'm interested in picking up:
As I think I've mentioned before, take some time to check out the winners in the journalism categories. The Public Service award went to the work by Jodi Kantor, Megan Twohey and Ronan Farrow for their investigations into sexual harassment in Hollywood (that's going to be a book!). I'm also excited to explore the work of the Feature Writing winner, Rachel Kaadzi Ghansah, and the finalists, John Woodrow Cox and Norimitsu Onishi.
James Comey Tells All… Too Late?
At the beginning of the year, I thought the publication of Fire and Fury by Michael Wolff would be the biggest nonfiction release of the year. But I forgot about the publication of A Higher Loyalty, a memoir from former FBI Director James Comey that was release this week. And Lordy, it's been quite a show.
In February, the book's publisher, Flatiron Books, announced that they were going to move up the release date from May to April because of "demand of the former FBI director to be heard amid an urgent conversation" about the FBI. They also reported that the first printing of the book was 850,000 copies, more than five times the initial printing of Fire and Fury. People were ready for this book to be big!
Early copies of the book were pretty tightly controlled, but after an embargo was lifted last week there were a blitz of stories highlighting some of the most salacious details in the book. NPR's Ron Elving said Comey describes an "unethical, and untethered" president. Michiko Kakutani returned to the New York Times to review the book, calling it "absorbing," and highlighting the differences it shows between Comey and the president. And of course, President Trump couldn't stay off Twitter, spending several days lashing out at Comey and others as news about the book continued to come out.
Despite the flurry of press, and Comey's flurried press tour on just about every major news network, what I've seen about the book has been a lot of fluff and not much substance. In the Washington Post, Carlos Lozada asks whether Comey lives up to the standards of ethical leadership that he espouses (spoiler alert… maybe not). Sure, Comey has a lot of negative things to say about the president… but did we really expect that he wouldn't? I tend to agree with this analysis by Jamil Smith in Rolling Stone: "It is fascinating, indeed, that Comey rediscovered his ability to effectively rebuke the president only after publishers came calling."
My favorite anecdote about the book release is one reported by CNN – booksellers in Washington D.C. expected huge crowds for the publication of the book on Tuesday, but just got a bunch of journalists and cameras instead. Whomp whomp.
Bookish Deals and Giveaways
Whew! That was a lot. Just a few quick ebook deals to conclude this newsletter:
And don't forget, Book Riot has an awesome giveaway going on right now – follow this link to be entered in a drawing for 15 of the year's best mystery/thrillers!
Find me on Twitter @kimthedork, and co-hosting the For Real podcast here at Book Riot. Happy reading!