Happy Friday, Ents and aeronauts! Today we've got reviews of My Soul to Keep and The Merry Spinster, plus scary stories, elves, Ready Player One looks, and more.
---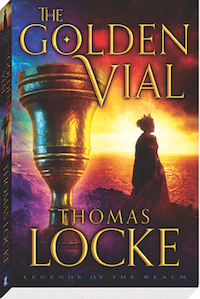 This newsletter is sponsored by Baker Publishing Group.
Vulnerable and weakened by grief after a terrible loss, Hyam has been struck by a mysterious illness that threatens to claim his life. Seeking to help Hyam and restore the realm, Queen Shona travels to Hyam's remote hometown to find answers.
Dally has always had abilities far beyond those of a normal human—far-seeing and magic come naturally to her. Before the arrival of Shona and her army, Dally had always kept her abilities secret. But with an ancient evil bearing down on her village and the fate of the realm hanging in the balance, the orphaned servant girl steps forward to do what no one else can. Will the battle claim more than Dally is willing to give?
---
Happy 50th birthday, Saga! Or more correctly, happy 50th issue. I am just one of many readers for whom Saga marked a return to reading comics, particularly in issues. And while I'm not currently caught up, this is a good reminder to pick up where I left off and continue the rollercoaster that is Brian K. Vaughan and Fiona Staples f***ing with our emotions.
Put it in the freezer! Or, if you like horror, take it out — here are nine SF/F books to scare you. Despite being a total horror wimp, I have read most of these and can cosign their inclusion.
Let's talk about elfpunk. Is it a thing? Abby makes a strong case, and I too can remember the desperate library searches for anything similar to War for the Oaks. And to be quite frank, I'm a fan of any list that includes that bonkers Gael Baudino cover.
Ready for Ready Player One? I myself have very mixed feelings about it (and this Vox article does a great job breaking them down), but I know lots of fans of the book. And for you, I give you this round-up of gear to get ready for the movie!
I did not know when the Gondorian New Year was before reading this post but now I definitely want to make this A Thing.
And last but not least I absolutely ADORE this post about what a wizarding school in South Florida would be like.
And now, onto the reviews. They are both dark and twisty, just like this spring's weather. Heyo!
My Soul to Keep by Tananarive Due
Trigger warning: harm to children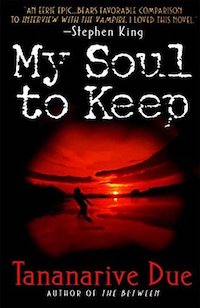 I have finally read my first Due! And through the grace of "this one is available from the library now," I managed to pick the perfect one for me. My Soul to Keep is hard to classify — a little horror (it opens with a murder and goes on from there), a little science fiction, a little fantasy. Paranormal is probably the label that fits it best, but you can decide for yourself. Regardless of where you shelve it, it belongs on your bookcase.
My Soul to Keep follows Jessica, a reporter who is also a wife and a mother, and her husband David, who happens to be a millenias-old immortal. Not that she'd know! They met when she was in college and he was just her Spanish professor. She knows that he's a devoted husband and father; almost too devoted, always wanting more of her time. She thinks her biggest problem is balancing her work ambitions with the demands of family life; little does she know! A series of murders surrounding Jessica attract the attention of other immortals, and she starts to learn the truth about her marriage. David, in the meantime, has to decide what he can and can't tell her — and what he's going to do next.
My Soul to Keep plays with many of the same questions as the previously reviewed Eternal Life by Dara Horn: how do you reconcile immortality with religion? What does family mean to an immortal? But Due is also examining what it looks like to be a black man who cannot die, who lives through slavery, through the rise and fall of empires. She also injects a hefty does of action and gore. This book is a page-turner and I can't wait to get my hands on the next in the series (although you could read it as a stand-alone).
The Merry Spinster by Mallory Ortberg
Note: Ortberg has recently announced his transition to Daniel, but the book is published under Mallory.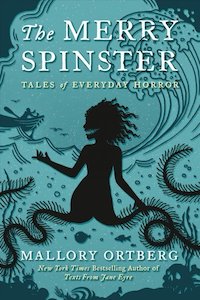 If you're a fan of retold fairytales, twisted fairytales, the Brothers Grimm, Ortberg's "Children's Stories Made Horrific" series, Kelly Link, Karin Tidbeck, or all of the above, you need to pick up The Merry Spinster immediately. With stories that reference everything from The Bible to The Velveteen Rabbit to Donald Barthelme (with a helpful guide in the back!), Ortberg takes us to dark and twisty places that some of us might prefer not to visit, but that are so worth it.
I say they're dark, and I mean it — I had to skim "The Rabbit", because body horror is really and truly not my jam. But they're also slyly funny, and very heartfelt. "Fear Not: An Incident Log" which is based on the book of Genesis had me laughing out loud. Her take on The Little Mermaid made me want to stand up and applaud, and "Good Fences Make Good Neighbors" had me tearing up. Ortberg is also exploring sexuality, gender and gender roles, love, family, abuse, gaslighting, obligation, and friendship. There's a lot going on here, and in less than 200 pages, which means there's a lot to love.
And that's a wrap! You can find all of the books recommended in this newsletter on a handy Goodreads shelf. If you're interested in more science fiction and fantasy talk, you can catch me and my co-host Sharifah on the SFF Yeah! podcast. For many many more book recommendations you can find me on the Get Booked podcast with the inimitable Amanda.
These might be the droids you're looking for,
Jenn