Happy Thursday, audiophiles!
I have been filled with so much audiobook joy this week! Many of you let me know what you've been listening to and I've pulled a few of your recommendations so we can all benefit from your wisdom.
Not only that, but I received an email with this amazing anecdote about audiobook narrator Dion Graham, who I mentioned in last week's newsletter because his voice alone gave me FEELINGS. And according to this email sender, I am not alone in that.
---
Sponsored by Scribd
Scribd is the reading subscription service that brings readers unlimited* access to the best books, audiobooks, and magazines for only $9 a month. They make it easy for you to stay informed, discover new passions, and become your best self. Scribd's impressive library includes bestselling and award-winning books and audiobooks from the largest global publishers as well as journalism from leading magazines and newspapers like The New York Times, The Wall Street Journal, and Newsweek. No matter what you're looking for, Scribd is the only reading subscription you need.
---
"I work in audiobook publishing & had the good fortune to meet Dion Graham twice! You are not imagining the sexy. You know that trope in romance novels where the woman goes weak in the knees & melts into a puddle, etc? Yeah, that's what I felt like. He is SO charming & kind & gracious (almost every narrator I've ever met is) & the second time I met him he embraced me like we were the oldest of pals. Anyway, just thought you'd like to know that you're not alone!"
I DO appreciate knowing that I'm not alone and also maybe…if you run into him again, slip him my phone number? Just a thought 😉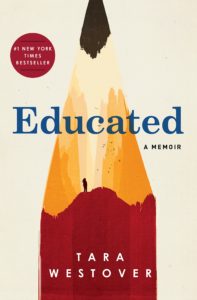 Before I get into what y'all have been reading, I have to tell you that I finished listening to Educated by Tara Westover and it's SO GOOD. The story is heartbreaking and inspiring all at the same time, the writing is gorgeous, and narrator Julia Whelan (narrator of Gone Girl and The Great Alone, among others) is excellent. Really it's just an all-around phenomenal listen.
If you want more of Tara Westover, she was interviewed on one of my favorite podcasts, How To Be Amazing with Michael Ian Black. If you're going to read the book, I suggest doing that before listening to the interview, but either way, it's a great episode.
Now for your recommendations and reviews!
I'm pretty sure letter writer Kate V. should have this newsletter writing gig because check out how delightful even her casual reviews are:
She says, "I just tore through Weapons of Math Destruction by  Cathy O'Neil, who blogs at mathbabe.com. It was such a quick and useful listen. As a data scientist, I am all too aware of the limitations of my own models; hearing Cathy (who narrates and does it just fine) smartly dissect the history and damning effects of algorithms used every day made me even more concerned with transparency in my work…The effect of this quick read is a hopeful, rational vision of a future where decisions made about large populations of marginalized individuals are made from not just data in black boxes, but data lovingly and cautiously tended by humans with the best interest of other humans at heart.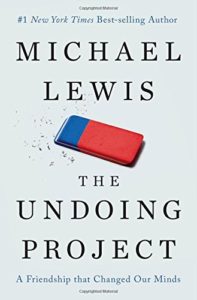 From that, I moved to Michael Lewis's new release, The Undoing Project. The book tracks the early lives of (and the revolutionary relationship between) legendary behavioral economists Daniel Kahneman and Amos Tversky. I cannot get enough of this book, and am glad I paired it with the O'Neil! Even if you aren't interested in the drivers of human behavior (hard to imagine), if you like history or biography, this is such an interesting read. The narrator is unremarkable, in a good way: nothing throws my attention off the tale. Lewis explains the psychological concepts and experiments with a fluid clarity. A PDF of pictures from the physical book is available with the audiobook."
Kate V. should be writing audiobook reviews, amirite? I've never come so close to wanting to listen to a book that relates in any way whatsoever to math.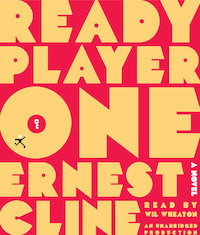 Harise says, "I checked Ready Player One out of the library a good while ago.  I liked the sound of the plot, hadn't read a good dystopian book in a while and this one sounded more fun than gloomy.  I really enjoyed it, but even better was the narration by Wil Wheaton… He does a wonderful job.
This is such an exciting story and it never lags. There is quite a bit of nostalgia but in this age of gaming, any age could relate, in fact, while I never play video games myself, the plot, characters and action, completely drew me in.  The landscape of it's imagined future is a story in itself. I'd wished it had received more attention, and now I see it will be a movie. I hope this causes more to read the book and also brings more listeners, to hear Wil Wheaton's narration."
You know when someone is about to read one of your favorite books for the first time and you're excited for them but also jealous that they get to experience it for the first time? That's how I feel about someone listening to Ready Player One for the first time. It's just so good.
Speaking of Ready Player One, y'all getting excited for the movie? I'm nervous because I so want it to be good but according to this Hollywood Reporter article, I don't have anything to worry about. 'Ready Player One': First Reactions From the Premiere.
Links for Your Ears
How do you write music for a true crime podcast?: Thomas Hewitt Jones is the composer behind the futuristic music for a new true crime podcast, Case Notes. In this interview, he talks about the difference between scoring for a podcast and an audiobook.
Young People Are Now Using YouTube For Audiobooks: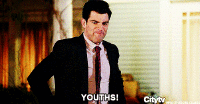 I don't know how well Youth Radio is known outside the Bay Area where it's located but it's a really awesome organization and, according to the youths there, YouTube ain't a bad place for audiobook lovers.
Hey, this teacher is raising money for headphones for her students who have reading challenges to listen to audiobooks. She's asking for a total of $159. I think we could make that happen, don't you?
Nearly one-in-five Americans now listen to audiobooks: But how many of them are reading this newsletter?
As always, you can reach me on twitter at msmacb and katie@riotnewmedia.com
Until next week,
~Katie