This edition of Today in Books is sponsored by All Grown Up by Jami Attenberg.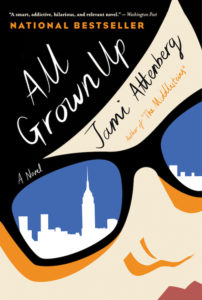 ---
Emma Watson Picks Heart Berries For Feminist Book Club
Watson instagrammed the announcement of her most recent pick for her feminist book club: Heart Berries, a memoir by by Terese Marie Mailhot. In the memoir, Mailhot writes about her coming of age on the Seabird Island Indian Reservation in the Pacific Northwest, PTSD, and depression. In her Our Shared Shelf discussion, Watson wrote, "It feels right and vastly overdue to be reading a story from a First Nation woman with her perspective of a colonial world."
Harper Lee's Estate Sues Over To Kill A Mockingbird Broadway Production
The Estate claims that Aaron Sorkin's theatrical adaptation deviates from the original story in a way that violates a contract between To Kill a Mockingbird author Harper Lee and producers. One of the key issues raised is that the play presents Atticus Finch as "a man who begins the drama as a naïve apologist for the racial status quo." Sorkin said, "I can't and won't present a play that feels like it was written in the year the book was written in terms of its racial politics: It wouldn't be of interest."
Stephen Hawking Dies, Age 76
Stephen Hawking, world renowned physicist and author of books, including A Brief History of Time and The Theory of Everything, died in his home in Cambridge. Hawking was known for his work with black holes and relativity, and he appeared as himself on television shows including The Simpsons and The Big Bang Theory.