Hey there audiobook fans,
I missed you last week, but I know Amanda took good care of you in my absence.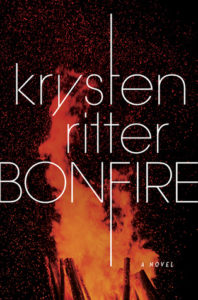 So, what are y'all listening to? I'm listening to Bonfire by Krysten Ritter (you may also know her as the actress who kicked major ass as Jessica Jones, among other roles). I'm just going to come out and admit what a jerk I am: because I knew Ritter as an actress and not a writer, I didn't expect this to be a super well-written book. Writing is a craft, I figured, and if you've been focusing on a different craft (acting/producing, etc.) you might not have time to practice the craft of writing. That's my own ignorance, obviously, because I have no idea what Ritter spends her days doing. But she's an impressive writer.
Abby Williams was eager to leave her small town in Indiana to become an environmental lawyer in Chicago. But when evidence emerges of contaminated water in the town where she grew-up, Abby has to revisit her hometown, and all the secrets she was so eager to leave behind. I enjoy a good thriller and read them enough to be familiar with the formula and tropes of the woman-uncovering-mystery/corruption genre and Bonfire falls into a few of those traps. But there were also many times I thought the plot was headed for one of those tropes and it careened in another direction. Ritter's prose is vivid and engaging, though, and it's an entertaining listen. I would have assumed that Ritter narrates it but she doesn't. Karissa Vacker narrates and gives a strong performance, which is how I managed to get through a whole bunch of chores on Saturday.
Giveaway Timez! My librarian heart is particularly happy with this giveaway–-a library cart! You can even pick whatever color you want! Enter here. And keep an eye out for our new librarian newsletter, Check Your Shelf.
So, today, January 24th marks 10 years since I quit drinking (to be honest, this anniversary makes me feel more old than proud, but whaddaya gonna do?). Books, audio or otherwise, were hugely important during those first years in recovery and, seeing as the addiction epidemic continues to spiral wildly out of control, odds are you know someone who has struggled with an addiction. Even if you don't, a better understanding of addiction is something we would all collectively benefit from. So here are a few audiobooks that got me through the confusing days of early sobriety (publisher description in quotes).
Beautiful Boy: A Father's Journey Through His Son's Addiction by David Sheff
What most resonated with me early in sobriety were memoirs about people who had struggled with addiction themselves, but let us not forget the impact that addiction has on the family and loved ones of the person struggling. This is the central issue in David Sheff's book about his son, Nic. "Before meth, Sheff's son, Nic, was a varsity athlete, honor student, and award-winning journalist. After meth, he was a trembling wraith who stole money from his eight-year-old brother and lived on the streets. With haunting candor, Sheff traces the first warning signs, the attempts at rehabilitation, and, at last, the way past addiction. He shows us that, whatever an addict's fate, the rest of the family must care for one another, too, lest they become addicted to addiction."
You can also hear Sheff's son's perspective in his memoir: Tweak: Growing Up on Methamphetamines and We All Fall Down (for what it's worth, I've read both, and prefer We All Fall Down.
Drinking: A Love Story by Caroline Knapp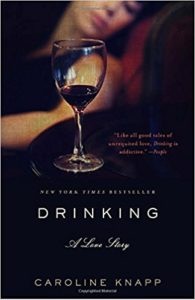 This is arguably the most important book I've ever read. Years before I got sober, Caroline Knapp pulled me into this book with her gorgeous prose. I read this book for the first time before I got sober (and listened to the audio after). Before I even realized I had a problem with drinking, I saw myself if Knapp's writing. This is one book that I treasure in all formats. A must read for…anyone.
High Price by Dr. Carl Hart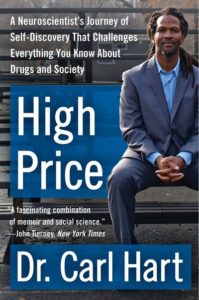 Before he was a neuroscientist and Columbia University's first tenured African-American professor in the sciences, Dr. Carl Hart himself struggled with drug addiction. In this memoir, Hart "recalls his journey of self-discovery and weaves his past and present. Hart goes beyond the hype of the anti-drug movement as he examines the relationship among drugs, pleasure, choice, and motivation, both in the brain and in society. His findings shed new light on common ideas about race, poverty, and drugs, and explain why current policies are failing."
Hole in my Life by Jack Gantos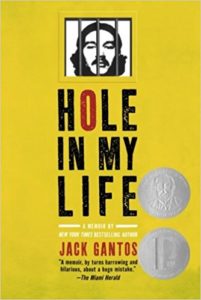 This isn't about addiction per say, but…well, it's just a great book. "When he was a senior in high school, writer Jack Gantos agreed to help sail a sixty-foot yacht loaded with a ton of hashish from the Virgin Islands to New York City, where he and his partners sold the drug until federal agents caught up with them. In Hole in My Life, Gantos describes how– once he was locked up in a small, yellow-walled cell – moved from wanting to be a writer to writing, and how dedicating himself more fully to the thing he most wanted to do helped him endure and ultimately overcome the worst experience of his life."
Lit by Mary Karr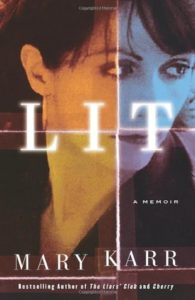 Memoirs about getting sober need at least a dash of humor to be tolerable. Fortunately, Mary Karr is freaking hilarious and her sobriety memoir has witty, dry (pun intended, thank you very much) humor on every page. We were introduced to Mary's "charismatic but troubled" mother in Cherry. Discussions about motherhood, alcoholism, and life's chaos make this a memorable (and surprisingly fun, given the content) listen.
And finally, here are some audiobook(ish)-related links that may be of interest.
Listen to Nick Offerman read a Denis Johnson short story via Literary Hub
Not entirely audiobooky, but interesting bookish news: HBO has released a teaser trailer for Fahrenheit 451, and Catch-22 is coming to Hulu.
Finally, we've talked before about how to become an audiobook narrator, but if you're looking for another narrator's advice, here ya go:
https://www.backstage.com/advice-for-actors/backstage-experts/voiceover-audiobooks-advice-auditions/
As always, you can find me on twitter at msmacb or shoot me an email at katie@riotnewmedia.com.
Until next week,
~Katie