Hi Kid Lit friends,
I am writing this on a wintry, slushy day in New York City. My living room window faces out toward a few Harlem residential buildings, and I often stare at them when I have writer's block. (That happens more frequently than I would like.) One building has concrete balconies. About half of them are smaller than a regular balcony (definitely too small for a person to step onto) and span a strange area in between two sets of windows (the windows are definitely too small for someone to crawl out of). I always wonder why the architect chose to design the building in that way and what the purpose of the doll-sized balconies are.
---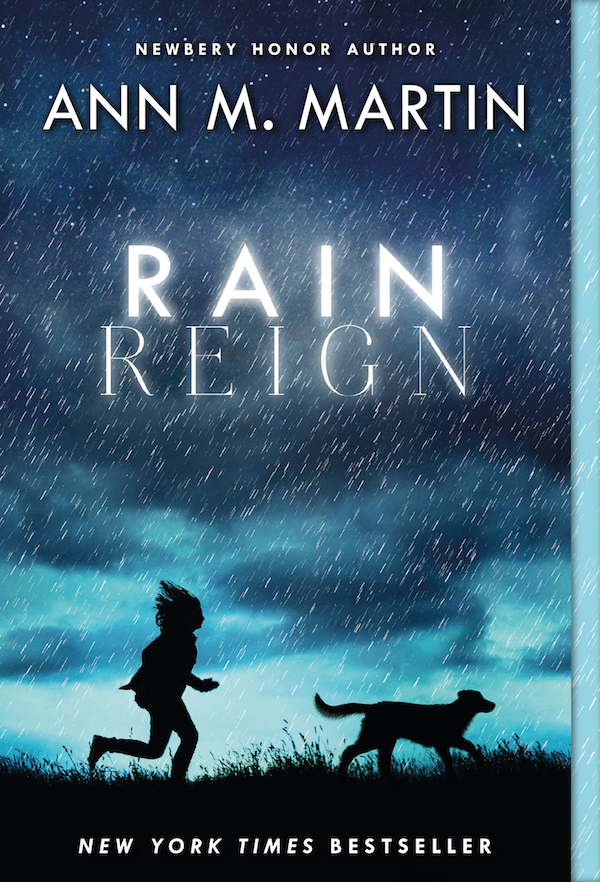 Rain Reign by Ann M. Martin
Rose Howard is obsessed with homonyms.​ ​Her own name is a homonym, and she​ ​even​ ​gave her dog Rain a name with two homonyms (Reign, Rein). Not everyone understands Rose's obsessions, her rules, and the other things that make her different.​
When a storm hits their town, Rain goes missing. Now Rose has to find her dog, even if it means leaving her routines and safe places to search.
Hearts will break and spirits will soar for this powerful story from the New York Times bestselling author of The Baby-Sitter's Club series, Ann M. Martin.
---
Architecture has always fascinated me, probably because my father is an architect and I grew up watching him work at his drafting table. (This was when architects did everything with slide rulers, pencils, and markers.) I was fascinated by the pencil sharpener that clamped to the table, and I loved borrowing his stencils to make my own house designs.
There have been a lot of children's books in the last few years that feature architecture and architects, so I thought I would do a little round-up here. I adore all of these books, and knowing more about architecture gives me great joy as I walk the streets of New York City and imagine who designed all of these buildings.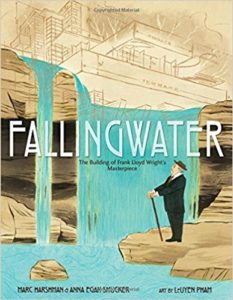 Fallingwater: The Building of Frank Lloyd Wright's Masterpiece by Marc Harshman and Anna Egan Smucker, art by LeUyen Pham
This is one of my absolute favorite picture books about one of my favorite homes. The book takes the reader through the story of how Frank Lloyd Wright designed Fallingwater, a home that incorporates a waterfall running underneath the center of the house. The waterfall can be seen from every room, and the water's tune sounds different in every part of the home. His finished design, built right into the rocks and perched at the top of the waterfall, is gorgeous. The stream runs right through the house, creating a beautiful juxtaposition of nature and structure.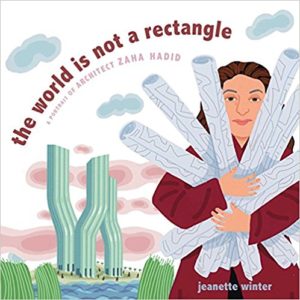 The World Is Not a Rectangle: A Portrait of Architect Zaha Hadid by Jeannette Winter
Architect Zaha Hadid grew up in Baghdad, Iraq, and ended up attending architecture school in London, England. Following school she began her own studio and designed buildings all over the world. Her philosophy, that the world is not a rectangle, led her to experiment with many different fluid and beautiful shapes in her designs.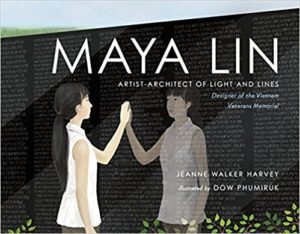 Maya Lin: Artist Architect of Light and Lines by Jeanne Walker Harvey, illustrated by Dow Phumiruk
The design for the Vietnam Memorial was selected from a contest, and the winner was a young woman named Maya Lin. In this lovely book, we learn about Maya's experimentations with light and lines as a young child and her inspiration behind the iconic Vietnam Memorial.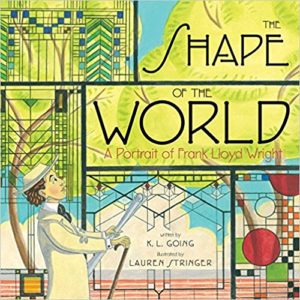 The Shape of the World: A Portrait of Frank Lloyd Wright by K.L. Going, illustrated Lauren Stringer
This biography of Frank Lloyd Wright is a more general account of his life and his interest in shapes found in nature. His mother encouraged him to explore with blocks at an early age, and his interest grew and he went on to study architecture. I enjoyed the illustrations on this one, especially the focus on the more graphic elements of his work.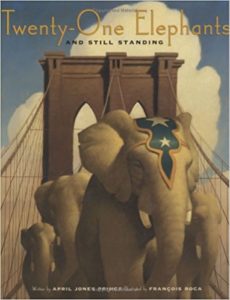 Twenty-One Elephants and Still Standing by April Jones Prince, illustrated by Francois Roca
The Brooklyn Bridge opened in 1883, the largest suspension bridge in the world at that point. There was great fanfare at the opening, but people wondered: Was the bridge safe? B.T. Barnum seized the opportunity to show the world how safe it was by putting on a show. He declared that twenty-one elephants could walk across the bridge safely. I enjoyed reading about this slice of history, lovingly told with gorgeous prose and paintings.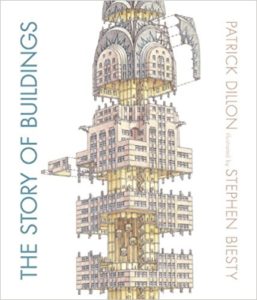 The Story of Buidings: From the Pyramids to the Sydney Opera House and Beyond by Patrick Dillon, illustrated by Stephen Biesty
From the pyramid erected so that an Egyptian pharaoh would last forever to the dramatic, machine-like Pompidou Center designed by two young architects, Patrick Dillon's stories of remarkable buildings — and the remarkable people who made them — celebrates the ingenuity of human creation. Stephen Biesty's extraordinarily detailed illustrations take us inside famous buildings throughout history and demonstrate just how these marvelous structures fit together.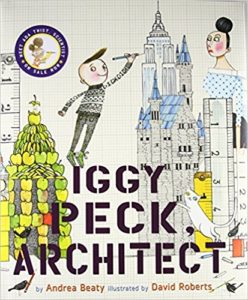 Iggy Peck, Architect & Iggy Peck's Big Project Book for Amazing Architects by Andrea Beaty, illustrated by David Roberts
Most young readers know about the very popular Iggy Peck, a young kid who will build towers with any materials he is given (even poppy diapers). When Iggy's second grade teacher declares a dislike for architecture, Iggy knows he is the only one who can change her mind. Pair this picture book with the project book, filled with more than forty exciting STEM and design projects, from drafting and doodling to building and blueprints.
New Releases for January 23rd (all descriptions from Goodreads)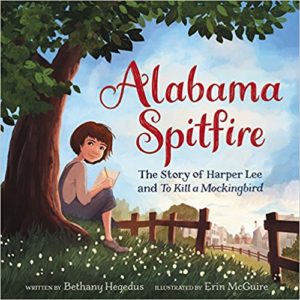 Alabama Spitfire: The Story of Harper Lee and To Kill a Mockingbird by Bethany Hegedus (HarperCollins)
Unlike most girls at that time and place, Nelle preferred overalls to dresses and climbing trees to tea parties. Nelle loved to watch her daddy try cases in the courtroom. And she and her best friend, Tru, devoured books and wrote stories of their own. More than anything Nelle loved words. This love eventually took her all the way to New York City, where she dreamed of becoming a writer. Any chance she had, Nelle sat at her typewriter, writing, revising, and chasing her dream. Nelle wouldn't give up—not until she discovered the right story, the one she was born to tell.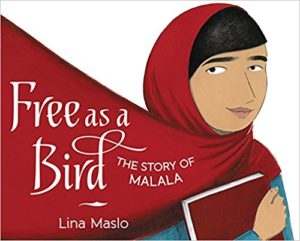 Free as a Bird by Lisna Maslo (HarperCollins)
When Malala Yousafzai was born, people shook their heads because girls were considered bad luck. But her father looked into her eyes and knew she could do anything. In Pakistan, people said girls should not be educated. But Malala and her father were not afraid. She secretly went to school and spoke up for education in her country. And even though an enemy tried to silence her powerful voice, she would not keep quiet. Malala traveled around the world to speak to girls and boys, to teachers, reporters, presidents, and queens—to anyone who would listen—and advocated for the right to education and equality of opportunity for every person.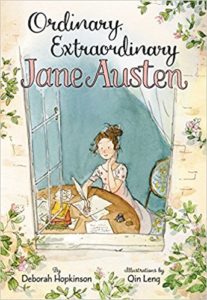 Ordinary, Extraordinary Jane Austen by Deborah Hopkinson, illustrated by Qin Leng (HarperCollins)
It is a truth universally acknowledged that Jane Austen is one of our greatest writers. But before that, she was just an ordinary girl. In fact, young Jane was a bit quiet and shy; if you had met her back then, you might not have noticed her at all. But she would have noticed you. Jane watched and listened to all the things people around her did and said, and locked those observations away for safekeeping.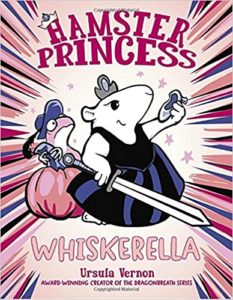 Hamster Princess: Whiskerella by Ursula Vernon (Penguin Random House)
Princess Harriet Hamsterbone is not the kind of princess who enjoys fancy dresses or extravagant parties. Cliff-diving, fractions, and whacking people with swords are more her thing. So when she's forced to attend a boring ball in honor of a visiting ambassador, Harriet is less than thrilled–until a bewitchingly beautiful stranger arrives. Who is she? And where did she come from? The mystery leads to a not-so-wicked stepsister, an incontinent lizard, and a fairy's spell that's really more of a curse. Luckily, Harriet knows a thing or two about curses…
Shaking Things Up: 14 Young Women Who Changed the World by Susan Hood (HarperCollins)
Fresh, accessible, and inspiring, Shaking Things Up introduces fourteen revolutionary young women—each paired with a noteworthy female artist—to the next generation of activists, trail-blazers, and rabble-rousers. In this book, you will find Mary Anning, who was just thirteen when she unearthed a prehistoric fossil. You'll meet Ruby Bridges, the brave six-year-old who helped end segregation in the South. And Maya Lin, who at twenty-one won a competition to create a war memorial, and then had to appear before Congress to defend her right to create.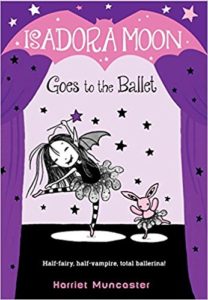 Isadora Moon Goes to the Ballet by Harriet Muncaster (Random House)
Isadora Moon is special because she is different. But just like her other classmates, Isadora loves the ballet. That's why Isadora can't wait for a field trip with her class to see the performance of Alice in Wonderland. Everything is totally normal. And then the curtain rises and Isadora's special best friend, Pink Rabbit, is not in his seat. . .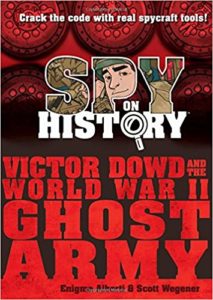 Spy on History: Victor Dowd and the World War II Ghost by Enigma Alberti and Scott Wegener (Workman)
Your mission: Find Victor Dowd's missing sketchbook. And discover one of the most unusual stories of World War II. Meet the 603rd Camouflage Engineers, better known as the Ghost Army. This group of artists and sound engineers were trained to deceive the Germans in World War II with everything from fake tanks to loudspeakers broadcasting the sound of marching troops. And meet Victor Dowd, a real-life sergeant who with his fellow Ghost Army troops fought his way from Normandy, through France, and eventually across the Rhine.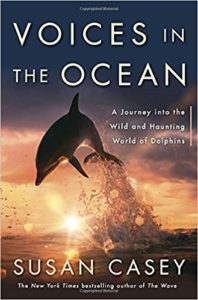 Dolphins: Voices in the Ocean by Susan Casey (Random House)
Since the dawn of recorded history, humans have felt a kinship with the sleek and beautiful dolphin, an animal whose playfulness, sociability and intelligence seems like an aquatic mirror of mankind. In recent decades, scientists have discovered dolphins recognize themselves in reflections, count, feel despondent, adorn themselves, rescue each other (and humans), deduce, infer, form cliques, throw tantrums, gossip and scheme.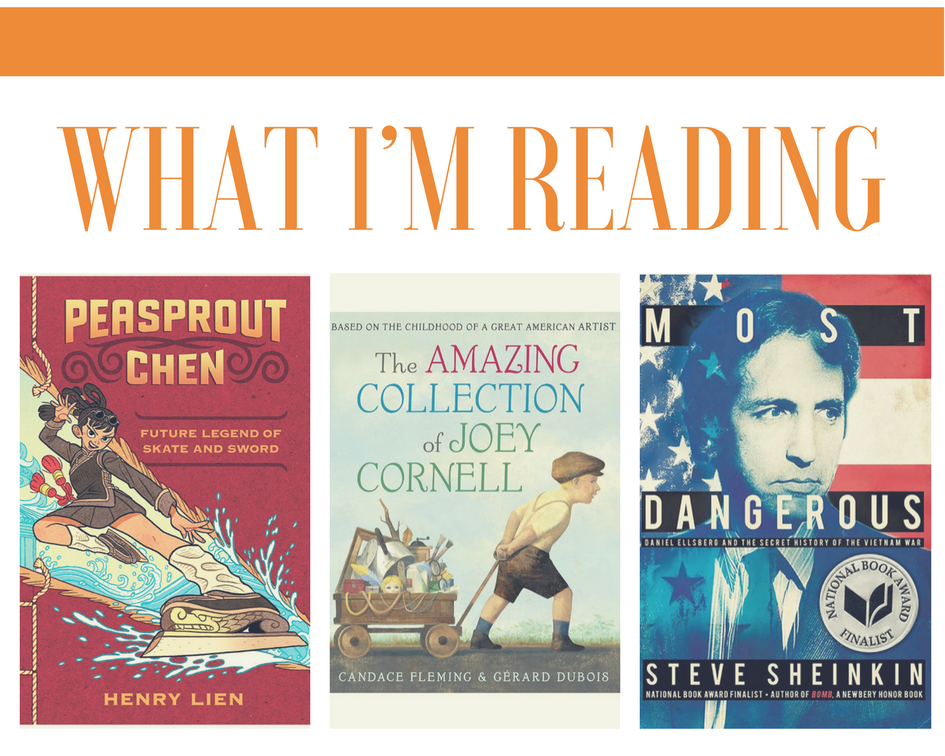 I received an advanced copy of Peasprout Chen: Future Legend of Skate and Sword by Henry Lien (Macmillan, 4/3), a middle grade book which has been on my radar for quite some time. I am very excited to start that this week. The Amazing Collection of Joey Cornell is a picture book by Candace Fleming and Gerard Dubois (Random House, 2/27). It is a fascinating look into the childhood of artist Joey Cornell. And finally, I am almost done listening to the audiobook of the middle grade/young adult book Most Dangerous by Steve Sheinkin, a recommendation from my friend Jen Petro-Roy (her middle grade debut, P.S. I Miss You, comes out on March 6th!). Most Dangerous is a nonfiction book about the Vietnam War and the Pentagon Papers, and this book has taught me so much about this period in American history. Warning: there is a ton of cursing in Most Dangerous, but all are direct quotes (most of the worst language came directly from the mouth of President Nixon). This book is intended for ages 10+.
I'd love to know what you are reading this week! Find me on Twitter at @KarinaYanGlaser, on Instagram at @KarinaIsReadingAndWriting, or email me at karina@bookriot.com.
Until next week,
Karina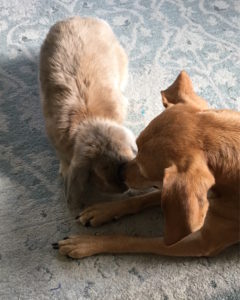 Izzy and Ginger Pye, sharing some bookish confidences.