Happy Friday, warlocks, witches, and warring automata! This week we're talking about The Clockwork Dynasty and Practical Magic, awards news, folklore, LEGOs, and more.
---
This newsletter is sponsored by Zenith by Sasha Alsberg and Lindsay Cummings.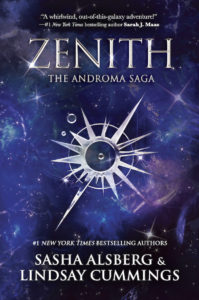 An action-packed thrill ride of adventure, intrigue and steamy star-crossed romance! Book one in The Androma Saga, from #1 New York Times bestselling authors Sasha Alsberg and Lindsay Cummings.
Known as the Bloody Baroness, Captain Androma Racella and her motley crew roam the Mirabel galaxy on the starship Marauder taking whatever mercenary work they can find.
But when a routine job goes awry, the Marauder's all-girl crew find themselves at the mercy of a dangerous bounty hunter from Andi's past. Coerced into a life-threatening mission, and straight into the path of a shadowy ruler bent on revenge, Andi and her crew will either restore order to the ship—or start a war that will devour worlds.
---
The nominees are in! The 2018 Philip K. Dick Award's nominees have been announced. Of the seven I've only read one, Six Wakes; must get on these.
Supernatural YA, check: Tor has rounded up the new SF/F YA you'll want to keep an eye out for. Sharifah talked about The Hazel Wood on the SFF Yeah! podcast recently, and I cannot wait to dig into The Belles.
Previously on The Magicians: Lev Grossman's novels-turned-wildly popular TV show (at least amongst the nerds of my acquaintance) is back for a third season, and if you've lost track of what has happened on the show vs. the books, SyFy Wire has a 2-minute, spoiler-tastic catch-up video.
Fuzz and folklore: Dana found herself reading a string of folklore-based fantasies with animal protagonists this winter. This is a sub-genre I am definitely here for.
Need more short reads in your life? Alex has some suggestions as to where you can find great SF/F magazines and podcasts, plus links to stories you need in your eyeballs ASAP.
Favorite book death-match: That's probably not what PBS is doing with their Great American Read show, but it's hard for me not to envision it that way. Especially since SF/F greats Margaret Atwood (do they know she's Canadian?) and George R.R. Martin are involved now!
WHERE ARE MY LEGOS: Make your own Millenium Falcon.
In today's reviews, we've got historical technology and contemporary witchcraft.
The Clockwork Dynasty by Daniel H. Wilson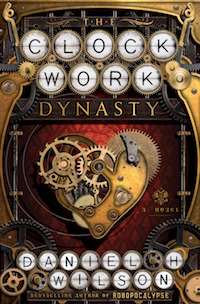 This was my first experience reading Wilson (who some of you might know from the Robopocalypse books), and what a ride. The story kicks off with an anthropologist on location, studying a three-hundred year old mechanical doll in a monastery. It's an important lead in her research, which has been stymied by artifacts disappearing right before she's supposed to study them. When Jane is subsequently attacked in her hotel room for the family heirloom that started her interest in automata, she discovers that there is much, much more to her field of interest than meets the eye. Sentient machines exist, they're at war with each other, and she's just been drafted.
Featuring centuries-old automata, lots of action sequences, political shenanigans in the court of Peter the Great, and hidden temples in China, this is a whirlwind adventure story. I confess that I found the pacing a bit frustrating: the chapters are very short and switch POV between present-day Jane and one of the automata during different historical periods, which meant that just when I was getting into something the book switched gears (ahem). Ultimately the characters and the plot were more than worth it, especially if you're a fan of ancient technology, secret societies, and anthropologist characters (all of which are my catnip).
Practical Magic by Alice Hoffman
It took a shockingly long time for my library hold on Practical Magic to come in. Is it because of the recent release of the prequel, The Rules of Magic? Is it because this book is a classic of the modern witch genre? Perhaps it's both; first published in 1995, adapted into the (very charming and surprisingly eerie) movie in 1998, this book holds up.
Sisters Gillian and Sally are the latest in the long line of Owens women. Orphaned at a young age and raised by their eccentric (and witchy) aunts, they've taken very different paths in life. Gillian, always the spunky, daring, beautiful one, left home early and has jumped from relationship to relationship, job to job, state to state ever since. Sally, who wants nothing more than a regular life, got married, had kids, and thought that she'd finally found her best life. When her husband dies, that shatters, and she moves her family away from their hometown and settles into pretending that Everything Is Fine And Completely Normal, even though it's far from. When Sally shows up in the middle of the night with her abusive boyfriend dead in the backseat, it sets off a string of events that will change how three generations of women — Sally and Gillian, Sally's daughters, and the aunts — relate to each other and their relationship with the powers that they've inherited. Oh, and there are a couple love stories too.
The book and movie have been described as the Dixie Chick's "Goodbye Earl" but with magic, and that's not far off. Whereas the movie takes the spirit of the book and spins it into a modern fable about women and solidarity in general, the original text is about women and family — how we repeat family patterns, what we believe about ourselves, what we want for our children, and what we allow ourselves to want, what we allow ourselves to deserve. TL;DR: it got me all over again, right in the feels.
And that's a wrap! You can find all of the books recommended in this newsletter on a handy Goodreads shelf. If you're interested in more science fiction and fantasy talk, you can catch me and my co-host Sharifah on the SFF Yeah! podcast. For many many more book recommendations you can find me on the Get Booked podcast with the inimitable Amanda.
Live long and prosper,
Jenn