Happy third week of January, fellow nonfiction nerds! It's been another frigid week where I live in Minnesota, with promises of more snow on the way (you know you're hearing from a Minnesotan when we open with nonsense about the weather).
This week's newsletter features a couple of new books to look out for, some new headlines about the book that's derailed the Trump White House, and a few other news stories that will make you cheer and/or cry. It's a big week!
---
In 1901, Evelyn Nesbit, a New York society darling, dined with Stanford White in his decadent 24th Street apartment. Evelyn was given champagne, lost consciousness, and woke, nearly naked, in bed next to White. An acclaimed architect and notorious womanizer, White was 47. Evelyn Nesbit was just 16.
Four years later, Evelyn married Harry Thaw, a playboy millionaire rumored to be mentally disturbed. One night in 1906, a vengeful Thaw shot and killed White before hundreds of theatre-goers at Madison Square Garden—a venue designed by Stanford White himself. The murder and ensuing trial were the scandal of the century, perhaps the nation's first tabloid murder.
---
Nonfiction on My Radar
The Stowaway by Laurie Gwen Shapiro – In 1928, a New York City high school student jumped into the Hudson River and climbed aboard a ship headed on an expedition to Antarctica, hoping that he could stowaway long enough to convince the captain to let him come. I think this sounds like so much fun.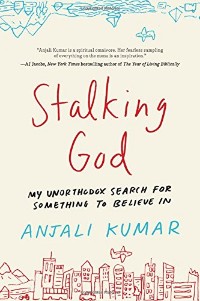 Stalking God by Anjali Kumar – After the birth of her daughter, "highly spiritual but religiously uncommitted" lawyer Anjali Kumar set out on a quest to find some enlightenment. Her pilgrimage takes her to meet shamans, visit Burning Man, try transcendental meditation, visit witches, and consult a medium.
Fire and Fury Furor Continues
After all of the uproar over Michael Wolff's Fire and Fury, publisher Henry Holt announce it had shipped more than 700,000 copies of the book in the first week of publication. As of last week, there were more than 1.4 million copies of the book on order, and they must be getting to stores – I saw a full shelf of the book at my local Barnes and Noble this week.
If you don't want to read the book, good news – the story has been optioned for television! But no news on a network yet. If you want to hear a little bit about the reporting that went into the book – including the title that Wolff pitched to the White House – then check out this Bloomberg Politics story. I thought it was fascinating.
Another author who is cashing in on the book is Canadian author and historian Randall Hansen. His 2009 book, also called Fire and Fury, has moved onto three best-seller lists, thanks to the duplicate titles. Hansen told MPR News that he feels "extraordinarily lucky" about the coincidence – "He's got enough money, but I'm tempted to buy Wolff a bottle of champagne."
Women Writing Awesome Books
Jodi Kantor and Megan Twohey, the New York Times reporters who first broke the story of Harvey Weinstein's decades of sexual abuse, will be publishing a book on their project. I think it's great that a solid piece of investigative reporting will be given some space and resources to grow even bigger.
And in other amazing news, Lindy West is writing two more books! The first book will be a "cultural critique that examines how we arrived at this moment in history," and the second will be a collection of film criticism (date TBD). I'm in for this!
Get Your Kleenex Ready
This story hit me right in the feels… two dying memoirists wrote bestsellers about their final days, then their spouses fell in love. Paul Kalanithi's widow, Lucy, became friends with Nina Riggs' husband, John, shortly before Nina died of breast cancer. The two connected through the grief of losing a spouse, became friends, and fell in love. All the feels.
And that's all for this week. Thanks again for reading, you can find me on Twitter @kimthedork or by email at kim@riotnewmedia.com! – Kim