Happy Thursday, Audiobook Fans,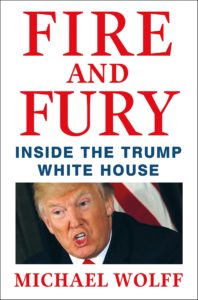 I'll get this out of the way: OF COURSE I listened to Fire and Fury. I listened to the whole thing in one day. Do I know if every detail and timeline is 100% accurate? No, I do not. Do I believe it's an accurate depiction of the way our President's brain works and the chaos inside the White House? Indeed I do. Either way, the book is bananas.
Warning if you are planning on accomplishing actual tasks while you listen: I was folding laundry while it played and at some point I found myself sitting on the couch, in the middle of the folded laundry, with my head in my hands.
---
We're giving away a stack of our 20 favorite books of the year. Click here to enter, or just click the image below.

---
Side note: I think this is a waaayyy better cover for F&F. Agree or disagree?
I've been asked what I would've done with the 'Fire and Fury' cover by some folks who think the existing cover design is a disaster and a missed opportunity, so here is what I might have done with it pic.twitter.com/xV8W3L8oYu

— Edel Rodriguez (@edelstudio) January 7, 2018
The book is narrated by Holter Graham but the author, Michael Wolff, reads the author's note. Take a listen here.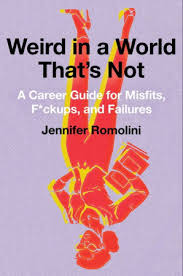 I'm also listening to Weird in a World That's Not: A Career Guide for Misfits, F*uckups, and Failures (a very exciting subtitle, as I am always at least one of those three things and very often all three of them at once). It's written and read by Jennifer Romolini and so far, it's excellent. I only wish I had read it five or ten years ago, but it was published in 2017 and I have not yet figured out time travel.
As per usual, I have gotten so caught up in my excitement about audiobooks to look forward to (and all the great audiobooks of 2017), that I haven't covered any audiobook news/links in a while. So instead of just adding some news and links at the bottom of each newsletter (which I haven't had room to do recently, anyway), I'm thinking I'll just dedicate one newsletter each month to Cool Audiobook News and Links. Let's give it a whirl this week and you can tell me if you love it, hate it, or in between it at msmacb on Twitter and/or katie@riotnewmedia.com.
Audible and Kindle Sitting in a Tree, S-Y-N-C-I-N-G
Amazon has just announced Audible audiobook playback will be available on earlier versions of its Kindle ereaders.
As TechRadar explains, "The first generation Kindle Oasis, and the regular old Kindle, can now access Amazon's audiobook service direct from the devices themselves, and playback content. This includes the Audible storefront, and is facilitated by connecting up to Bluetooth-enabled speakers or headphones, as neither device has a headphone jack."
I *think* this upgrade/new feature may also be available through the Kindle app now, as well. At least, I downloaded both the audio and the ebook of Weird in a World That's Not (I went a little nuts with the Amazon gift card I got for Christmas, thanks Grammie!) and my Kindle app knew exactly where in the book I had stopped listening and gave me the option to start there when I reopened the Kindle app on my phone. Pretty freaking cool.
That said, TechRadar raises an issue that might irritate folks who purchased a Kindle Oasis. "It's an interesting reveal, considering only the June 2016 Kindle device previously has had any mention of Bluetooth functionality. Audible support was a key unique selling point of the 2017 Kindle Oasis, it's worth noting."
Speaking of Audible…they just released Stinker Lets Loose!, "an audio dramatization of the outrageous 1977 film…Reimagined by bestselling author Mike Sacks and adapted for audio with director Eric Martin, Stinker…follows a 'deep-fried fixer' played by Jon Hamm, sent to deliver a valuable shipment of beer to the president of the United States." Audible has wrangled quite the cast of narrators, in addition to Hamm, you'll hear Rhea Seehorn, Andy Daly, John DiMaggio, Paul F. Tompkins, and Andy Richter.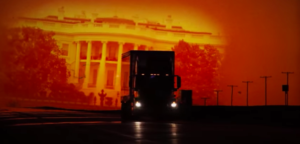 Check out the trailer here.
I wasn't previously familiar with the story of Stinker (side note, I very much want The Story of Stinker to be the title of my memoir) but I love that audible is exploring ways to put films/plays in a (slightly revised) audiobook form.
Which leads me to my next audiobook-adjacent news item… Penguin Random House Audio and Texas Monthly have partnered to record more than 20 of the most popular features from the magazine's archives on audio for the first time, from true crime narratives (a bank robber in disguise in The Last Ride of Cowboy Bob) to compelling profiles (of Whole Foods's CEO in The Shelf Life of John Mackey).
I am all about audio versions of magazine articles. The Atlantic often has the option to listen to audio recordings of their feature articles (I think if you subscribe to Audm, the player/app they use, you can get more than just the current features but I am cheap).
One especially cool thing about the PRH/Texas Monthly audio is that each story is narrated by a native Texan. The first two are available for purchase now and they'll be releasing more in February and March.
I know you are probably sick of "Best of" lists, but I have a special place in my heart for Library Journal, so I'm going to close out the newsletter with a link to their Best of 2017. Before you skip it–-I'll just add one more (personally embarrassing) plug: their list had a number of titles I hadn't heard of (What it Means When a Man Falls From the Sky, Purple Swamp Hen and Other Stories, and Letters to a Young Muslim). So while they've got all the ones you've heard of (Lincoln in the Bardo, What Happened, etc.) you might find a gem you'd previously missed. Take a look and see if any pique your interest!
Library Journal Best Audiobooks 2017
Happy listening and until next week,
~Katie