Happy Friday, sky captains and sorcerers! Today we've got reviews of Gnomon, Swordspoint, and Tremontaine, plus lots of adaptation news, some genre definitions, secret Harry Potter drinks, and more.
---
This newsletter is sponsored by Unearthed by Amie Kaufman and Meagan Spooner.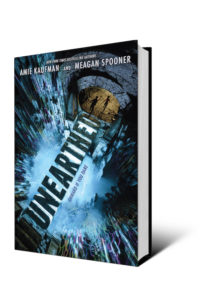 Indiana Jones meets Lara Croft in space! An epic sci-fi adventure, the first in a duology, from the New York Times best-selling authors of the Starbound trilogy. When Earth intercepts a message from a long-extinct alien race, it seems like the solution humanity has been waiting for. The Undying's advanced technology has the potential to undo environmental damage and turn lives around, and their message leads to the planet Gaia, a treasure trove waiting to be explored.
---
Let's get some of the TV news done first, shall we?
– Vulture reviews Electric Dreams, a show based on Philip K. Dick's short stories. (How did I not know that this was a thing?)
– The Snowpiercer TV show is finally in motion, and includes headliners Jennifer Connelly and Daveed Diggs.
– The Runaways, which just aired its Season One finale, has been renewed for a second season. (Yes, I did a happy dance when I heard.)
What to look for in 2018: The Verge has some suggestions. New Becky Chambers and Cixin Liu!!
What is space opera, exactly? Not just fantasy in space, says Emily over at Tor.com.
What fictional magical object do you wish you'd gotten for the holidays? I picked a magic carpet, and of course a time turner showed up on this round-up.
Go get yourself some butterbeer: Or rather, a butterbeer latte. Starbucks has a whole HP secret menu, apparently.
When the future looks a lot like the past: I deeply appreciate this review of novels that look to history for what the future might hold (including a shout-out to An Unkindness of Ghosts, which I loved).
And now, on to today's very heft reviews section!
Gnomon by Nick Harkaway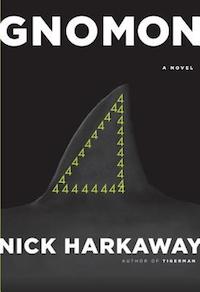 I have read every book Nick Harkaway has written, and this is by far his most complex, mind-boggling, and genre-exploding work yet. Which is saying something for a man whose debut novel, The Gone-Away World, took a philosophical concept and turned it into a bomb.
It's a hard book to sum up, partly because the plot is so twisty and partly because there are so many potential spoilers. It takes place in an England in which surveillance is ubiquitous and democratized. If you don't consent to surveillance, then the system can legally bring you in to read your mind anyway. This is what happens to dissenter Diana Hunter, who dies during the procedure — which is supposed to be harmless, if not actually good for your brain. Investigator Mielikki Neith is assigned to review Hunter's files to find out what went wrong, and the story unfolds from there. It includes: the stock market; sharks; a priestess and scholar from the time of St. Augustine; an Ethiopian artist; video games; alien life-forms; and that's just the top level.
If you love twisty, turny, wibbly wobbly plots, then this one is for you. I highly recommend reading it when you have some time to really dive in, partly because it's a book that teaches you to read it as you go and partly because it really hits its stride (and reveals some of its secrets) after the first third. I started out bemused but along for the ride, and ended it shouting at the pages (in the good way).
Self-promotional note: you can see Nick Harkaway in conversation with me about Gnomon next Tuesday, January 10, at Greenlight Bookstore in Brooklyn!
Swordspoint by Ellen Kushner and Tremontaine by Ellen Kushner, Alaya Dawn Johnson, Malinda Lo, Joel Derfner, Racheline Maltese, Patty Bryant, and Paul Witcover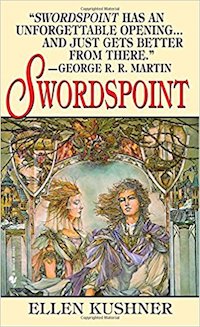 I read Swordspoint for the first time over the December holidays, which is a "finally!" moment for me because it was published in 1987 and people have been recommending it to me for actual years. Which was perfect timing, because I also happened to have the collected Tremontaine Season 1!
Swordspoint takes place in an unnamed city, in which the aristocracy is engaged in both physical and political skulduggery. While they duel verbally with each other on government councils and in drawing rooms, they also occasionally hire swordsmen to duel on their behalf, to settle matters of honor. The story follows several characters including a young, shallow nobleman named Michael, an expert swordsman named Richard St. Vier, and Diane, the ambitious Duchess of Tremontaine. When St. Vier is offered a mysterious job, he is also drawn into a web of betrayals and power struggles. Michael, in the meantime, decides to become a swordsman on a whim and starts to see his life in a new light. Diane, in the meantime, is manipulating events towards her own end: but what is her goal? It's a queer, violent, page-turner of a book, and huge fun. It also gives just the barest glimpse into the world that St. Vier and Michael inhabit. There are two sequels, The Privilege of the Sword and The Fall of the Kings; and now, there is the prequel: Tremontaine.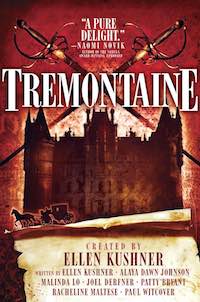 Tremontaine comes out of Serial Box, which offers story installments in 10-16 week installments. The contributing author line-up is stellar (Alaya Dawn Johnson! Malinda Lo!!!), and the stories begin 15 years before Swordspoint. Where Swordspoint itself is sorely lacking in characters of color and female characters, Season One more than delivers. The characters include Diane, as one might guess from the title, as well as the young foreign trader/spy Kaab, and Micah, a mathematical genius heavily implied to be on the Autism spectrum. There are many more, but those are just my favorites. The writers stick close to the established style of the original material with occasional flourishes, and the expanded world is delightful and engrossing. A definite must-read for fans of swordplay, pre-Industrial settings, and political shenanigans.
And that's a wrap! You can find all of the books recommended in this newsletter on a handy Goodreads shelf. If you're interested in more science fiction and fantasy talk, you can catch me and my co-host Sharifah on the SFF Yeah! podcast. For many many more book recommendations you can find me on the Get Booked podcast with the inimitable Amanda.
May the odds be ever in your favor,
Jenn