Happy Friday, vampire hunters and Vogons! This week I'm reviewing Rebel Seoul and Sunshine, and talking hard sci-fi, new books to watch for, historical sf/f, and more.
---
This newsletter is sponsored by Through a Dark Glass by Barb Hendee, the first of the Dark Glass series from Rebel Base Books.
In the first of the Dark Glass novels, New York Times bestseller Barb Hendee, author of the Mist-Torn Witch series, the Dead Seekers, and the Noble Dead Saga, spins a brand new high fantasy adventure. When Megan of Chaumont is sold into a political marriage, her only choice is which son to marry – Rolf, ambitious and loyal, Sebastian, sly and sympathetic, or Kai, brooding and proud? An enchanted mirror gives her the opportunity to see the consequences of her choice as she lives through each of the three options…and ultimately has to choose just one fate.
---
Before we get started! You've got about a week left to enter our Top 20 of 2017 book giveaway, right here.
What should you watch for in January? Swapna has some suggestions; I cosign Markswoman by Rati Mehrotra, which I'll be reviewing later this month!
What is hard sci-fi, anyway? I really love this guide, which goes beyond the classics to include diverse options as well. Doesn't hurt that my beloved authors Yoon Ha Lee and Ann Leckie are on it…
Did we all miss that the Pentagon has real concerns about aliens? No, really!
Want to get historical with your s/f? Yash has a few on her own stack that she's excited about. City of Brass is on my list as well, and we've talked about my love of Everfair before. Get reading!
Cuban speculative fiction is real and it's here. While there are still lots of untranslated works, Rachel rounds up a few you can get right now.
For your earholes: the BBC has released their full radio adaptation of Anansi Boys by Neil Gaiman, and you can listen for free! Not sure how long this'll be up, so go sooner rather than later.
Treat yo bookshelf! January's ebook deals include three books worth having, all for $1.99: Sea of Rust by C. Robert Cargill, gushed over by Joe Hill on our Recommended podcast; An Excess Male by Maggie Shen King, which has been making the rounds here at Book Riot; and Fortune's Pawn by Rachel Bach, the first in a rompy military space adventure that I thoroughly enjoyed.
In today's reviews, we've got future teen super-soldiers and magical bakers. My interests, they range widely.
Rebel Seoul by Axie Oh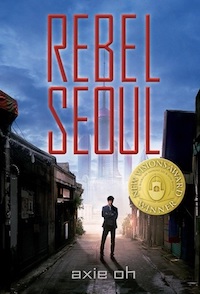 I picked this one up because it was the only book NK Jemisin liked in one of her recent columns (ouch). She called it "moody, explodey fun" and I completely concur.
Set in a future in which there are no more nations, but rather a coalition of regions, it follows high-school student Lee Jaewon, who is scrapping and scraping his way through a prestigious academy in hopes of moving out of the Old Seoul slums and into the domed, pristine, wealthy Neo Seoul. When a fellow student named Alex drafts him for a team evaluation that goes sideways, Jaewon finds himself part of a government project breeding super-soldiers — who also happen to be teenage girls.
What makes this book so fun is the way it plays with the tropes of dystopia and YA fiction. No love triangles here, and much less brooding than I've come to expect — Jaewon isn't exactly a ray of sunshine, but his pragmatic skepticism comes from a place of experience. The parallel love stories were sweet and made actual emotional sense, the action sequences were well-written and varied, and the ending definitely has me ready for the next installment (although it's currently unclear whether or not we're getting one).
Sunshine by Robin McKinley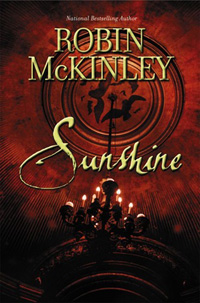 Part of my New Year's Eve celebration includes allowing myself a reread (something I don't often have time for), and this year's was Sunshine. Why is this my favorite vampire novel? Let me count the ways.
The world-building: it takes place in a tweaked version of our own present. Magic is real, humanity lives side by side (albeit not peacefully) with demons and vampires and sprites and whatnot, and all our main character Rae wants to do is make cinnamon rolls for her family's coffeehouse. Having a main character who not only excels at but loves her mundane, non-magical job is such a delight! Plus the bakery scenes always leave me drooling.
The cast of characters: The story is first-person and therefore sticks close to Rae, but the supporting characters get a (wonderful) load of page-time. From her unlikely vampire ally Constantine to her biker boyfriend Mel to her stepdad Charlie to the coffeehouse regulars, you can see how her social world works and exactly how disruptive getting kidnapped by a bunch of vampires is.
I go back and forth on how original the actual plot is — if you've read much Robin McKinley, it fits her personal formula pretty closely. Human woman gets kidnapped by vampires, develops a relationship with a Very Special one, they fight the bad guy, The End. It's certainly not as subversive as my second favorite, Fledgling by Octavia Butler. But McKinley always balances compassion, humor, and high stakes well, and I find this book hugely satisfying. If you're looking for a non-sparkly, non-YA, slightly kooky take on vampires that will make you so hungry for baked goods, add this one to your TBR.
And that's a wrap! You can find all of the books recommended in this newsletter on a handy Goodreads shelf. If you're interested in more science fiction and fantasy talk, you can catch me and my co-host Sharifah on the SFF Yeah! podcast. For many many more book recommendations you can find me on the Get Booked podcast with the inimitable Amanda.
Your fellow booknerd,
Jenn