Hi Kid Lit friends!
For the last kid's lit newsletter of 2017, I thought I'd shout out some of the titles I'm super excited about for 2018.
---
We're giving away a stack of our 20 favorite books of the year. Click here to enter, or just click the image below.
---
Picture Books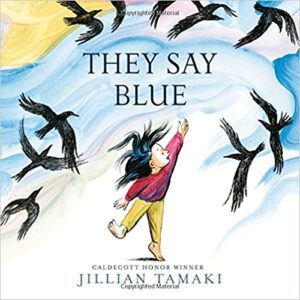 They Say Blue by Jillian Tamaki (Abrams Books for Young Readers, 3/13/18)
Gorgeous, gorgeous, gorgeous. This book is full of vibrant colors and energy. "My favorite line: Black is the color of my hair. My mother parts it every morning, like opening a window."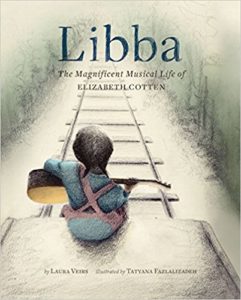 Libba: The Magnificent Musical Life of Elizabeth Cotten by Laura Veirs, illustrated by Tatyana Fazlalizadeh (Chronicle, 1/16/18)
I am a sucker for picture book biographies, and this one about Elizabeth Cotten is beautiful. Libba was a young girl when she picked up a guitar for the first time, but since she was left-handed she played it upside down and backwards. By age eleven, she had written Freight Train, a song now known all around the world.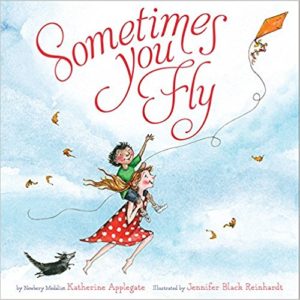 Sometimes You Fly by Katharine Applegate, illustrated by Jennifer Black (HMH Books for Young Readers, 4/3/18)
My favorite part of this book is the author's biography, where she writes, "Before Sometimes You Fly became the book you are holding in your hands, it was rewritten hundreds of times." A beautiful book sure to become a favorite for those who love Oh, The Places You'll Go by Dr. Seuss.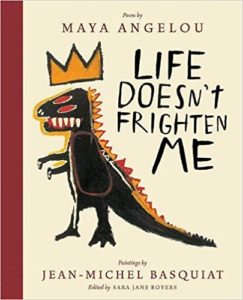 Life Doesn't Frighten Me by Maya Angelou, illustrated by Jean-Michel Basquiat (Abrams Books for Young Readers, 5/8/18)
A perfect pairing between Maya Angelou's gorgeous poem and Jean-Michel's Basquiat's haunting street art.
"Shadows on the wall
Noises down the hall
Life doesn't frighten me at all"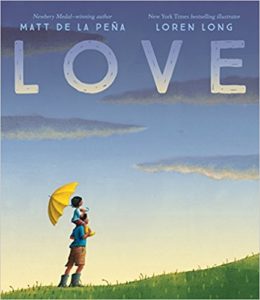 Love by Matt de la Pena, illustrated by Loren Long (G.P. Putnam's Sons Books for Young Readers, 1/9/18)
"In the beginning there is light
and two wide-eyed figures standing
near the foot of your bed,
and the sound of their voices is love."
I cry every time I read this book. Listen to the author and illustrator discuss the book and their collaboration here.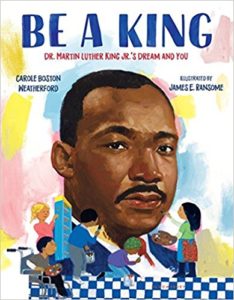 Be A King by Carole Boston Weatherford, illustrated by James E. Ransome (Bloomsbury, 1/2/18)
I read this book out loud to my kids, and they were really touched by the illustrations and the tangible ways they can emulate the example of Dr. Martin Luther King, Jr. A lovely book not just about the iconic civil rights figure, but about the roles we all play in creating a world of justice and peace.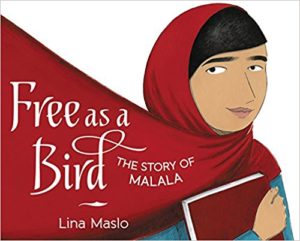 Free As A Bird: The Story of Malala by Lisna Maslo (HarperCollins, 1/23/18)
There are many biographies of Malala Yousafzai, but I especially love this one. The illustrations are lovely. There is a spread in here with Malala lying down with red flowers around her, with the words, "Carry on with your dreams." Simply stunning.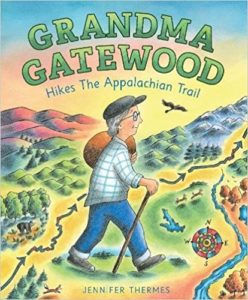 Grandma Gatewood Hikes The Appalachian Trail by Jennifer Thermes (Abrams Books for Young Readers, 5/8/18)
I am fascinated by people who hike the Appalachian Trail, and this story of Emma "Grandma" Gatewood is so inspiring. At age sixty-seven, she became the first woman to hike the 2,160-mile Appalachian Trail alone. Gorgeous maps fill this lovely and informative picture book.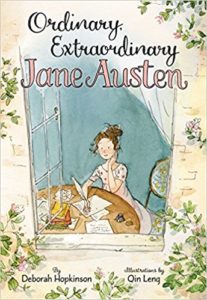 Ordinary, Extraordinary Jane Austen by Deborah Hopkinson, illustrated by Qin Leng (Balzer + Bray, 1/23/18)
Oh, this book is wonderful! I'm excited for young readers to be introduced to amazing Jane Austen through this picture book. The illustrations are captivating with much to explore, and the words make me want to reread all of Jane's books again.
Chapter Books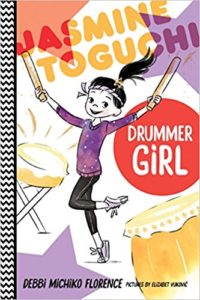 Jasmine Toguchi: Drummer Girl by Debbi Michiko Florence, illustrated by Elizabet Vukotic (Farrar, Strauss & Giroux, 4/3/18)
If you've read this newsletter in the past, you know that I LOVE Jasmine Toguchi! In this latest installment, Jasmine takes up the taiko drums for the local talent show. Can she make the taiko as cool as the other talents her friends (and enemies) have?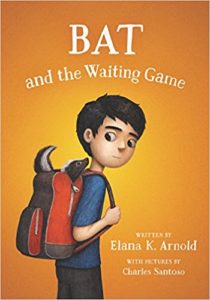 Bat and the Waiting Game by Elana K. Arnold, illustrated by Charles Santosa (HarperCollins, 3/27/18)
If you haven't read A Boy Called Bat yet, stop everything and go get that one and read it first! Bat and the Waiting Game is the sequel, and it is just as charming and sweet as the first book.
The Unintentional Adventures of the Bland Sisters: The Uncanny Express by Kara LaReau, illustrated by Jen Hill (Abrams Books for Young Readers, 1/9/18)
Another sequel here, and again, go read the first one (The Unintentional Adventures of the Bland Sisters: The Jolly Regina). I love author Kara LaReau's humor and her unlikely "bland" heroines who always seem to make every experience new, amusing, and inviting.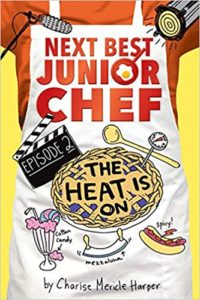 The Heat is On (The Next Best Junior Chef) (2/3/18) & The Winner Is… (The Next Best Junior Chef) (7/24/18) by Charise Mericle Harper, illustrated by Aurélie Blard-Quintard (HMH Books for Young Readers)
The first book in this series, Lights, Camera, Action! came out this year, and readers will be excited to see that the next two books will be released in 2018. Based on hit TV series like Top Chef, this series tracks four kids as they go through a competition with one contestant being eliminated with each book. Who will last until the end?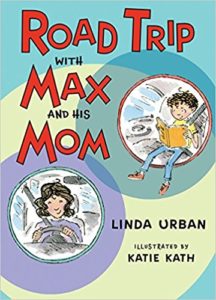 Road Trip with Max and His Mom by Linda Urban, illustrated by Katie Kath (HMH Books for Young Readers, 4/17/18)
The follow-up to Weekends with Max and His Dad, this new book continues with Max and his mom planning a road trip. I loved this book and am crossing my fingers for more in this series.
Middle Grade Books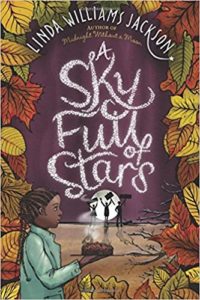 A Sky Full of Stars by Linda Williams Jackson (HMH Books for Young Readers, 1/2/18)
This is the sequel to Midnight Without a Moon, Linda Williams Jackson's debut novel. Set in Mississippi in the 1950's, Rose Lee Carter lives with her sharecropper grandparents. In the first book she grapples with the murder of Emmett Till, a young man who is convicted and then killed for whistling at a white woman. In the sequel, Rose continues to struggle with staying in the south when opportunities arise for her to go north, while also feeling caught between the mounting racial tension and differing ways her friends want to address the injustice. This book is gorgeously written and the author is a much needed voice in children's literature.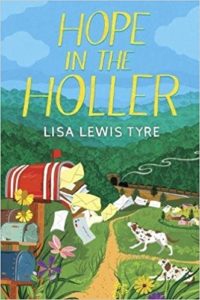 Hope in the Holler by Lisa Lewis Tyre (Penguin Random House, 1/9/18)
I was immediately drawn in by the cover on this one. Right before Wavie's mom dies, she gives Wavie a list of instructions: Be brave, Wavie B! You got as much right to a good life as anybody, so find it! But little did Wavie's mom know that events would conspire to bring Wavie back to Conley Hollow, the Appalachian hometown her mother tried to leave behind.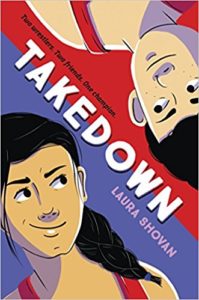 Takedown by Laura Shovan (Wendy Lamb Books, 6/19/18)
I am so looking forward to this book coming out! It is about two wrestlers, Mikayla and Lev, who are paired to train together in their wrestling team. While Mikayla struggles with being the only girl on the team, Lev struggles with doubt and anxiety as the championships get closer.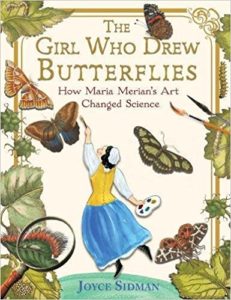 The Girl Who Drew Butterflies by Joyce Sidman (HMH Books for Young Readers, 2/20/18)
I first read this book a few months ago and promptly shared my love for it with my local librarian, who used to work inatthe New York Botanical Garden library and who loves Maria Merian. This biography is stunning; I learned so much about this pioneer, one of the first naturalists to study live insects and document the metamorphosis of the butterfly.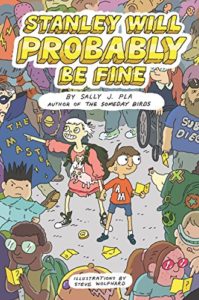 Stanley Will Probably Be Fine by Sally J. Pla (HarperCollins, 2/6/18)
We need more characters like Stanley Fortinbras in children's literature! Stanley struggles with anxiety, which prevents him from making friends, trying new things, and participating in a much anticipated comics trivia scavenger hunt. I loved this book and have already recommended it to many kids who struggle with anxiety.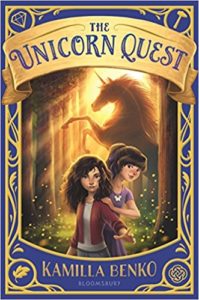 The Unicorn Quest by Kamilla Benko (Bloomsbury, 2/6/18)
This is a story about two sisters who find the magical land of Arden through a ladder in a fireplace, but they arrive to discover Arden in turmoil. A fun, fast-paced fantasy story with wraiths, magical guilds, and unicorns.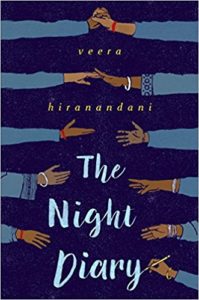 The Night Diary by Veera Hiranandani (Dial Books for Young Readers, 3/6/18)
An epistolary novel about a girl growing up in 1947 after India's separation into two countries: India and Pakistan. Half-Muslim, half-Hindu, Nisha doesn't know where she belongs, and when her family leaves to seek safely Nisha goes on a journey of self-discovery.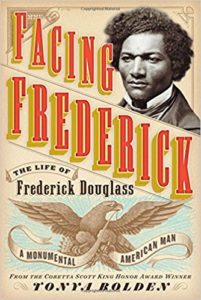 Facing Frederick: The Life of Frederick Douglass by Tonya Bolden (Abrams Books for Young Readers, 1/9/18)
A terrific biography of Frederick Douglass, focusing on his roles as a statesman, suffragist, writer, and newspaperman. So far this book has garnered three starred reviews, and it does not surprise me at all. I loved reading this wonderfully written, compelling book.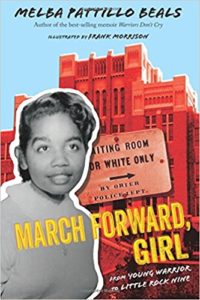 March Forward, Girl by Melba Pattillo Beals (HMH Books for Young Readers, 1/2/18)
This is a powerful memoir about Beals' early journey to champion for equal rights. Along the way, she became an acclaimed journalist, a best-selling author, and the recipient of this country's highest recognition, the Congressional Gold Medal.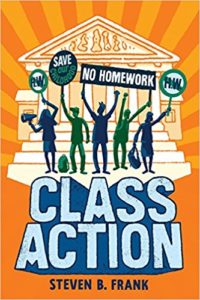 Class Action by Steven B. Frank (HMH Books for Young Readers, 4/3/18)
I loved Steven's debut middle grade book, Armstrong and Charlie, and his sophomore book is just as hilarious, important, and touching as his first. I recommend this for fans of Gary Schmidt, Gordon Korman, Richard Peck, and Andrew Clements.
Did you know that Book Riot is giving away a stack of our 20 favorite books of the year? Click here to enter.
That's it for me this week! Do you get some extra reading time during the holidays? I'd love to find out what books are on your list! Find me on Twitter at @KarinaYanGlaser, on Instagram at @KarinaIsReadingAndWriting, or email me at karina@bookriot.com. The Book Riot Kids newsletter is taking next week off, but we'll be back on January 7th (my birthday!).
See you next week!
Karina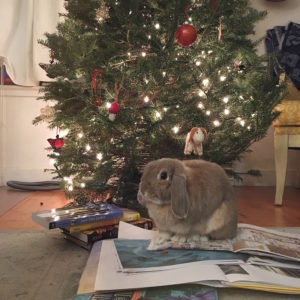 Izzy was very helpful as I compiled this list of 2018 books!
*If this e-mail was forwarded to you, follow this link to subscribe to "The Kids Are All Right" newsletter and other fabulous Book Riot newsletters for your own customized e-mail delivery. Thank you!*