Welcome to a brand new year, YA lovers!
"What's Up in YA?" is sponsored by The Cruel Prince by Holly Black.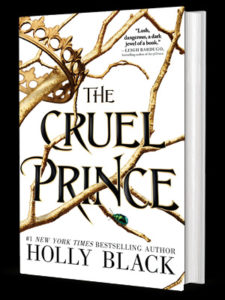 Jude was seven years old when she and her sisters were stolen away to the treacherous High Court of Faerie. Ten years later, she wants nothing more than to belong there, despite her mortality. But many of the fey despise humans. Especially Prince Cardan, the wickedest son of the High King.
To win a place at the Court, she must defy him–and face the consequences.
In doing so, she becomes embroiled in palace intrigue, discovering her capacity for bloodshed. But as civil war threatens to drown the Courts of Faerie, Jude will risk her life in a dangerous alliance to save her sisters, and Faerie itself.
---
To kick off 2018, I've invited a variety of young adult authors to share what books they're most looking forward to reading this year and hope that you'll find worth plopping onto your TBR. I'll highlight the titles, why it is they've been selected, and then sign the short blurbs from the authors who've recommended them. If you're itching for more descriptions of each title, click the link (though I can say these blurbs have sold me on a pile of these titles!). Bonus: a number of the authors who've shared their favorite books are themselves debut authors for this year, meaning you can also learn a bit more about their titles.
American Panda promises the experience of straddling two identities as a second generation American. The story features Mei Lu, a 17-year-old freshman at MIT, struggling to figure out her path in life all while facing family expectations. American Panda is one of my most anticipated reads for 2018 for several reasons: ownvoices, a timeless story about self discovery, and love.  — Brenda Rufener, author of Where I Live
The Belles by Dhonielle Clayton (February 6)
A fantasy with a female Black main character that deals with beauty as a commodity? YES, PLEASE. — Sandhya Menon, author of When Dimple Met Rishi and From Twinkle, With Love
Um, Spartacus is a teenage girl? Yes, please! Fantastic Roman setting, beautifully complicated characters, and a princess who can kick ass in any arena. — Dot Hutchison, author of A Wounded Name
I love the conceit of a queer teen writing letters to Rachel Maddow in order to process and understand her own life. I can't wait to check this one out. — Britta Lundin, author of Ship It.
I literally pre-ordered it the moment I saw the title. I adore Rachel Maddow and I can't wait for more queer girl YA in 2018. — Amy Spalding, author of Kissing Ted Callahan and The Summer of Jordi Perez
Arvin Ahmadi's voice is so needed in YA. At the heart of this fast-paced and charming contemporary debut is a Muslim Iranian teen boy on the path to self-discovery. It's very special and I hope you love it! — Adam Silvera, New York Times bestselling author of They Both Die At The End
I know it's going to destroy me in the best possible way, just as Jenny Torres Sanchez's previous book, Because of the Sun, did. Her writing is dreary and beautiful and, with such a serious topic, I know she's going to handle it well.  — Lauren Gibaldi, author of The Night We Said Yes, Autofocus, and This Tiny Perfect World
Finding Yvonne by Brandy Colbert (August 7, no link yet but check Goodreads)
Brandy Colbert's first book, POINTE, and her second, LITTLE AND LION, are both beautiful and smart but totally different. I'm excited to see where she goes with FINDING YVONNE. — Elana K Arnold; recently, WHAT GIRLS ARE MADE OF and INFANDOUS
I think fans of the Hunger Games series will be clamoring for this one because it involves a 17-year-old inmate named Evelyn who's been put in a futuristic prison where her memories of the crime she committed have been erased. While grappling with trying to figure out what crime she's committed, she has to compete in 7 trials to win her freedom. But if she loses, it means getting executed. It sounds like it'll be full of heart-stopping action and even a little romance!   — Annie Sullivan, author of A Touch of Gold
The Hazel Wood by Melissa Albert (January 30)
It's so up my alley: reclusive author, literature brought to life, and that literature being dark fairy tales–I grew up with my grandmother reading the original Grimm's Fairy Tales to me as bedtime stories (for real)–count me way in! — Eric Devine, author of Press Play and Dare Me
This books is fun, full of heart and has a hero who stole my heart! — Katie McGarry, author of the Pushing the Limits series, the Thunder Road series and Say You'll Remember Me
I'm super excited about this book because it tells the story of missing black girls and this narrative is often overlooked in the publishing sphere. It's also a wonderful mystery and I can't wait to be wrecked.  — Dhonielle Clayton, co-author the Tiny Pretty Things series, and the author of The Belles
An own voices romantic comedy infused with the spirit of Bollywood? What's not to be excited about?! This book looks like THE most fun and the author has such a fresh and vivid voice. — Maxine Kaplan, author of The Accidental Bad Girl
Striking cover, Muslim protagonist, and voicey summary that promises a story about a complicated, messy girl finding her place in the world. I'm a sucker for those kinds of books.  — Rachel Lynn Solomon, author of You'll Miss Me When I'm Gone
I loved Goo's first two books, and she's quickly established herself as a compelling writer of romantic comedies. I got an early read of The Way You Make Me Feel, and it is so poignant, sweet, and thoughtful. It also features effortless character diversity and scenes beautifully depicting my beloved Los Angeles. I can't wait for everyone to read this book. — Brandy Colbert, author of Pointe and Little & Lion
Laurie Devore is one of the freshest and most exciting voices in YA. Her writing is in the vein of Courtney Summers and I can't wait to read the follow up to her debut HOW TO BREAK A BOY. — Kara Thomas, author of The Darkest Corners, Little Monsters, and The Cheerleaders
____________________
I hope you found some gems to put onto your TBR for the new year. We'll see you again next week with a round-up of some must-read YA news and pieces from around the web.
–Kelly Jensen, @veornikellymars
PS: Don't forget, we're giving away a stack of our 20 favorite books of the year! Click here to enter.