3,500 Occult Manuscripts Will Be Digitized
The Da Vinci Code author Dan Brown donated €300,000 to Amsterdam's Ritman Library (the Bibliotheca Philosophica Hermetica House of Living Books), enabling the library to digitize thousands of "pre-1900 texts on alchemy, astrology, magic, and theosophy," said Thu-Huong Ha at Quartz. The digitized manuscripts will be made freely available online.
2018 PEN America Literary Awards Longlists
The 2018 PEN America Literary Awards Longlists were announced. The awards cover fiction, nonfiction, poetry, biography, essays, science writing, sports writing, translation, and more. Titles that made it on the list include Sour Heart by Jenny Zhang, My Soul Looks Back: A Memoir by Jessica B. Harris, and Black Moses by Alain Mabanckou. Click the link for the full lists.
The Hate U Give: The Most Searched-For Book On Goodreads In 2017
Angie Thomas's The Hate U Give was the most searched-for book on Goodreads this year, according to data provided by Goodreads. The New York Times bestseller remains a buzzy title, most recently encountering controversy over a banning of the book by a Texas school district. The story follows a 16-year-old black girl who witnesses the death of her childhood friend at the hands of police.
We're giving away a stack of our 20 favorite books of the year. Click here to enter.
---
Sponsored by Bookaxe, the brand-new fiction discovery website where you'll find books you'll love and readers like you.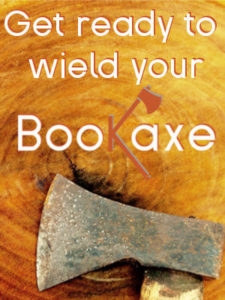 Bookaxe is the brand-new fiction discovery website everyone's talking about.
We match readers to books by more than just genre. Axe recommendations and over time we'll learn your dislikes, putting new and better books in their place. We don't believe everyone's opinion is equal, either. It matters who says a book is 'the greatest' so we've scrapped 1 to 5-star ratings and connect you to likeminded readers instead. Watch video reviews, add your own, drive traffic to your social media channels and even set price alerts for books on your TBR.
Get started today and see the difference at Bookaxe.com.