Happy Friday, swashbucklers and space invaders! As is only proper this time of year, we have more gift guides and Best Of lists, along with reviews of Djinn City and Into the Drowning Deep.
---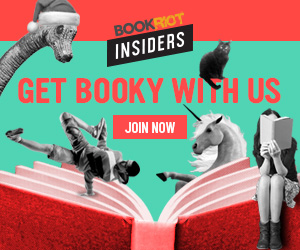 This week's newsletter is sponsored by Book Riot Insiders.
Get booky with our new release calendar, exclusive newsletter and podcasts, and amazing giveaways. Stay on top of upcoming titles with the curated New Release Index, complete with genre filters, notes from All The Books host Liberty, and a customizable Watchlist. Subscribe to Book Riot Insiders and live your best bookish life!
---
Because there is always room for more Harry Potter: Here are further HP gift guide options.
The Guardian picked the best fantasy and sci-fi of 2017, and I am delighted at how inclusive their list is, as well as how many of my own favorites got mentioned!
Need something new to watch? Syfy has you covered with this list of sf/f TV and movies coming to streaming in December.
Speaking of streaming, this gift guide has present suggestions for fans of Stranger Things, Luke Cage, Black Mirror, and more. (Cosign on the Death Wish Coffee, it's fantastic.)
For holidays NOT Christmas, Tor has this great piece celebrating the values of Kwanzaa through sf/f works by black authors. TBR: exploded.
File under geek fashion: Sharifah and I discussed Rag & Bone's Star Wars line on a recent SFF Yeah episode. In related news, Columbia Sportswear is releasing a line of jackets inspired by Luke, Han, and Leia. Now taking bets as to how quickly they sell out.
And speaking of Star Wars, if you are also a little confused about the timeline (I can barely keep track of myself, much less a galaxy long ago and far away), io9 has put together a very thorough timeline that incorporates books, movies, video games, AND comics.
A gift for you: have some discounted ebooks! Sabriel, the first book in Garth Nix's Old Kingdom series and a classic of fantasy, is on sale for $1.99. And if you've been waiting on the sequels to Wesley Chu's The Lives of Tao, Deaths of Tao #2 and Rebirths of Tao #3 are both $2.99 this month.
Today in reviews, we've got fresh new takes on djinn and mermaids both.
Djinn City by Saad Z. Hossain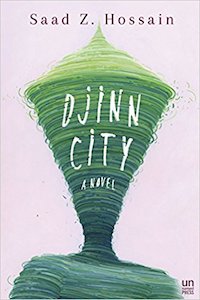 One of these days I will write a post about the latest crop of djinn novels/stories, because it is definitely A Thing. A thing I am enjoying thoroughly! Hossain's contribution to the stack is a rompy adventure set in Bangladesh, with a whole host of human and supernatural (and combinations thereof) characters.
It starts off with a young boy named Indelbed, whose father has turned to full-time inebriation after the death in childbirth of Indelbed's mother. It turns out he's not just a drunk, but an emissary to the world of the djinn — and some of those djinn want Indelbed for their own nefarious purposes. When Indelbed goes missing, his cousin Rais finds himself drawn into this strange world and starts uncovering truths about his family he could never have guessed. How far down the rabbithole will he go, and what will happen to Indelbed?
I have two quibbles with this book. The first is that it's a Boys' Club of a cast, with only three named women (as compared to a ton of named supporting characters, all named, all men). My second is that it isn't listed as the first in a series, but that ending! That can't possibly be it, can it?! Otherwise, Djinn City is a blast from start to finish. Quirky, action-packed, and packing a solid emotional punch, it's entertaining and well-executed. Hossain's contribution to The Djinn Falls in Love and Other Stories was one of my favorite in that collection as well, and with this novel he's earned his place on my own "must read" list. I look forward to whatever he does next.
Into the Drowning Deep by Mira Grant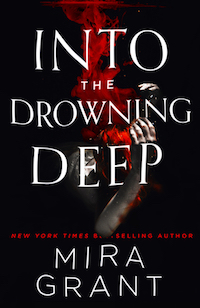 This was my first-ever Mira Grant book, and I was not disappointed. If like me you haven't started reading her yet, this is a great place to start. If you're already a fan, well, you don't need me to tell you! But I will anyway.
Into the Drowning Deep kicks off with a ship lost at sea, no survivors. They had set out to make a mockumentary about mermaids, and the only footage that made it back after all hands were lost seems to prove their existence. It's either a really awful hoax or a really shocking discovery, and no one can agree. Seven years later, a second expedition of scientists plus a film crew sets out to uncover the truth, and things go horribly (but not unexpectedly) wrong. The expedition includes the sister of an original crew member, a big game-hunting couple, an entertainment reporter, a submarine pilot, and so many other excellent and interesting people that I could write a whole paragraph just gushing about how fascinating they were. While I came for the premise, I stayed for the cast.
"Killer science-mermaids" is a plot I was likely to find entertaining regardless, but Grant does a killer (ahem) job with the cast of characters. It can be hard to juggle multiple POV storylines, but I got just enough of my favorites to keep me going, plus chapters from supporting cast that I wasn't expecting to lend extra depth (AHEM) to the story. She's not afraid to kill her darlings, and if you're leery of bloodshed you might want to steer away from this one, but I was entertained and enraptured from the first page to the last. Also, I will now NEVER go swimming or sailing anywhere near the Mariana Trench.
And that's a wrap! You can find all of the books recommended in this newsletter on a handy Goodreads shelf. If you're interested in more science fiction and fantasy talk, you can catch me and my co-host Sharifah on the SFF Yeah! podcast. For many many more book recommendations you can find me on the Get Booked podcast with the inimitable Amanda.
Your fellow booknerd,
Jenn