Happy Friday, nerdfriends and geekpals. Today is our now-annual Swords and Spaceships Holiday Gift Guide. Onward to gift-giving glory!
---
This newsletter is sponsored by The Speaker by Traci Chee.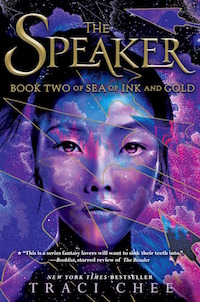 In this sequel to the critically-acclaimed New York Times bestselling fantasy The Reader, Sefia and Archer are back on the run, slipping into the safety of the forest to tend to their wounds and plan their next move. Haunted by painful memories, Archer struggles to overcome the trauma of his past with the impressors, whose cruelty plagues him whenever he closes his eyes. But when Sefia and Archer happen upon a crew of impressors in the wilderness, Archer finally finds a way to combat his nightmares: by hunting impressors and freeing the boys they hold captive.
---
I've got a round-up of non-book things, but as always let's start with books. I picked five each of the science fiction and fantasy titles that, for my money, are the most giftable of the last year.
Five Science Fiction Books To Give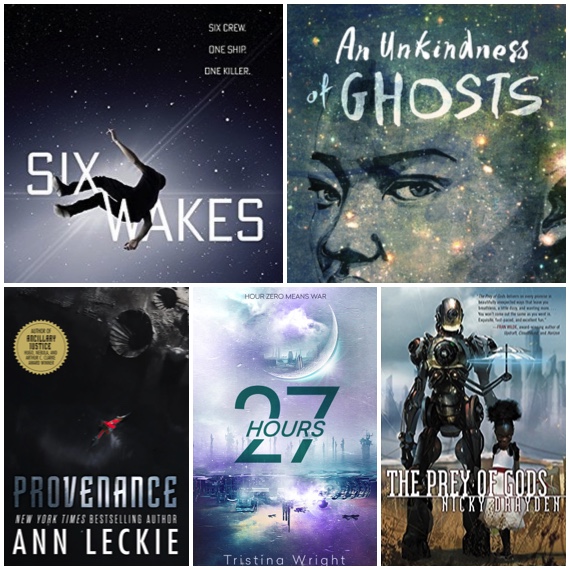 Six Wakes by Mur Lafferty: A locked-room mystery, except it's a locked spaceship and it's mid-space flight crewed by clones! For readers who love space opera and/or murder mysteries.
An Unkindness of Ghosts by Rivers Solomon: A generation-ship story that examines the intersections of racism and class structures. For readers who can't get enough NK Jemisin, Ursula Le Guin, and Octavia Butler.
Provenance by Ann Leckie: A comedic space opera that centers around an art heist, forgeries, and family power struggles. For readers who love John Scalzi, the art world, plucky heroines, intergalactic politics, pronoun fluidity, and queer/nonbinary characters.
27 Hours by Tristina Wright: The Queer Teen Space Squad adventure of your dreams. For readers who enjoy YA, planetary colonization and alien encounter stories, lots of action and explosions, and multiple-POV narratives.
The Prey of Gods by Nicky Drayden: A mad-cap near-future story set in South Africa, complete with enraged goddesses, awakening Artifical Intelligence, drugs, sex, and rock and roll (literally). For readers who love blends of sci-fi and fantasy, a WTF-inducing plotline, and characters you fall in love with.
Five Fantasy Books To Give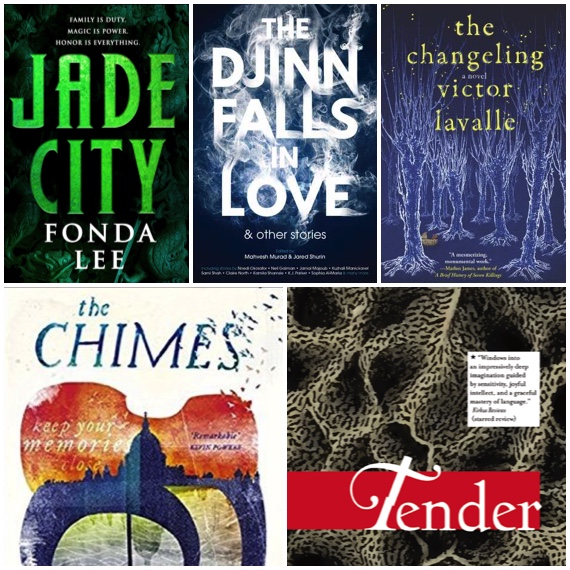 Jade City by Fonda Lee: An Asian The Godfather plus magic! Feuding families, magic gemstones, and lots of betrayal, skulduggery, and street fights. For readers who are sold on that premise, characters with questionable moral standing, and don't mind investing a bunch of time (it's a long burn but such a good one).
The Djinn Falls in Love and Other Stories, edited by Mahvesh Murad and Jared Shurin: 20 authors put their own spin on the djinn/genie myth. For readers who love fairytale retellings, updated mythologies, discovering new voices, and revisiting favorite authors.
The Changeling by Victor LaValle: A dark, bloody, and terrifying story of one father who loses his family, and his struggle to get it back. For readers who like some weight in their stories, don't mind getting seriously creeped out, and appreciate social commentary alongside an A+ plot.
The Chimes by Anna Smaill: An alternate, dystopian London in which music is the organizing metaphor of life and memories are impossible to form. For readers who appreciate complex world-building, stories with many layers, and coming-of-age tales. (Technically a 2016 book but whatever!)
Tender: Stories by Sofia Samatar: A wide-ranging collection by an author who is as at home in a contemporary satire as she is in a beautifully atmospheric fable. For readers who love seeing what a master can do with short fiction.
And Now: Not Books! 
For your Star Wars gift needs, a round-up.
For your Harry Potter gift needs, the best stuffed animal options.
Bookish ornaments (not 100% SF/F but includes some EXCELLENT options).
For your comics-related gift needs, a round-up.
For your crafting plus comics needs.
Still not over this Game of Thrones cutting board.
Will never be over the Death Star waffle maker.
And that's a wrap! You can find all of the books recommended in this newsletter on a handy Goodreads shelf. If you're interested in more science fiction and fantasy talk, you can catch me and my co-host Sharifah on the SFF Yeah! podcast. For many many more book recommendations you can find me on the Get Booked podcast with the inimitable Amanda.
Your fellow booknerd,
Jenn