Happy Thursday, Audiobook fans!
You know what a week from today is in the United States? Thanksgiving. You know what the next month is a lot of places? Time to see your family. Maybe that's a good thing, maybe that's a bad thing–-most likely, it's a bit of both. So, I've pulled together a list of books about, among other things, family. Family struggle, family conflict, family grief and, of course, family love.
(I realized after I made the list, there's a lot of death on here. I'm sorry, that wasn't my intention. Apparently I just gravitate towards depressing books).
---
Penguin Random House Audio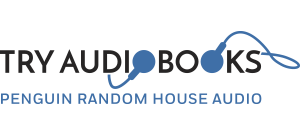 Penguin Random House Audio has audiobooks that are a perfect way to bring your friends and family together this busy holiday season.
---
Family Feuds and Fury (publisher description in quotes):
Fire Shut Up in My Bones by Charles M. Blow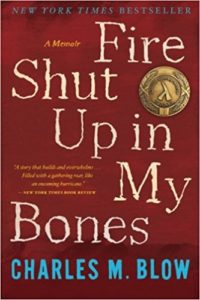 In this universally acclaimed memoir from the New York Times columnist, Blow describes growing up in segregated Louisiana in the 1970s. "Charles's attachment to his mother – a fiercely driven women with five sons, brass knuckles in her glove box, a job plucking poultry at a nearby factory, a soon-to-be-ex husband, and a love of newspapers and learning – cannot protect him from secret abuse at the hands of an older cousin. It's damage that triggers years of anger and searing self-questioning." When Blow leaves to attend college, he finds himself in the unfamiliar role of being called on to perpetuate abuse as opposed to being on the receiving end of it.
May We Be Forgiven by A.M. Homes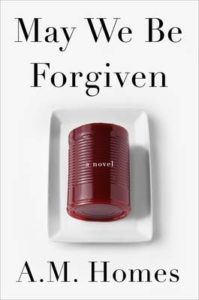 "Harold Silver, [is] a historian who's always been jealous of his successful brother, George. When the hot-tempered George is institutionalized for committing a violent act, Harold finds himself comforting his brother's wife and children. What follows is a scathing examination of a family so fractured it may never be whole again."
Commonwealth by Ann Patchett
"Spanning five decades, Commonwealth explores how a chance encounter reverberates through the lives of the four parents and six children involved. Spending summers together in Virginia, the Keating and Cousins children forge a lasting bond that is based on a shared disillusionment with their parents and the strange and genuine affection that grows up between them."
I Am Not Your Perfect Mexican Daughter by Erika L. Sánchez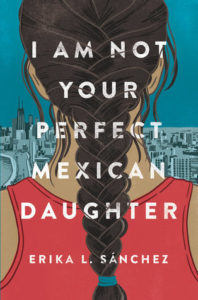 Touted as The Absolutely True Diary of a Part-Time Indian meets Jane the Virgin," I Am Not Your Perfect Mexican Daughter follows Julia in the wake of her sister Olga's death. Olga was the perfect Mexican daughter. Or was she? Even as her mother lambasts her for not being Olga, Julia begins to realize some things about her supposedly perfect sister aren't adding up. Will she figure out who her sister really was? And will she, Julia, the sister who's still alive, ever be enough?
Where'd You Go Bernadette by Marie Semple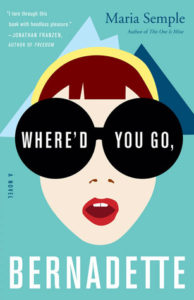 15 year-old Bee is not your average teenager. As a reward for getting straight As on her report card, for example, she asks to go on a family vacation to Antarctica. But then Bee's mother, Bernadette, disappears. An even more eccentric character than her daughter (by a lot), Bernadette is smart, funny, sarcastic, and terribly discontent. "To find her mother, Bee compiles email messages, official documents, secret correspondence – creating a compulsively readable and touching novel about misplaced genius and a mother and daughter's role in an absurd world."
This is Where I Leave You by Jonathan Tropper
When the patriarch of the Foxman family dies, the whole clan gets together for the first time in years. They sit shiva and "spend seven days and nights under the same roof. The week quickly spins out of control as longstanding grudges resurface, secrets are revealed and old passions are reawakened." Baby mama drama ensues.
Sing, Unburied, Sing by Jesmyn Ward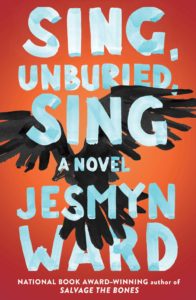 I haven't listened to this one yet, but it's next on my list. Everyone I know has been raving about it and it's no secret that Ward is a stunningly gorgeous writer. "For Pop and Mam; their daughter, Leonie; and her kids, Jojo and Kayla, life is hard. Mam has cancer, Pop is preoccupied by working their small parcel of land, Leonie has a meth problem, and Jojo and Kayla seek love from their grandparents rather than their absent mother." When Leonie gets word that the white father of her children is getting released from prison, she embarks on a journey with the children to meet him.
"Confronting the realities of life in the rural South, Ward gives us an epochal story, a road novel through Mississippi's past and present that explores the bonds of family as tested by racism and poverty."
New Release of the Week
The Mother of Black Hollywood by Jenifer Lewis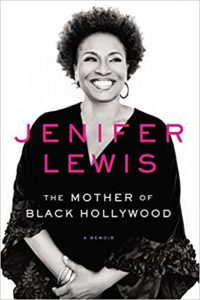 Jenifer Lewis talks about the road to becoming one of the stars of the hugely popular show, Black-ish. "From her first taste of applause at five years old to landing on Broadway within 11 days of graduation and ultimately achieving success in movies, television, and global concert halls, Jenifer describes a road to fame made treacherous by dysfunction and undiagnosed mental illness, including a sex addiction. Lewis tells her outrageous life story with lots of humor, a few regrets, and, most importantly, unbridled joy."
Don't forget to enter to win 500 buckaroos to your favorite bookstore with our giveaway. Enter to win here.
Links for Your Ears:
Uncle Joe is joining the ranks of Obama-era Democrats penning a memoir about their political career. There are about 7,339,634 reasons we'll all cry listening to this one but you should probably do it anyway. Exclusive: Hear Joe Biden Read From New Book, Promise Me, Dad: A Year of Hope, Hardship and Purpose
Sean Penn has a cool pen name: Sean Penn in process of writing novel under pseudonym 'Pappy Pariah'
Are you excited about this Philip Pullman novel because I am: Michael Sheen's Solo Narration of Philip Pullman's New Novel Is Better Than an Army of Voice Actors
You had me at Helena Bonham Carter: Bonham Carter and Beale read MCB poetry collection
As always, you can hit me up on twitter at msmacb or say hey at katie@riotnewmedia.com.
Until next week,
~Katie