Happy Friday, sky captains and snow monsters! Today we've got reviews for Prosperity and Girls Made of Snow and Glass, some Buffy read-alikes, magical realism, Kingkiller Chronicles news, and more.
---
This week's newsletter is sponsored by PageHabit.
PageHabit offers monthly FANTASY and SCIENCE FICTION book boxes curated and annotated by acclaimed authors for the most diehard bookworms. Each box comes with an exclusive, author-annotated new release, a written letter from the author, a bonus short story, fun bookish goods and instant membership into an active online book community of over 20,000 members.
Get FREE SHIPPING on your first box with code "RIOT".
---
For my fellow Slayer fans: here's a list of books to read if you liked Buffy, in which Sharanya lays out her reasoning very well. How was The Immortal Rules not on my radar prior to this point?! Must remedy immediately.
We who are about to spend time with our families salute you: Ars Technica put together a list of new sf/f releases to help you escape this holiday season. Cosign on Null States and the JY Yang novellas!
What's better than space or magic? Space AND magic! I love Alex's list of 9 books that have both, with extra points for use of "handwavium."
Ah yes, the perennial question: "What is magical realism?" Not only does Leah break it down here, but she gives you 100 must-reads from everyone's favorite genre to argue about!
As you might have heard, the TV adaptation of Patrick Rothfuss's Kingkiller Chronicles is moving forward! It's got a network, Showtime, and Lin-Manuel Miranda continues to be excited about lutes (he's doing music for the show). While you're waiting for this to, you know, exist, here are one Rioter's favorite quotes from the series so far.
It's never too early to start planning your holiday nerdy gift-giving (or to get yourself some goodies): here are some excellent options, including a topographic Earthsea map (EXTREME HEART EYES).
How about some ebook deals?  Trickster's Choice and Trickster's Queen by Tamora Pierce are both $1.99 right now, if you feel live revisiting Tortall. The Girl from Everywhere by Heidi Heilig is also $1.99, which is a time-traveling adventure story on a boat (hello, wheelhouse).
Today's review books both tackle known quantities in SF/F and upend them in fantastic ways; get ready to fall head over heels.
Prosperity by Alexis Hall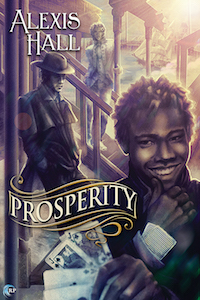 Prosperity is the bawdy, queer, steampunk/Lovecraft adventure story I didn't know I was craving. Tentacle monsters, phlogiston, airships, some very steamy interludes, and lots of (Cockney?) slang await you in the Prosperityverse.
Good-hearted guttersnipe Dil (short for Picadilly) cheats the wrong man in a card game that will change his life. After getting shot by the man in question — Milord, whose own morals are seriously questionable — Dil is rescued by the crew of the aethership Shadowless. And what a crew it is: the very sparkly captain, the opium-befuddled navigatrix, the handsome defrocked priest, and the ever-cranky and murderous Milord. As Dil tries to decide his next steps (and falls in love), one adventure after another befall the crew and he must decide where his allegiance lies. From Dil's own personal apocalypse to the possible end of the world, there is action aplenty, as well as a beautiful portrayal of finding your family.
Readers who dislike dialect might want to steer clear — while Dil does occasionally clarify a word or two, you have to be willing to hang with his verbal stylings. What might actually be historical slang and what Hall made up would require more linguistic knowledge than I have, but it didn't slow me down one bit. And while this is not a romance, there are several explicit sex scenes; proceed according to your personal blush-o-meter. If, like me, you can't get enough of these characters and this world, you're in luck: Liberty and Other Stories continues the story of the Shadowless crew. Happy sailing!
Girls Made of Snow and Glass by Melissa Bashardoust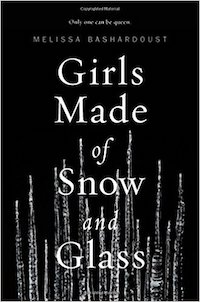 This book has been pitched as "Frozen meets The Bloody Chamber" and while I couldn't quite imagine what that meant, I was very curious. Having read it, I can now tell you that it means snow-related powers and women working through constraints imposed by men for their own gains. It's also an imaginative and inclusive retelling of Snow White featuring both LGBTQ+ and POC characters, and I enjoyed it immensely.
Told in parallel narratives that move back and forth in time, the story follows Mina, who at 16 decides that her best chance at a good life is to marry a widowed king, and Lynet, 15-year-old daughter of that king. Mina's own father, an emotionally abusive and manipulative magician, gave her a heart of glass when she was a child. What he doesn't realize is that he gave her powers as well. All Lynet's father wants is for her to grow up to be just like her long-deceased mother, regardless of who Lynet is on the inside. As each struggles to find a way forward, they are set against each other — but their story doesn't end there.
As Lynet falls in love for the first time, with the court surgeon Nadia, and Mina starts to understand what love actually is, they rewrite the fairytale we know into something new. Bashardoust takes the dark heart of Snow White and gives it room to shine.
And that's a wrap! You can find all of the books recommended in this newsletter on a handy Goodreads shelf. If you're interested in more science fiction and fantasy talk, you can catch me and my co-host Sharifah on the SFF Yeah! podcast. For many many more book recommendations you can find me on the Get Booked podcast with the inimitable Amanda.
Your fellow booknerd,
Jenn