Happy Friday, rebels and revenants! Today I've got two series you need to read immediately — the Revolution books and the Tensorate novellas, adaptation news about Annihilation and Sabrina the Teenage Witch, additional magical pets, and more.
---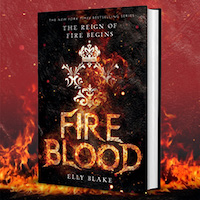 This newsletter is sponsored by Elly Blake's Fireblood, published by Little, Brown Books for Young Readers.
In this action-packed sequel to the New York Times bestselling Frostblood, Ruby must choose between her fiery homeland and the icy king who loves her.
---
Did you watch the Annihilation trailer? Do you have feelings? I have feelings. Conflicted feelings! It looks like they nailed the visuals of Area X, but they also whitewashed the lead character.
Ariel Gore proposes a magical feminism reading list, and I appreciate it. Isabel Allende, Jewel Parker Rhodes, Jeanette Winterson, Louise Erdrich — lots of heavy hitters are featured, but there were several I hadn't heard of. TBR: check.
More magical pets! Here are Syfy's top 25 choices of magical creatures. This list does not contain Sabriel's Mogget and is therefore invalid. (Jokes! Well, half-jokes.)
Sabrina the Teenage Witch is getting a reboot, and people have demands. I am not a reader of the Archie comics and I didn't watch the TV show growing up (I KNOW, blasphemy, don't @ me) but I am still intrigued.
I love this piece by Deji Bryce Olukotun about Tron, digital rights activism, and science fictional thinking.
You can do some good with your sf/f dollars: Fireside Fiction has set up a Hurricane Relief Bookstore, with 100% of profits going to relief efforts for the Caribbean, Houston, and Florida.
And onto our reviews! A trilogy and a duology of novellas; sorry not sorry to your TBR.
Revolution series: Gemsigns, Binary, and Regeneration by Stephanie Saulter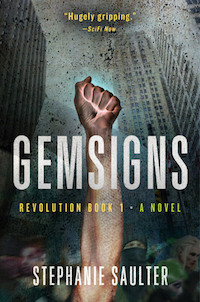 The Revolution trilogy by Stephanie Saulter is one of my favorite sci-fi series that no one else I know has read. Set in a future where humanity has survived a plague event through genetic engineering, only to then go on to use that technology to create specialized workers, these books are deeply concerned with how we imagine and define humanity and personhood.
In Gemsigns, we're introduced to this possible future through a "norm" scientist, a leader of the "gem" (or extremely genetically modified) population, and a ruthless corporate executive. Legislation is on the table that will literally decide whether or not the gems count as people, so the stakes are incredibly high. Corporations stand to lose out on profits if their previously-unregulated and unorganized workers get full rights; the general population is torn between their fears of the abilities of the gems and sympathy for their ill treatment; and there are godgangs on the rise terrorizing the gem population — consider this your warning for scenes including graphic violence.
It would be a spoiler to give you any details about Binary and Regeneration, but I can tell you that while the stakes change, new characters are added to the mix, and new aspects of the world and the science are revealed, the books never stray from these central questions. How do we deal with fear of the unknown? How do we empathize with those who are different from us? What does it mean to be a person, and who gets to decide? The Revolution are thoughtful as well as action-packed, and I can't wait to hear what you think about them.
Tensorate series: The Black Tides of Heaven #1 and The Red Threads of Fortune #2 by JY Yang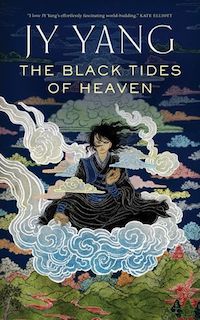 I am SO EXCITED that these novellas are finally available! Ever since reading them a few months ago, I've been counting down the days til I could review them here.
Following the adventures of twins Akeha and Mokoya, children of the ruthless and conniving Protector, the books introduce us to a world where magic and steam technology mix. Mokoya was born with prophetic gifts but, like Cassandra of Troy, she finds that they don't make her life any better. Akeha, always in her shadow, finds that he has to develop his own ways to see the world. The Black Tides follows them as children and then Akeha's entrance into political rebellion, while The Red Threads follows Mokoya in adulthood after a terrible accident kills her young daughter.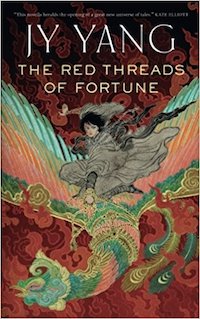 This world is beautifully imagined and rendered, and Yang has a gift for playing with known elements in new and unexpected ways. For instance, gravity is relative to geography, and naga and dinosaurs exist side by side. This world is also inclusive: gender is selected at a certain age, sexuality is fluid and wide-ranging, and the society and religion, and the term "silkpunk" definitely implies. Yang has described them as "Dragon Age meets Jurassic World meets Star Wars meets Mad Max" in an interview, and I can definitely get behind that. Are you convinced yet??
Nota bene to file under "tech world problems": those of us who use the platform Slack on a regular basis will have to take a moment to reshape our brains, as that is word for the source of magic in this world.
And that's it for today! If you're interested in more science fiction and fantasy talk, you can catch me and my co-host Sharifah on the SFF Yeah! podcast. For many many more book recommendations you can find me on the Get Booked podcast with the inimitable Amanda.
Allons-y!,
Jenn