Welcome back to In The Club, a newsletter of resources to keep your book group well-met and well-read. Let's dive in.
---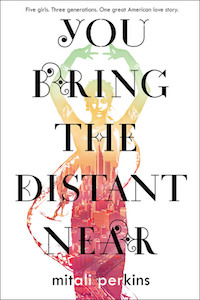 This newsletter is sponsored by You Bring the Distant Near by Mitali Perkins.
Told in alternating voices across three generations, You Bring the Distant Near explores sisterhood, first loves, friendship, and the inheritance of culture—for better or worse.
From a grandmother worried that her children are losing their Indian identity to a daughter wrapped up in a forbidden biracial love affair to a granddaughter social-activist fighting to preserve Bengali tigers, award-winning author Mitali Perkins weaves together the threads of a family growing into an American identity.
Here is a sweeping story of five women at once intimately relatable and yet entirely new.
---
Amy Stewart is visiting book clubs, digital-style! You can get a Skype visit and a set of books from the Kopp Sisters series for your group by entering here, while supplies last. Having read the first book in a mini-club with my mom, I can personally recommend them — they're fun, well-researched, female-forward historical novels with action and family drama.
Want to start a teen book club at your local library? We've got a group leader with four years of experience under his belt giving you some how-to tips.
Interested in adding some graphic novels to the mix? Here's a list of a few that will give you all the feels. Allllllll of them.
Differing viewpoints are what book group is all about. So why not get multiple POVs from the characters as well as your group members? Here are four novels to start with.
Always take the cannoli! If you need more of the Cosa Nostra for your group, Liberty's got a list of 10 Mafia reads.
Want to read something outside of the Big 5 publishing houses? Even if you're not sure what publishers you're usually reading, it's always great to explore a bit. Get indie-er with this list of 100 must-read books from indie presses.
Spotlight: "Wait, What Just Happened??" Books To Read With A Group

There have been several books in my life I have read with a group, and only because I could read them with a group. One of the beautiful things about a discussion is that you can sit down and hash out what ACTUALLY happened, which can make some bananapants books that much more accessible. Here's a list of books that are confusing, "What just happened?", WTF-inducing reads, with thanks to the Book Riot contributor corps for suggestions.
Ship of Theseus by JJ Abrams and Doug Dorst
House of Leaves by Mark Z. Danielewski
The Devourers by Indra Das
Dhalgren by Samuel R. Delaney
Ghost Summer by Tananarive Due
The Blue Girl by Laurie Foos
The Library at Mount Char by Scott Hawkins
Hangsaman by Shirley Jackson
The Vegetarian by Han Kang
The Hike by Drew Magary
Song of Solomon by Toni Morrison
The Man in My Basement by Walter Mosley
White is for Witching by Helen Oyeyemi
Fever Dream by Samanta Schweblin
The Walls Around Us by Nova Ren Suma
Infinite Jest by David Foster Wallace
And that's a wrap: Happy discussing! If you're interested in more science fiction and fantasy talk, you can catch me and my co-host Sharifah on the SFF Yeah! podcast. For many many more book recommendations (including the occasional book club question!) you can find me on the Get Booked podcast with the inimitable Amanda.
Your fellow booknerd,
Jenn
More Resources: 
– Our Book Group In A Box guide
– List your group on the Book Group Resources page