Hello Kid Lit friends!
As a mother of biracial kids, I am always on the look out for biracial representation in children's literature. According to a report by the Pew Center, the share of newlyweds married to a spouse of a different race or ethnicity has increased more than five times — from 3 percent in 1967, to 17 percent in 2015. It is hard to believe that before the Supreme Court case Loving vs. Virginia in 1967, interracial marriage was forbidden in most states.
I was asked recently for a list of children's books with biracial characters in them, and there are so many excellent ones!
---
Sponsored by Thornhill by Pam Smy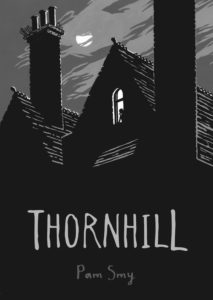 Parallel stories set in different times, one told in prose and one in pictures, converge as a girl unravels the mystery of the abandoned Thornhill Institute next door.
1982: Mary is a lonely orphan at the Thornhill Institute. When her few friends are all adopted or re-homed and she's left to face a volatile bully alone, her revenge will have a lasting effect on the bully, on Mary, and on Thornhill itself.
2017: Ella has just moved to a new town. From her room, she has a perfect view of the dilapidated, abandoned Thornhill Institute, where she glimpses a girl in the window. Determined to befriend the girl, Ella resolves to unravel Thornhill's shadowy past.
---
Picture Books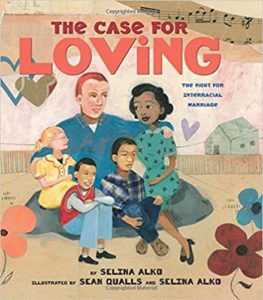 The Case for Loving by Selina Alko, illustrations by Sean Qualls and Selina Alko
This is the story of one brave family: Mildred Loving, Richard Perry Loving, and their three children. It is the story of how Mildred and Richard fell in love, and got married in Washington, D.C. But when they moved back to their hometown in Virginia, they were arrested (in dramatic fashion) for violating that state's laws against interracial marriage. The Lovings fought the unfair law, taking their case all the way to the Supreme Court – and won!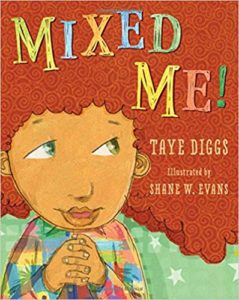 Mixed Me! by Taye Diggs, illustrated by Shane W. Evans
Mom and Dad say I'm a blend of dark and light:
"We mixed you perfectly, and got you just right."
Mike has awesome hair. He has LOTS of energy! And Mike is a PERFECT blend of the two of them. Still, Mike has to answer LOTS of questions about being mixed. And he does, with LOTS of energy and joy in this charming story about a day in the life of a mixed-race child.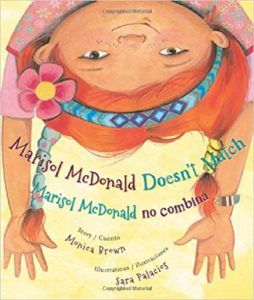 Marisol McDonald Doesn't Match by Monica Brown, illustrated by Sara Palacios
Marisol McDonald has flaming red hair and nut-brown skin. Polka dots and stripes are her favorite combination. To Marisol McDonald, these seemingly mismatched things make perfect sense together. Other people wrinkle their nose in confusion at Marisol—can't she just be one or the other? Try as she might, in a world where everyone tries to put this biracial, Peruvian-Scottish-American girl into a box, Marisol McDonald doesn't match. And that's just fine with her.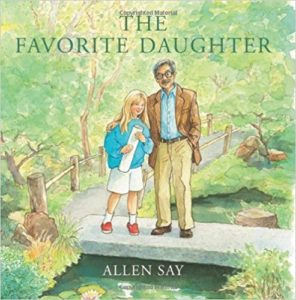 The Favorite Daughter by Allen Say
Yuriko hates her name when the children make fun of it and call her "Eureka!" Though she is half Japanese, the teasing makes her want to hide, to retreat even from the art projects she used to love. Fortunately she has a patient, kind father who finds gentle ways of drawing her out and reminding Yuriko of the traditions they share that have always brought her joy.
Dumpling Soup by Jama Kim Rattigan, illustrated by Lillian Hsu
Marisa gets to help make dumplings this year to celebrate the New Year. But she worries if anyone will eat her funny-looking dumplings. Set in the Hawaiian islands, this story celebrates the joyful mix of food, customs, and languages from many cultures.
Middle Grade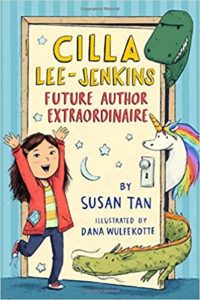 Cilla Lee-Jenkins, Future Author Extraordinaire by Susan Tan
Priscilla "Cilla" Lee-Jenkins is on a tight deadline. Her baby sister is about to be born, and Cilla needs to become a bestselling author before her family forgets all about her. So she writes about what she knows best―herself! Stories from her bestselling memoir, Cilla Lee-Jenkins: Future Author Extraordinaire, include:
– How she dealt with being bald until she was five
– How she overcame her struggles with reading
– How family traditions with her Grandma and Grandpa Jenkins and her Chinese grandparents, Nai Nai and Ye Ye, are so different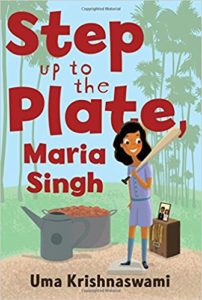 Step Up to the Plate, Maria Singh by Uma Krishnaswami
Nine-year-old Maria Singh longs to play softball in the first-ever girls' team forming in Yuba City, California. It's the spring of 1945, and World War II is dragging on. Miss Newman, Maria's teacher, is inspired by Babe Ruth and the All-American Girls' League to start a girls' softball team at their school. Meanwhile, Maria's parents–Papi from India and Mama from Mexico–can no longer protect their children from prejudice and from the discriminatory laws of the land.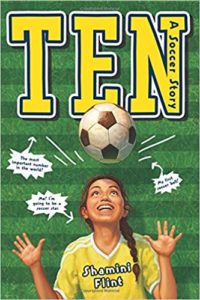 Ten: A Soccer Story by Shamini Flint
Maya is a passionate soccer fan eager to start playing soccer herself. This is extra challenging because soccer is considered a "boys' game" in Malaysia in 1986. She teaches herself basic soccer skills with only her mother and a potted rosebush as training partners, then gradually persuades enough girls to join her to form a team, all the while trying to keep her unpredictable biracial family together.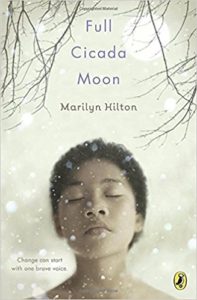 Full Cicada Moon by Marilyn Hilton
It's 1969, and the Apollo 11 mission is getting ready to go to the moon. But for half-black, half-Japanese Mimi, moving to a predominantly white Vermont town is enough to make her feel alien. Suddenly, Mimi's appearance is all anyone notices. And even though teachers and neighbors balk at her mixed-race family and her refusals to conform, Mimi's dreams of becoming an astronaut never fade—no matter how many times she's told no.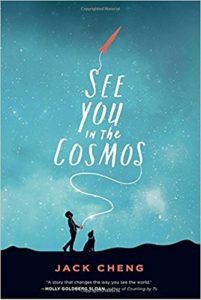 See You in the Cosmos by Jack Cheng
11-year-old Alex Petroski loves space and rockets, his mom, his brother, and his dog Carl Sagan—named for his hero, the real-life astronomer. All he wants is to launch his golden iPod into space the way Carl Sagan (the man, not the dog) launched his Golden Record on the Voyager spacecraft in 1977. From Colorado to New Mexico, Las Vegas to L.A., Alex records a journey on his iPod to show other lifeforms what life on earth, his earth, is like. But his destination keeps changing.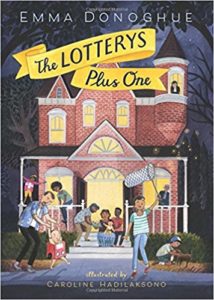 The Lotterys Plus One by Emma Donaghue
Sumac Lottery is nine years old and the self-proclaimed "good girl" of her (VERY) large, (EXTREMELY) unruly family. And what a family the Lotterys are: four parents, children both adopted and biological, and a menagerie of pets, all living and learning together in a sprawling house called Camelottery. Then one day, the news breaks that one of their grandfathers is suffering from dementia and will be coming to live with them.
Momotaro Xander and the Lost Island of Monsters by Margaret Dilloway
Xander Miyamoto would rather do almost anything than listen to his sixth grade teacher, Mr. Stedman, drone on about weather disasters happening around the globe. If Xander could do stuff he's good at instead, like draw comics and create computer programs, and if Lovey would stop harassing him for being half Asian, he might not be counting the minutes until the dismissal bell.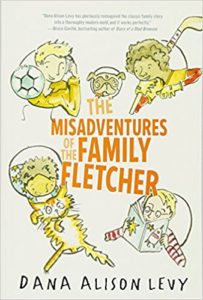 The Misadventures of the Family Fletcher by Dana Alison Levy
The start of the school year is not going as the Fletcher brothers hoped. Each boy finds his plans for success veering off in unexpected and sometimes diastrous directions. And at home, their miserable new neighbor complains about everything. As the year continues, the boys learn the hard and often hilarious lesson that sometimes what you least expect is what you come to care about the most.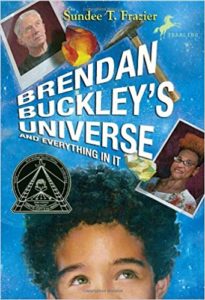 Brendan Buckley's Universe and Everything In It by Sundee T. Frazier
Ten-year-old Brendan Buckley is a self-declared scientist: asking questions and looking for answers, but most of all struggling against the overprotective behavior of his parents. Up until now, he has never even met his grandfather—the grandfather his mother won't even speak of. A chance encounter brings Brendan and his grandfather together where Brendan initiates a relationship with estranged grandfather, Ed DeBose. While they share a passion for geology, they do not share the color of their skin; Brendan's skin is brown, not pink like Ed DeBose's.
New Releases!
So many out this Tuesday! Here are some of my favorites:
Picture Book New Releases!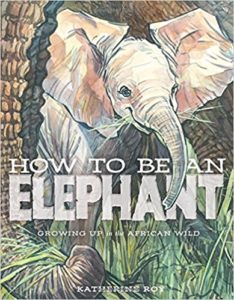 How to Be An Elephant by Katherine Roy (David Macaulay Studio, 9/19)
An infant elephant has precious little time to learn the incredible array of skills that are necessary to keep up, from projecting her voice across a 10-octave range to using the 100,000 muscles in her trunk to stay hydrated. But this giant-to-be has the perfect classroom–a family herd made up of her mother, sisters, cousins, and aunts. With their help and protection, she'll learn how to survive, how to thrive, and how to be an elephant.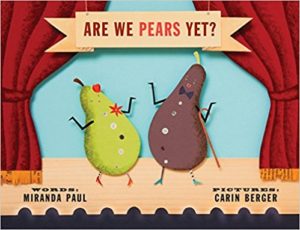 Are We Pears Yet? by Miranda Paul, illustrated by Carin Berger (Roaring Brook Press, 9/19)
Written entirely in dialogue and staged as a play, Are We Pears Yet? is a clever and hilarious informational picture book that will make you look at growth cycles and fruit trees in a whole new way. Carin Berger's artfully composed collaged stage sets will delight and amaze you.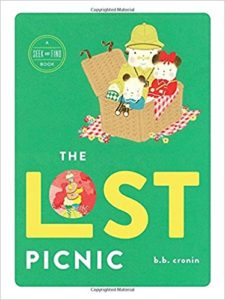 The Lost Picnic by B.B. Cronin (Viking, 9/19)
From the award-winning author of "The Lost House." Grandad and his grandchildren are on their way to a picnic out into the country in his jalopy. When they arrive at the picnic spot, they discover all their food has tumbled out along the way! It's up to readers to find the missing food items.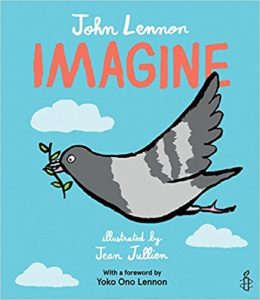 Imagine by John Lennon (HMH, 9/21)
Join one little pigeon as she sets out on a journey to spread a message of tolerance around the world. Featuring the lyrics of John Lennon's iconic song and illustrations by the award-winning artist Jean Jullien, this poignant and timely picture book dares to imagine a world at peace. Imagine will be published in partnership with human rights organization Amnesty International.
Chapter Book New Release!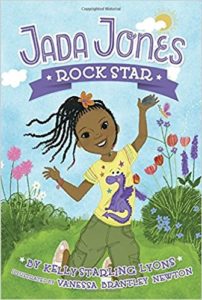 Jada Jones: Rock Star and Jada Jones: Class Act by Kelly Starling Lyons, illustrated by Vanessa Brantley Newton
When Jada Jones's best friend moves away, school feels like the last place she wants to be. She'd much rather wander outside looking for cool rocks to add to her collection, since finding rocks is much easier than finding friends. So when Jada's teacher announces a class project on rocks and minerals, Jada finally feels like she's in her element. The only problem: one of her teammates doesn't seem to like any of Jada's ideas.

Middle Grade New Releases!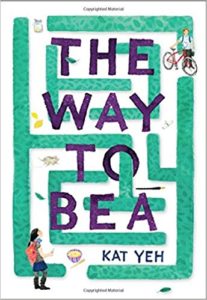 The Way to Bea by Kat Yeh (Little, Brown, 9/19)
Everything in Bea's world has changed. She's starting seventh grade newly friendless and facing big changes at home, where she is about to go from only child to big sister. Feeling alone and adrift, and like her words don't deserve to be seen, Bea takes solace in writing haiku in invisible ink and hiding them in a secret spot. But then something incredible happens–someone writes back.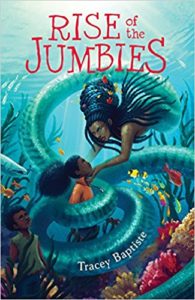 Rise of the Jumbies by Tracey Baptiste (Algonquin, 9/19)
Corinne LaMer defeated the wicked jumbie Severine months ago, but things haven't exactly gone back to normal in her Caribbean island home. Everyone knows Corinne is half-jumbie, and many of her neighbors treat her with mistrust. When local children begin to go missing, snatched from the beach and vanishing into wells, suspicious eyes turn to Corinne.
Saving Marty by Paul Griffin (Penguin Random House, 9/19)
Eleven-year-old Lorenzo Ventura knows heroes are rare—like his father, who died in the war, or his friend Paloma Lee, who fearlessly pursues her dream of being a famous musician. Renzo would never describe himself as a hero, but his chance comes when he adopts Marty, a runt piglet. At first, the family farm seems like the perfect home for Marty, but as he approaches 350 pounds, it becomes harder for Renzo to convince his mom that a giant pig makes a good pet.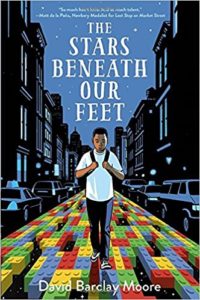 The Stars Beneath Our Feet by David Barclay Moore (Random House, 9/19)
It's Christmas Eve in Harlem, but twelve-year-old Lolly Rachpaul and his mom aren't celebrating. They're still reeling from his older brother's death in a gang-related shooting just a few months earlier. Then Lolly's mother's girlfriend brings him a gift that will change everything: two enormous bags filled with Legos. Lolly's always loved Legos, and he prides himself on following the kit instructions exactly. Now, faced with a pile of building blocks and no instructions, Lolly must find his own way forward.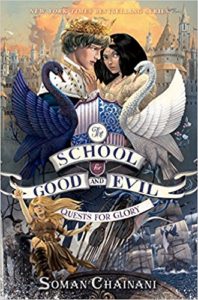 The School for Good and Evil: Quests for Glory by Soman Chainani (HarperCollins, 9/19)
The students at the School for Good and Evil thought they had found their final Ever After when they vanquished the malevolent School Master. Now, on their required fourth-year quests, the students face obstacles both dangerous and unpredictable, and the stakes are high: success brings eternal adoration, and failure means obscurity forever.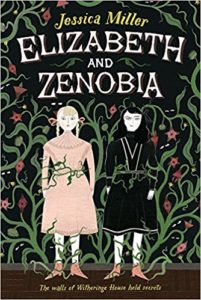 Elizabeth and Zenobia by Jessica Miller (Abrams, 9/19)
Abandoned by her mother and neglected by her scientist father, timid Elizabeth Murmur has only her fearless friend, Zenobia, for company. And Zenobia's company can be very trying! When Elizabeth's father takes them to live in his family home, Witheringe House, Zenobia becomes obsessed with finding a ghost in the creepy old mansion and forces Elizabeth to hold séances and wander the rooms at night.
A few last things: The National Book Awards released their long list for Young People's Literature! These are the top ten; five will be chosen on October 4th as finalists, and the winner will be announced on November 15th.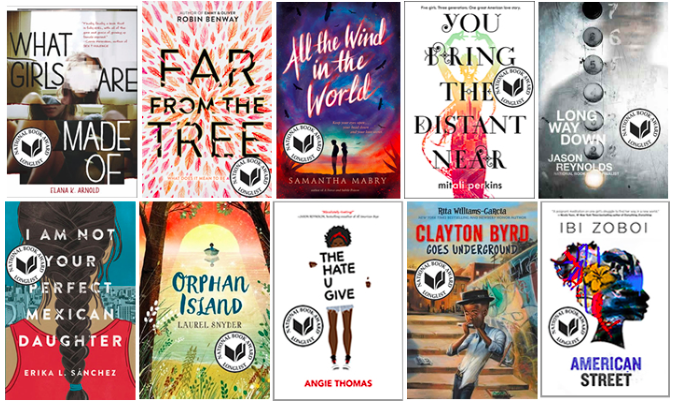 Thank you to everyone who bid on the KidLit Cares Auction. Over $93,000 was raised and sent to the Red Cross Hurricane Harvey Relief fund!
If you'd like another book with biracial characters, my debut middle grade novel with Houghton Mifflin Harcourt Books for Young Readers features a large, biracial family. The Vanderbeekers of 141st Street will be available on October 3rd!
I'd love to know what you are reading this week! Find me on Twitter at @KarinaYanGlaser, on Instagram at @KarinaIsReadingAndWriting, or email me at karina@bookriot.com.
Until next time,
Karina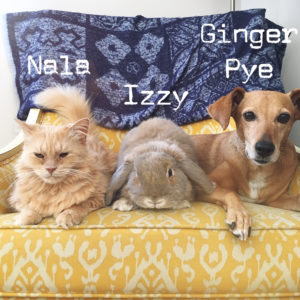 I've gotten a lot of questions about my pets. They agreed to pose together for a photo for you. (And yes, we live in a 750 sqft apartment.) (Yes, it's crowded, but… cozy.)
*If this e-mail was forwarded to you, follow this link to subscribe to "The Kids Are All Right" newsletter and other fabulous Book Riot newsletters for your own customized e-mail delivery. Thank you!*
SaveSave
SaveSave
SaveSave