Happy September, Insiders! Today we've got a look at the day-in, day-out of our newest associate editor, S. Zainab Williams, a.k.a. Sharifah.  Before we get to that, we've got an Insiders-only post celebrating a few of our most anticipated Fall releases, and we'd love to hear about yours!
And now, for this month's store deal:
Cozy up for great reading, and get 25% off all hoodies & sweatshirts, just for Insiders. Use code ITSCOZYINSIDE!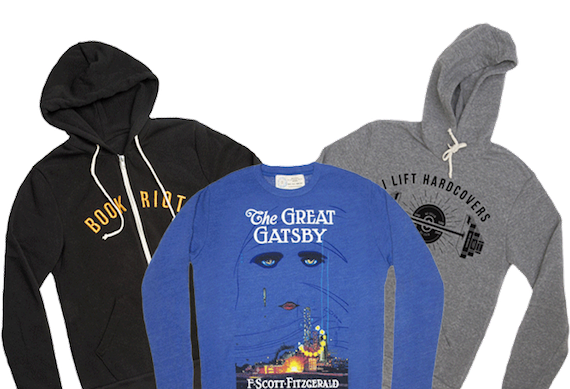 ---
About four months ago, I lived in a studio apartment in Van Nuys with a demon cat I call Tabitha and no idea what to do about that thing they call a career. I had enough freelance work that, most Fridays, I could take myself out for an overpriced Americano at a local cafe where the clientele loudly discussed screenplays and gigs while I scarfed biscotti and silently doled out scorn.
This, I knew, was not a sustainable lifestyle, but after so many years of work as faceless desk flesh I'd decided I was DONE, and stubbornly remained decided even when things got shaky. I could not go back to a traditional office job. Not even for the promise of post-meeting sandwich scavenging events in dimly lit conference rooms, and the comforting certainty that someone will always take the last cup of coffee without refilling the pot.
Well. One day almost a year after I made that terrifying decision and left my full-time job, like magic or a sequence of events plotted out all businesslike, I received a proposition via Skype. And a couple months later, I said goodbye to L.A. where I'd lived since I was four, and hello to Portland, a city with which I'd had three hours' acquaintance. I'd arrived in a new town with a new job and the same mean cat.
I've been a Book Riot associate editor for three months plus some change, and I'm still a bit stunned. I know it isn't luck, but it feels like it.
Now, one of the super-perks of my job is that I get to work from home. I'm not going to sit here and pretend this isn't amazing. Also, I like to imagine what it might look like to be the sort of adult who gets out of bed at a reasonable hour, showers, makes coffee in her spotless kitchen, sits at a desk in the early morning sunlight, and gets to work. I've got the waking up, making coffee, and getting to work parts down.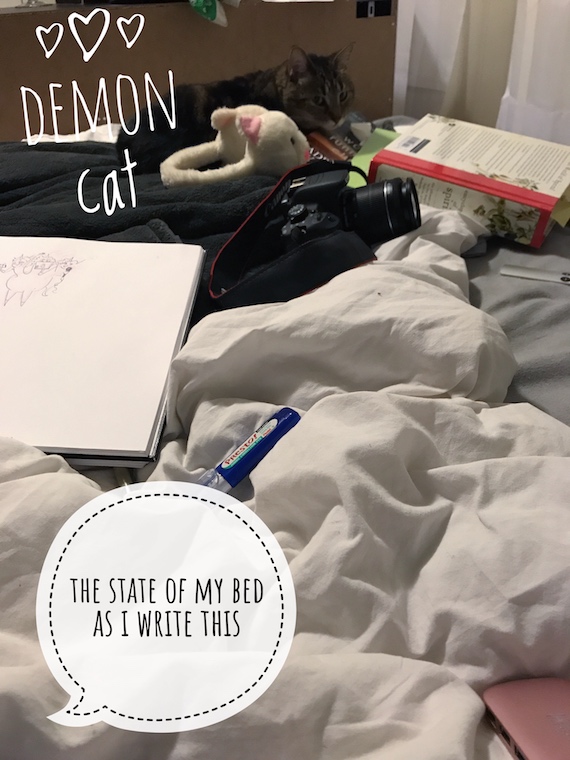 My day usually begins at 6am. That's about the time Tabitha gets hangry, screams in my face, and violently attacks the cables strewn across my bed… Because my bed is usually covered in power cables and laptops and books… Because my bed is the morning workspace I stumble back to once I'm grasping a cup of coffee. I secretly think of myself as the Grandpa Joe of the Book Riot staff. I will eventually fly out of bed singing, "I've got a golden ticket."
I like to start my day in stealth mode before my day actually begins, if that makes sense. It doesn't — I start my work day around 7am, but I'm not "live" for another hour. My brain is always cluttered, but it's even more so first thing in the morning, and nobody needs that, so I like to spend my first caffeinated hour working on something that requires single-mindedness and hyperfocus. It does help.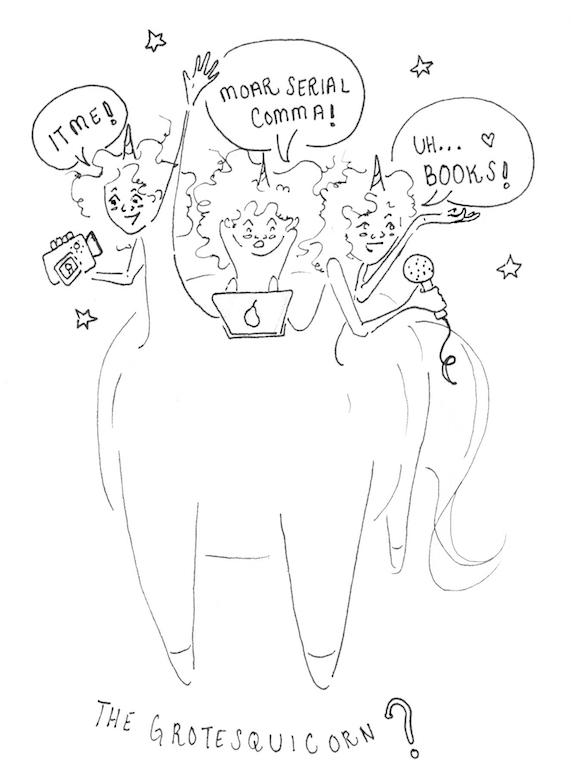 As for the work itself, my job is a many-headed unicorn, except not grotesque. I schedule content and social media a couple days each week, film the Tuesday New Releases videos, host the SFF Yeah! and Read Harder podcasts, post Instagram Stories, and write the weekday Today in Books (previously known as This Week in Books) newsletters, among other things. And it tickles me that taking photos of books is also part of my job.
I'm still quite new, but my work is exciting and challenging in a way no job has been before. For instance, when I agreed to podcast (this was actually when I was still a contributing editor, working freelance), I was terrified because I'm a writer who has never been good with her mouth words. But there's something about being part of Book Riot that makes a person want to try, and do something new, and shake it up a little.
So here I am.
-Sharifah