Hi Kid Lit friends,
I know a lot of us are reeling after the events of Charlottesville. I have been reading news coverage and looking at the disturbing images of white supremacists, Nazis, and white nationalists marching and perpetuating violence and yelling hate, and my instinct is to shield my kids from seeing what's happening. But I also believe that the more our kids know about the evil in the world, the better they will be able at seeing it and calling it out and fighting for justice when they witness it.
---
Annotated brings you the story of the world's most glamorous librarian. Download it for free on Apple Podcasts, Google Play, or your podcast player or choice.
---
https://twitter.com/The_Pigeon/status/896500805372596224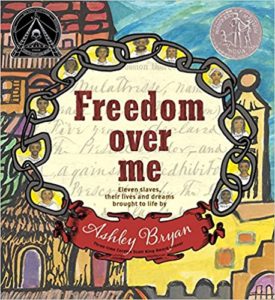 Ashley Bryan is an author I turn to over and over again for the wisdom in his books and gorgeous paintings. His Caldecott Honor book Freedom Over Me is one of the most powerful stories I have ever read about the evils of slavery. The book is based on the Fairchilds Appraisement of the Estate document from July 5, 1828 where eleven slaves are listed for sale with the cows, hogs, and cotton. From that document, Ashley humanizes each slave listed, writing about their daily lives but also of their dreams.
A page from Freedom Over Me by Ashley Bryan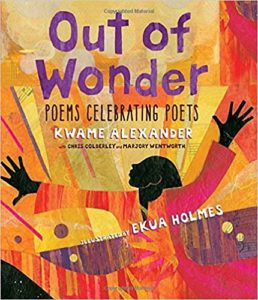 Ekua Holmes' illustrations in Out of Wonder by Kwame Alexander are gorgeous and powerful. They are a celebration of life, and when paired with the poetry of Kwame Alexander, Chris Colderley, and Marjory Wentworth, the effect is stunning. Here are some of the interior pages:
>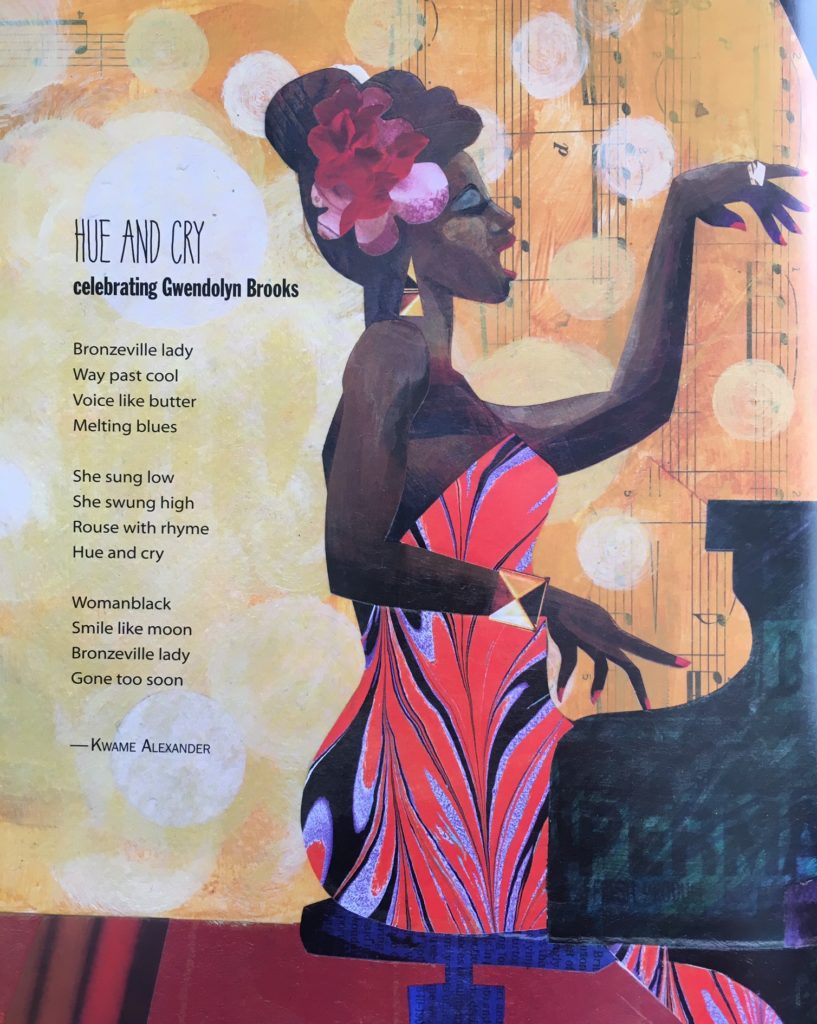 I love Kwame's exhortation to "Be brave, like a new seed bursting with extraordinary promise."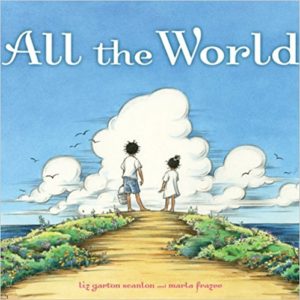 When heartbreaking events happen, I always turn to All the World by Liz Garton Scanlon, illustrated by Marla Frazee. The illustrations and words tell of an interconnected, diverse world that we all contribute to and engage in. When I read this book to my kids, I cannot help but believe that love and peace and justice will triumph over evil.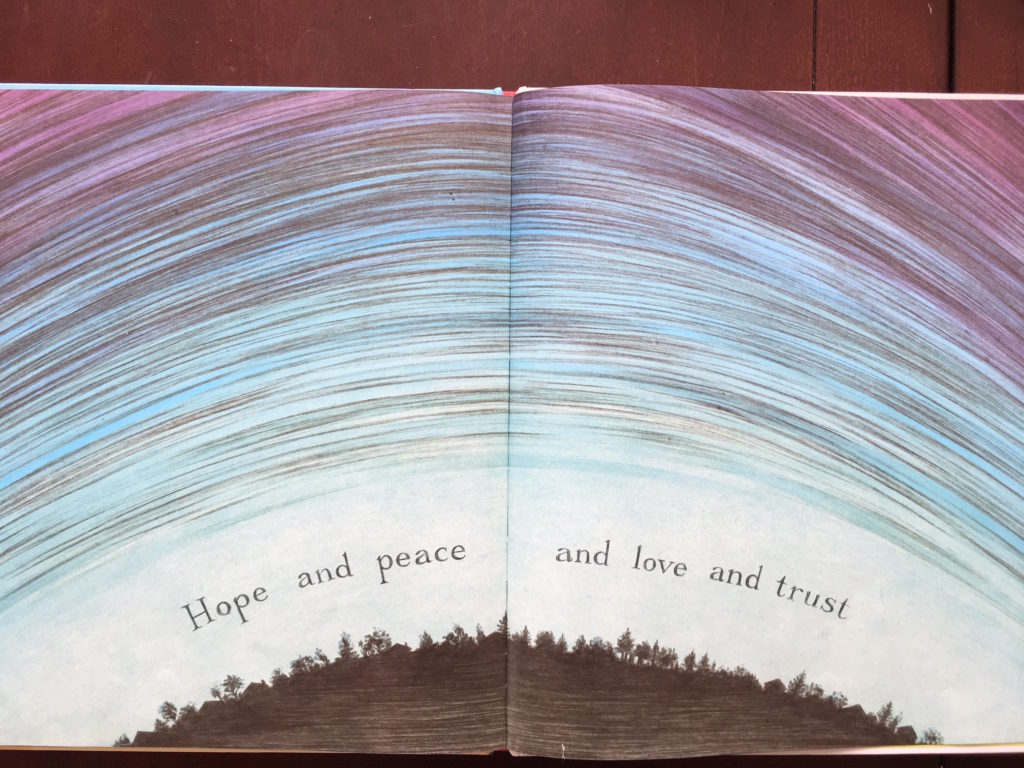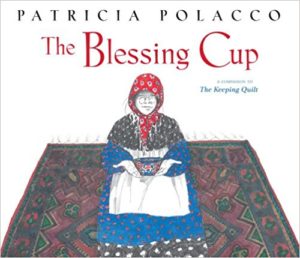 The Blessing Cup by Patricia Polacco was the first picture book that made my younger daughter aware of the discrimination and religious persecution of Jewish people. In the story, a young Russian girl living in the early 1900s live in fear of the Czar's soldiers. Reading this book reminded me that we need to fight for religious and political freedoms every day.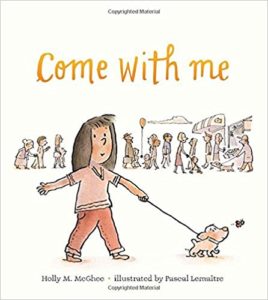 Come With Me (Penguin Random House, 9/5), written by Holly M. McGhee and illustrated by Pascal Lemaitre, is about the immediate aftermath of 9/11. While the news tells over and over about anger and hatred, a little girl finds that her own voice and actions have the power to make the world a better place.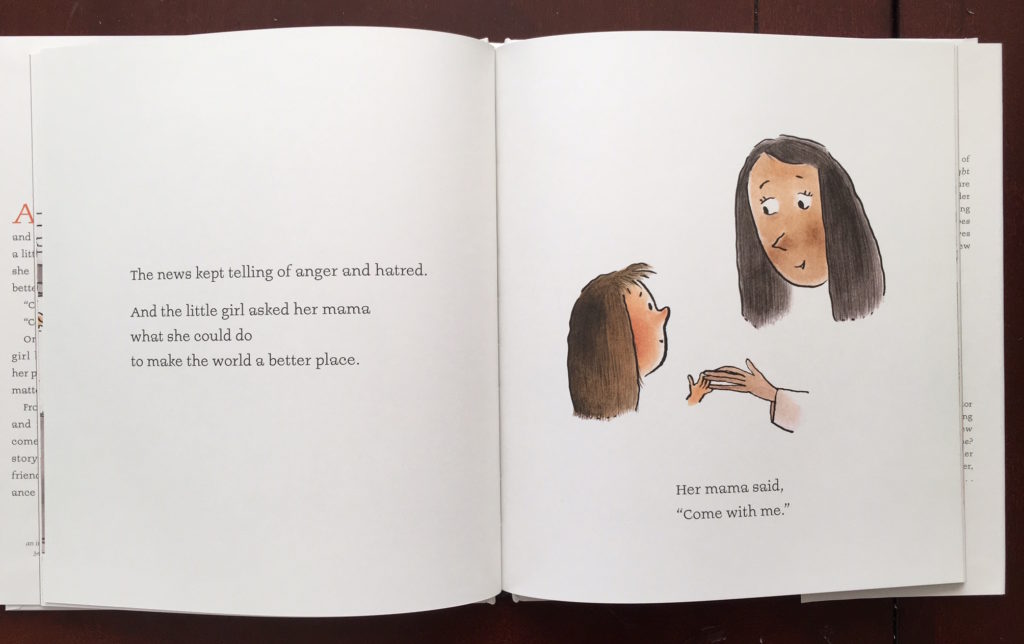 There are thousands of children's books that speak to courage and love, tolerance and justice. Check out these links for more recommendations:
What else can we do? I've been filling up my Little Free Library with books every day so the kids in my neighborhood can have all the access to books they want. Over on Twitter, @veronikellymars is encouraging people to fund classroom literacy projects. Click the tweet below for links to the classrooms needing funding and ongoing updates.
https://twitter.com/veronikellymars/status/895999617611034625
New Releases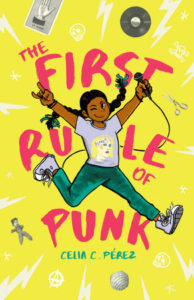 I'm so excited about Tuesday because one of my favorite books of the year is coming out! The First Rule of Punk (Viking, 8/22) by Celia C. Pérez is about twelve-year-old Malú, a Mexican-American girl who moves to a new state with her mom (who Malú calls "Super Mexican"). As Malú adjusts to her new school, she works on her zines (which are cleverly inserted into the book itself) and starts a punk band with other school misfits. I loved this book, and I guarantee you will too!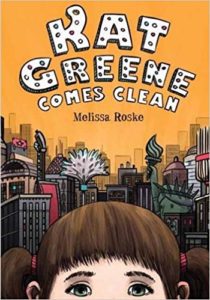 Another title I've been waiting to hit the shelves is Kat Greene Comes Clean (Charlesbridge, 8/22), a story about a fifth grader named Kat who lives in New York City and who (like all middle grade kids!) has a lot going on. Not only is she dealing with middle grade drama, but her mom starts getting more and more obsessive with cleaning. This was an honest portrayal of OCD, and a great middle grade title to add to your list.
Ebook Deals
Spy School by Stuart Gibbs is only $1.99 for Kindle! (The fifth book in the Spy School series, Spy School Secret Service, comes out on October 10th!)
Another awesome ebook deal: $2.99 for Mary Poppins!
Right now I'm reading Miles Morales by Jason Reynolds (a great upper middle grade/YA read after the Charlottesville events). Tell me what you're reading! I'm on Twitter at @KarinaYanGlaser, on Instagram at @KarinaIsReadingAndWriting, or send me an email at karina@bookriot.com. Have a great week!
Until next time,
Karina
Izzy and our newest cat family member Nala wholeheartedly recommend The First Rule of Punk!
*If this e-mail was forwarded to you, follow this link to subscribe to "The Kids Are All Right" newsletter and other fabulous Book Riot newsletters for your own customized e-mail delivery. Thank you!*
SaveSave
SaveSave
SaveSave
SaveSave
SaveSave
SaveSave
SaveSave