Happy Friday! I hope you have all crushed this past week's enemies and driven them before you. Today we're talking about Trish Trash and The Stone Sky, plus the 2017 Hugo winners, Octavia Butler adaptation news, and more.
---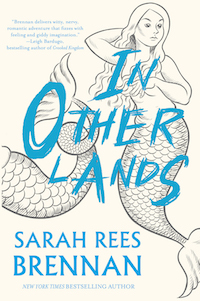 This newsletter is sponsored by In Other Lands by Sarah Rees Brennan.
Elliot is smart, just a tiny bit obnoxious (he is thirteen years old), and perhaps not the best person to cross into the Borderlands where there are elves, harpies, and — best of all as far as he's concerned — mermaids. In Other Lands is an exhilarating a novel about surviving four years in the most unusual of schools, about friendship, falling in love, diplomacy, and finding your own place in the world — even if it means giving up your phone.
---
The 2017 Hugo Award winners have been announced! Congratulations to all the winners; obviously I am particularly thrilled about NK Jemisin, not only because she has now won it twice but also because TNT IS ADAPTING The Fifth Season!, excuse me while I run around screaming about my feelings!!!!!!
Also! Ava DuVernay is adapting Octavia Butler's Dawn (Xenogenesis 1) and it is an actual dream come true. Given how excellent DuVernay's work has been in the past and how great the trailer for A Wrinkle in Time looks, I am over the moon. Sometimes we can have nice things!
Forget passing the NEWTs at Hogwarts, can you pass a quiz about the NEWTs? I could not. No seriously, I only got two right.
Do you need more supernatural teenagers in your reading? This list of 100 inclusive YA SFF books is for you, then. Shout-out to Dreadnought by April Daniels, which you will be hearing more about next week!
Do you need more Game of Thrones chatter and analysis in your life? Vulture has a list of five podcasts that can help with that. My own vote has to go to A Storm of Spoilers, based entirely on name.
How about some ebook deals? This month there are a few that are perfect for completing your series collections, and each is less than $3!
– Lives of Tao series by Wesley Chu: Deaths of Tao (#2) and The Rebirths of Tao (#3)
– Worldbreaker Saga by Kameron Hurley: Empire Ascendant (#2)
For today's reviews, we've got roller derby in space and earth magic!
Trish Trash: Rollergirl of Mars Volume 1 and Volume 2 by Jessica Abel
Please meet one of my favorite graphic novel series of the past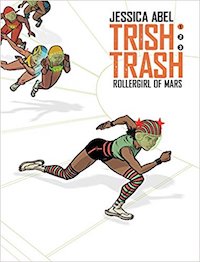 year — which felt inevitable once I heard the "rollerderby on Mars" pitch. You might know Abel from her previous work (La Perdida, Out on the Wire, Life Sucks, to name just a few) but this is her first foray into outer space, and it's worth joining her for the journey.
Trish lives on Mars with her aunt and uncle, helping out on their farm. She's great at fixing things but her real dream is to become a hoverderby star, and when tryouts for the local team are held she thinks she's that much closer. Too young to make the team, she takes an internship instead — much to her family's dismay. Juggling school and work on the farm is hard enough, and then one day she discovers a wounded native Martian (largely considered mythical to the human inhabitants) and accidentally saves its life.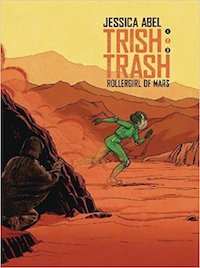 Abel is tackling a lot in Trish Trash. The settlers of Mars are almost all indebted to the company that funded the initial exploration and settlement, and there are serious water shortages and little hope of a solution. Poverty and labor camps are widespread. Add to that the displaced native Martians, and you've got a lot of layers beneath the hoverderby track. But Abel manages the balance well. Rather than have characters infodump in conversation, each novel includes backmatter that lays out the history of Mars and its complicated present situation. And Trish and her friends and family bring all the hijinks and personality you could want. I'll be keeping an eye out for Volume 3!
The Stone Sky by NK Jemisin (Broken Earth #3)
Considering that The Obelisk Gate (Broken Earth #2) just won the 2017 Hugo Award for Best Novel, likely no one is surprised that I'm recommending The Stone Sky. Hot off the presses and newly released as of this past Tuesday, it's the jaw-dropping conclusion (literally, my jaw dropped) to the Broken Earth series and it's everything I've ever wanted in a third installment.
Mild spoilers for the series follow, so if you want zero plot discussion just go ahead and get yourself all three books and start reading!
The Obelisk Gate left Nassun and Essun finally aware of each other's location and powers, but many miles apart. The stone eater factions have revealed their goals, and now the fate of the world is hanging in the balance. While The Stone Sky takes us forward to the moment of truth, it also takes us back in time and reveals more history of the Guardians, the obelisks, and the sundering of the Moon. If you've been wanting a deeper look at the history of this world, you will be delighted; Jemisin balances the plotline that began in The Fifth Season with a new past narrative that is just as compelling as any other thread we've had throughout the series — and there have been many. The conclusion had me white-knuckling my way through the final chapters, and devestated that the story has come to an end.
I'll be rereading the whole series before long; for those of you who may have read The Obelisk Gate a while back I do recommend a reread. Jemisin does a solid job of providing context where she can without bogging down the narrative, but there were moments where I had to pause to try to remember certain previous characters and plot points. After all, it's not as though a reread is a hardship. Jemisin's best, most complex series to date, Broken Earth has reached the top five in my personal list of favorite series, and it will take a hell of a lot to dethrone it.
That's it for this week! If you're interested in more science fiction and fantasy talk, you can catch me and my co-host Sharifah on the SFF Yeah! podcast. For many many more book recommendations you can find me on the Get Booked podcast with the inimitable Amanda.
Your fellow booknerd,
Jenn