Hello fellow mystery fans! If like me you're still melting and looking for "chilly" mysteries, Linda Greenlaw's Shiver Hitch is set during a Maine winter. Bring on the brrrrrrr.
---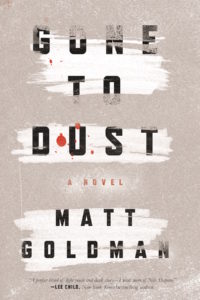 Sponsored by Gone to Dust by Matt Goldman
A brutal crime. The ultimate cover-up. How do you solve a murder with no useable evidence?
A woman has been found murdered in her bedroom, her body covered with the dust from hundreds of emptied vacuum cleaner bags, all potential DNA evidence obscured by the calculating killer.
Praised by Lee Child as "a perfect blend of light touch and dark story," and Harlan Coben as "Irreverent and insightful…sure to become a fan favorite,"Gone to Dust is the debut private eye murder mystery you don't want to miss.
Start Reading Gone to Dust today!
---
Amateur Sleuth (I Want to Be BFFs With) Needs Reward Money:
Hollywood Homicide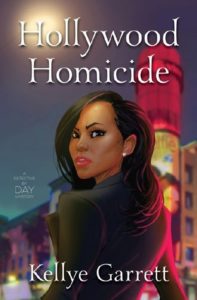 (Detective by Day #1) by Kellye Garrett: Dayna "Day" Anderson needs money (and fast) or her parents are going to lose their house. Day has quit her dream of becoming an actress and is trying to land work when she decides to solve a hit-and-run case that is offering reward money. Day is one of those characters who I loved from the very beginning (she's smart, determined, funny, a good friend), and while in my head I'm certain my friends and I solving a murder case would look as efficient and competent as Veronica Mars, we'd probably be more like Day and her friends: disaster-ish and pointing the finger at everyone. Garrett has written a novel with great voice, characters, hilarious moments, and a lot of Hollywood, which is a perfect start to a series. Also, if anyone wants to turn this into a TV series you can count me in as a viewer! (You can read Kellye Garrett's great Little Q&A here.)
The ear piercing squeal you just heard was me finding out there is a novel (Back to Brooklyn by Lawrence Kelter) that updates where Mona Lisa Vito and Vinny Gambini are today: My Cousin Vinny updated by new novel. I need to go get a copy and read this–I feel like it's either going to be awesome or terrible, and either way I'll be entertained and love it. Maybe? I'm gonna go find out!
Over on Book Riot Derek Attig has some awesome crafty finds for Nancy Drew fans.
And I recommend mystery comics based on 3 popular TV shows.
Sarah M. Chen sits down with Danny Gardner to discuss his new (great) book A Negro and an Ofay.
I imagined a book club for those meddling kids on Riverdale.
Louise Penny will write three more novels for her Chief Inspector Armand Gamache series and Lisa Jewell (The Girls In the Garden ; I Found You) has closed a deal for two domestic suspense novels according to PW book deals.
Gin Phillips on her new thriller Fierce Kingdom.
Watch the season 2 trailer for BBC America's Dirk Gently's Holistic Detective Agency adapted from Douglas Adams novels.
A Little Q&A: Kathleen Kent (I give authors I'm excited about five questions and let them answer any three they'd like.)
The Dime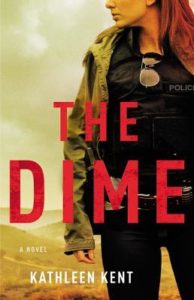 was a total surprise for me, in that it didn't go at all the way I thought it would–which is always a huge plus in this genre. It has a great mystery plot and an excellent detective who, while made of hard edges, also has heart. Betty Rhyzyk is carrying around the ghost of her uncle and trying to balance work with being a good partner to her doctor girlfriend. I was probably less than a 1/4 way into the book when I was already hoping that it would be turned into a series! (You can read my original review here and listen to Liberty Hardy rave about it here.)
And Here's Kathleen Kent: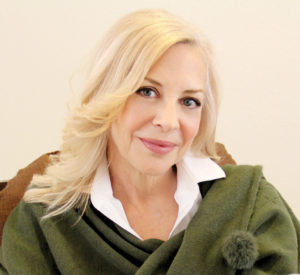 If you were forced to live the rest of your life as one of your characters, who would it be? "I would have to pick Detective Elizabeth (Betty) Rhyzyk, my lead character from The Dime. She does and says things that I think about doing, but don't have the nerve, or muscle strength, to accomplish. While I like to think that I'm fiercely loyal to my family and friends, and fairly pain tolerant, I'm a lousy marksman, tend to drive the speed limit, and take the middle way when confronted by Yahoos (Yankee speak for obstreperous, combative or willfully ignorant citizens)."
If you adapted a well-known book into a Clue mystery, what would be the solve? "Lisbeth Salander, tattooing gun, in the bedroom."
If you were to blurb your most recent book:  "If you don't love ferocious, courageous, never-say-die female detectives who don't like being 'tied down', don't read The Dime. Stick with Nancy Drew."
Thanks Kathleen! I can't wait for Detective Betty #2!!!!!!
Mic Drop Climactic Scene!
The Blinds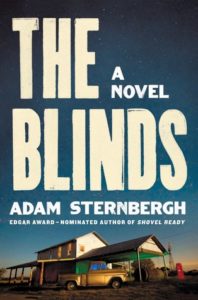 by Adam Sternbergh: Imagine a town so small, most people don't know it exists. Now place there criminals and innocents (those who witnessed crimes/testified, etc.) who have had different degrees of their memories altered so that they just don't remember the crime(s). That's The Blinds, as it's nicknamed. While the world knows about them–and the residents get to watch the news and have a delivery truck bring them supplies–they aren't allowed to contact anyone outside their town, or leave. Technically, they can leave, but if they do they can't come back and their previous life can find them. But how safe are they in The Blinds when there's been a suicide and a murder? Sternbergh does a great job of slowly unfolding the workings of the town and the people living in it while threading through a mystery that explores who a criminal would become if their crimes were erased from their mind. A fantastic read, perfect for mystery and crime readers, that is one of 2017's best releases.
I Poked Around The Kindle Summer Deals and Found You These Great Reads!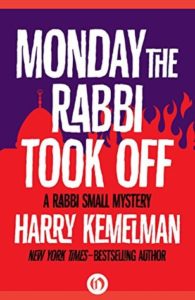 Monday the Rabbi Took Off (The Rabbi Small Mysteries) by Harry Kemelman for $1.99 (My review)
Blood Defense and Moral Defense by Marcia Clark (the first two in the Samantha Brinkman series) each for $1.99 (My review)
The Spellman Files: Document #1 by Lisa Lutz for $1.99
Browse all the books recommended in Unusual Suspects previous newsletters on this shelf. And if you like to put a pin in things here's an Unusual Suspects board.
Until next time, keep investigating! And in the meantime come talk books with me on Twitter and Litsy–you can find me under Jamie Canaves.