Happy Friday, slayers and spacefarers! Today we're talking about the Mercy Thompson series and Miles Morales, plus action heroines, kids fantasy books, space colonization, and more.
---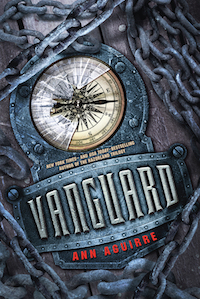 This post is sponsored by Vanguard by Ann Aguirre.
Ann Aguirre's bestselling Razorland saga continues with Vanguard!
Adventures almost never go according to plan, and when Tegan understands what her heart truly wants, it might change her life forever. . . .
---
We have an amazing new shirt celebrating four bad-ass ladies of science fiction and fantasy, and you could win one! That giveaway closes this Sunday, 8/13, so get clicking.
It's not looking good for our future on Europa: icy planets like it might skip a habitable period altogether, even if there is increased heat available from their suns. Back to the space-colonization drawing board…
Vulture has declared the 11 most influential action heroines; how do we feel about this list? I can't quite decide — it does have Ripley from Alien and Letty from The Fast and Furious, but where is Leia the Huttslayer?
In adaptation news, China Mieville's The City and the City is coming to TV! BBC Two has adapted it into a four-part drama. I don't know how to feel about David Morrissey as Borlú, but I am all about Mandheep Dillon for Corwi. Also, I need to reread it immediately.
Last week on SFF Yeah we talked about middle-grade fantasy and sci-fi, and this week has provided a 100 Best Middle-Grade Fantasy Books post as the perfect follow-up.
And of course, some whimsy: Powerpuff/Avengers mash-up perfection!
In today's reviews, we've got urban fantasy and a superhero novel (which, come to think of it, is not that far from urban fantasy).
The Mercy Thompson series: Moon Called, Blood Bound, and Iron Kissed by Patricia Briggs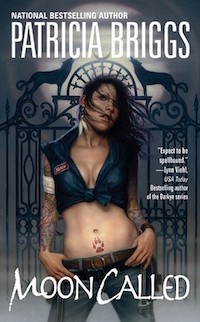 While I'm not a regular reader of urban fantasy, I am a diehard fan of a few series in particular. Kate Daniels what what! And there's no way I can stop reading the Dresden Files now that we're so close to the end. So it was with surprise I found I had been missing out on a great one: the Mercy Thompson books by Patricia Briggs. Thanks to the Insiders Forum, I have been shown the error of my ways.
Mercy Thompson is an auto mechanic with her own small shop, her ex-boss is some kind of gremlin, her neighbor is the Alpha of the local werewolf pack, one of her clients is a vampire, and she herself is a walker — she can turn into a coyote basically whenever she wants. Supernaturals represent! Humanity is only marginally aware of them, of course; while the Fae have gone public, werewolves and vampires are still undercover, and Mercy herself isn't eager to share her magical nature with anyone, be it local law enforcement or other beings. She's led a pretty low-key life since she left her adopted werewolf family, and she's trying to keep it that way. (Good luck with that, Mercy.)
What immediately sets Mercy apart from many other UF hero/ines is her lack of grumpiness. I love me a good cranky protagonist, but it's nice to have a change of pace from time to time. She's pragmatic; she's tough without being isolated or prickly; she's got friends and, while family is complicated for her, she's built her own found family. She's stubborn and independent, but knows when to back off and when to rely on others for help. She's got even got a sense of humor! If you can't tell, I adore her.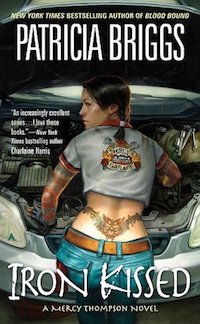 Moon Called is, as you might guess from the title, focused on werewolves; Blood Bound deals with vampires, and Iron Kissed with the Fae. While I could have used a heads-up about the rape sequence in Iron Kissed (consider yourselves warned!), on the whole I have enjoyed the Hel out of these books. The supporting characters are multidimensional, diverse, and important to the plot development; the ethnic representation is handled respectfully in as far as I am able to judge; and Mercy is the kick-ass heroine of my heart. While her path grows increasingly dark from book to book, and her life becomes more and more complex, she retains her spirit, her sense of humor, and her immense compassion and humanity. I just picked up Book 4 from the library, and look forward to continuing on.
Miles Morales by Jason Reynolds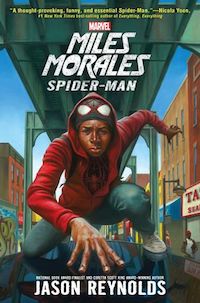 For the record, I have never read a Miles Morales comic and am not a Spider-Man fan in general. The odds of me watching a Spider-Man movie or read a Spidey comic are very low. (Although I will admit that Tom Holland's turn in Civil War made that fight scene an all-time favorite.) So why did I pick up this novel? Because I've read Jason Reynolds before, and was curious to see what this award-winning YA writer would do with a licensed character.
The answer is, what he does best! Miles, his family, and his friends are amazing: they are complicated, messy, real characters. Basically any chapter in which two people were having a real conversation was immediately my favorite scene, whether it was Miles and his parents, barbershop banter, roommate hijinks with Ganke, awkward flirting — it's all there on the page, and all fantastic. Miles's doubts and fears about his own role and abilities as a superhero feel genuine, and I would have loved to see this thread developed even further! Reynolds also takes a hard look at systemic racism, the prison industrial complex, and its affect on young people of color, which is not something you see every day (any day??) in comics.
If Miles Morales has a flaw it's that Reynolds is new to writing about superheroes, and the action sequences show it. But for me, the characters were well worth the read.
And that's all she wrote! If you're interested in more science fiction and fantasy talk, you can catch me and my co-host Sharifah on the SFF Yeah! podcast. For many many more book recommendations (including the occasional book club question!) you can find me on the Get Booked podcast with the inimitable Amanda.
Live long and prosper,
Jenn