Hello from beautiful Colorado, audiobooky friends,
This road trip has been quite the experience. I've driven through some of the most beautiful parts of the country and, honestly, I'm enamored. Well, I'm not enamored with the BUDBUGS that attacked me in a hotel in Santa Fe. Those little shits can suck it. (Please do not tweet your bedbug horror stories at me. I'm so paranoid about bringing them home. I've done all the things I'm supposed to do but I'm still scared. You may, however, tweet me reassuring pictures of puppies at any time. Also, you may tweet me other kinds of reassuring stories. Like, say, you went on a road trip once and then you slept in a bed-buggy bed and then everyone told you that you were definitely going to bring bedbugs home with you BUT YOU DIDN'T, feel free to tweet that story at me. Cuz I need it.)
---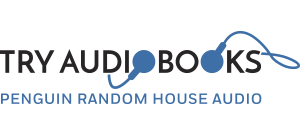 Sponsored by Penguin Random House Audio
The summer months are a great time for road trips with the whole family, but the car ride can get old…quick.  Listen to an audiobook the whole family can enjoy and your destination will arrive in no time!  Visit TryAudiobooks.com/Family-Travel for suggested listens and for a free audiobook download of MY FATHER's DRAGON!
---
BUT I'm trying to focus on the positive. And I have seen some truly beautiful places in the southwest. So for this week's newsletter, I'm doing something a little different. I'm going to pick one book from each state I visited on the way to Oklahoma, and next week I'll pick a book from each state on the way back.
What prompted this, aside from the beauty of the state I have traveled through, is a new (print) book purchase I made in New Mexico: Mary Miller's new collection of short stories, Always Happy Hour. Which reminded me how much I enjoyed my first exposure to Mary Miller, which was the audio version of The Last Days of California. So without further ado:
California: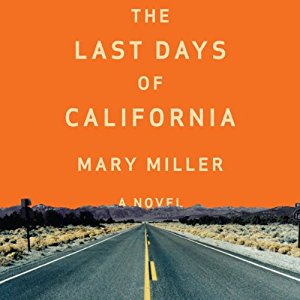 The Last Days of California by Mary Miller
This story about a 15-year-old girl with evangelical parents, a secretly pregnant sister and a road trip in anticipation of the End Days isn't YA, but it accomplishes what all good novels about teenagers should: it makes you remember being 15. It makes you remember that strange space where you're trying to understand the big, incomprehensible things adults do and the realizations that happen once you figure out adults are pretty much as clueless as anyone else. More than anything, though, it is a story of a family–-one that loves each other but is complicated and confused, just trying to make it through to the end of their journey.
Nevada: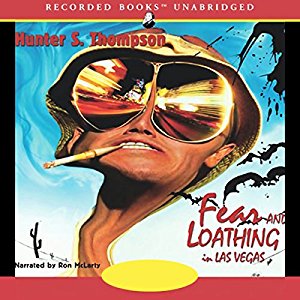 Fear and Loathing in Las Vegas by Hunter S. Thompson.
I challenge you to drive through the Nevada desert and not think about at least a few of the hallucinogenic scenes from Thompson's classic novel. Via the publisher: "In Las Vegas to cover a motorcycle race, Raoul Duke (Thompson) and his attorney Dr. Gonzo (inspired by a friend of Thompson) are quickly diverted to search for the American dream. Their quest is fueled by nearly every drug imaginable and quickly becomes a surreal experience that blurs the line between reality and fantasy. But there is more to this hilarious tale than reckless behavior, for underneath the hallucinogenic facade is a stinging criticism of American greed and consumerism."
Arizona: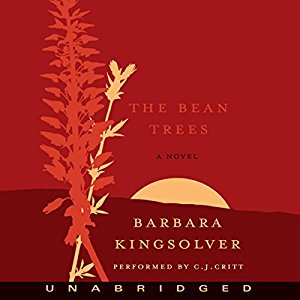 The Bean Trees by Barbara Kingsolver
I read this book Freshman year of high school and I fell in love with Kingsolver's rich prose.
"Clear-eyed and spirited, Taylor Greer grew up poor in rural Kentucky with the goals of avoiding pregnancy and getting away. But when she heads west with high hopes and a barely functional car, she meets the human condition head-on. By the time Taylor arrives in Tucson, Arizona, she has acquired a completely unexpected child, a three-year-old American Indian girl named Turtle, and must somehow come to terms with both motherhood and the necessity of putting down roots."
New Mexico: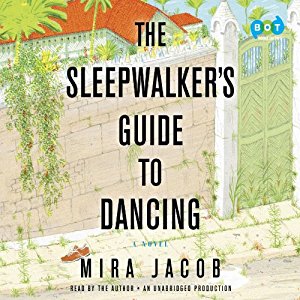 The Sleepwalker's Guide to Dancing by Mira Jacob
I haven't listened to this one personally but it comes highly recommended by Rioter Jess and it's read by the author (something Jess noted the author does very well). Here's what the publisher had to say:
"Celebrated brain surgeon Thomas Eapen has been sitting on his porch, talking to dead relatives. At least that is the story his wife, Kamala, prone to exaggeration, tells their daughter, Amina, a photographer living in Seattle.
Reluctantly, Amina returns home and finds a situation that is far more complicated than her mother let on, with roots in a trip the family, including Amina's rebellious brother Akhil, took to India 20 years earlier. Confronted by Thomas's unwillingness to explain himself, strange looks from the hospital staff, and a series of puzzling items buried in her mother's garden, Amina soon realizes that the only way she can help her father is by coming to terms with her family's painful past. In doing so, she must reckon with the ghosts that haunt all of the Eapens."
Oklahoma: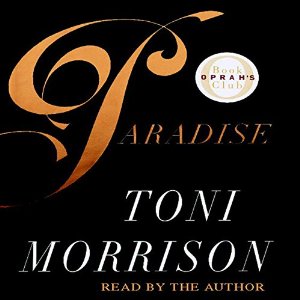 Paradise by Toni Morrison
It was harder to find an Oklahoma-based book, so this is an official call out to share any OK-based books you think are great. And you can't go wrong with Toni Morrison in the meantime. This is an abridged version of the book (boo!) but it's read by Toni Morrison (yay!) so maybe it evens out? "In Paradise, Toni Morrison gives us a bravura performance. As the book begins deep in Oklahoma early one morning in 1976, nine men from Ruby (pop. 360), in defense of 'the one all-black town worth the pain', assault the nearby Convent and the women in it. From the town's ancestral origins in 1890 to the fateful day of the assault, Paradise tells the story of a people ever mindful of the relationship between their spectacular history and a void 'Out There…where random and organized evil erupted when and where it chose.'"
New Books: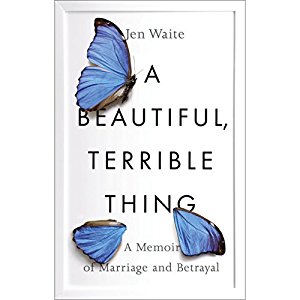 A Beautiful, Terrible Thing by Jen Waite
"What do you do when you discover that the person you've built your life around never existed? When "it could never happen to me" does happen to you?
These are the questions facing Jen Waite when she begins to realize that her loving husband – the father of her infant daughter, her best friend, the love of her life – fits the textbook definition of psychopath. In a raw, first-person account, Waite recounts each heartbreaking discovery, every life-destroying lie, and reveals what happens once the dust finally settles on her demolished marriage.
After a disturbing email sparks Waite's suspicion that her husband is having an affair, she tries to uncover the truth and rebuild trust in her marriage. Instead, she finds more lies, infidelity, and betrayal than she could have imagined. Waite obsessively analyzes her relationship, trying to find a single moment from the last five years that isn't part of the long con of lies and manipulation. With a dual time line narrative structure, we see Waite's romance bud, bloom, and wither simultaneously, making the heartbreak and disbelief even more affecting."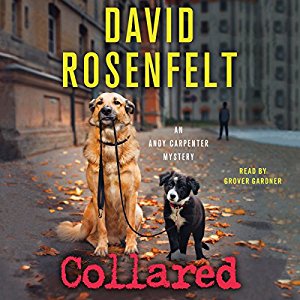 Collared by David Rosenfelt:
A MYSTERY IN WHICH RESCUE DOGS ARE SAVED?! SIGN ME UP (unless something terrible happens to the rescue dogs, in which case I will have nothing to do with this book).
"Lawyer Andy Carpenter's true passion is the Tara Foundation, the dog rescue organization he runs with his friend Willie Miller. All kinds of dogs make their way to the foundation, and it isn't that surprising to find a dog abandoned at the shelter one morning, though it was accompanied by a mysterious anonymous note. But they are quite surprised when they scan the dog's embedded chip and discover that they know this dog. He is the "DNA dog".
Two and a half years ago, Jill Hickman was a single mother of an adopted baby. Her baby and dog were kidnapped in broad daylight in Eastside Park, and they haven't been seen since. A tip came in that ID'd a former boyfriend of Hickman's, Keith Wachtel, as the kidnapper. A search of his house showed no sign of the child but did uncover more incriminating evidence, and the clincher that generated Wachtel's arrest was some dog hair, notable since Wachtel did not have a dog. DNA tests showed conclusively that the hair belonged to Hickman's dog. Wachtel was convicted of kidnapping, but the dog and baby were never found.
Now, with the reappearance of the dog, the case is brought back to light and the search for the child renewed. Goaded by his wife's desire to help a friend and fellow mother and Andy's desire to make sure the real kidnapper is in jail, Andy and his team enter the case. But what they start to uncover is far more complicated and dangerous than they ever expected."
In Case You Missed It on Book Riot:
A guest post from Carina Pereira making "THE CASE FOR REREADING ON AUDIO"
Audiobooks aren't cheating; in fact, they add extra dimension to already beloved favorites.
Until next week, I'm your itchy pal,
~Katie