Today's The Stack is sponsored by SUPERB and Lion Forge Comics.
Life is tough. Having superpowers is tougher.
In the fight for freedom, it's not enough to be different.
You have to be SUPERB.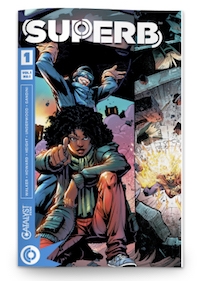 Teenager Kayla Tate is forced to move back to Youngstown, Ohio an "Event" Level 5 impact zone. Compared to her new life, returning to Youngstown is a step backwards. She has a strained relationship with her childhood friend, Jonah Watkins, school is a nightmare, and everyone is talking about the mysterious superhero and internet sensation, "Cosmosis," and his nighttime battles against the supposedly-benevolent corporation Foresight.
THE THIRD MONTHLY SERIES FROM THE CATALYST PRIME UNIVERSE!
A NEW UNIVERSE … A NEW GENERATION OF HERO!