Hello again, listeners,
Here's a riddle: How do you make a drive from San Francisco to Las Vegas (7-8 hours) fly by? You listen to Al Franken's new audiobook, Al Franken, Giant of the Senate. Granted, there are a lot of ways in which this book is tailor-made for me (thanks, Al! How'd you know?). I grew up following politics and that fascination has only increased in my adulthood. I also really love comedy. So a book about how a comedian got into the Senate is kind of a no-brainer.
---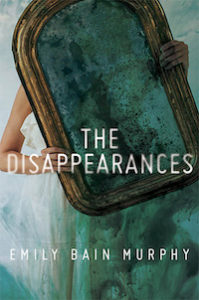 Sponsored by The Disappearances by Emily Bain Murphy, a HMH Book for Young Readers.
Every seven years something disappears in the town of Sterling: reflections…dreams…colors. When Aila arrives, she learns the town is cursed to lose experiences that weave life together…and the theory is that Aila's deceased mother, Juliet, is to blame.
Aila sets out to clear her mother's name with the help of George, whose goofy charm makes him a fast friend; Beas, the enigmatic violinist who writes poetry on her knees; and William, whose pull on Aila's heart terrifies her.
The Disappearances is a bewitching tale full of intrigue and dread that will leave you entranced.
---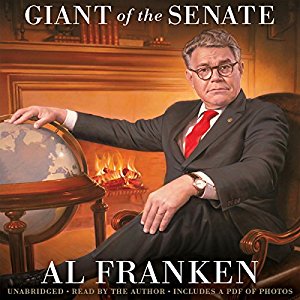 That said, there are tons of elements that make this book above and beyond the average book by a comedian or a senator. And make it so good on audio. First, Franken's first Senate campaign and election were bananas. I won't spoil it and some folks may remember it but either way, it's a helluva story. More than that, however, is the amount of behind-the-scenes detail Franken includes about the inner workings of the Senate. For example, Franken talks about how much work a senator's staff does that the senators gleefully take credit for. Sure, maybe that's something you already assumed, but the way Franken injects a sly (or sometimes not-so-sly) quip about the egos of all senators (including himself) is refreshing.
Some of the most hilarious moments of the book come when Franken describes trying to stop himself from making jokes on the otherwise humorless Senate floor. There's a particularly excellent scene in which he recalls the arguments of the devil and angel perched on his shoulder. I can't even remember what joke he debated saying, but both my road trip partner and I were SCREAMING with laughter.
For wonky political nerds like myself, there are many really juicy tidbits of political gossip (The Obama Campaign kind of gave the Franken campaign the cold shoulder?), as well as a healthy dose of self-awareness about the privilege of being a senator and how Sherrod Brown of Ohio told Franken "there's no whining on the yacht" and Al Gore told Franken to "suck it up," when he was getting raked over the coals in the press about something.
If you are, like me, the kind of person who watches Rachel Maddow every. single. night. This is the book for you. But even if you don't, it's probably the book for you. If you're unsure, just read the chapter called Sophistry. If that doesn't sell you on the book, probably nothing will. I actually listened to that chapter twice–-the second time immediately after the first–-just because it was so devilishly funny.
Franken gets serious about Trump and policy, and the policy chapters might be a bit long for those who aren't super into this stuff. But the rest of the book will make up for it, I promise. Plus, Franken really knows what he's talking about regarding these issues and we would all do well to listen up. So, that's why I dedicated this week's newsletter to Al Franken, Giant of the Senate. Give it a listen and let me know what you think at @msmacb on Twitter.
New Books:
Everything All at Once: How to Unleash Your Inner Nerd, Tap into Radical Curiosity and Solve Any Problem written and narrated by Bill Nye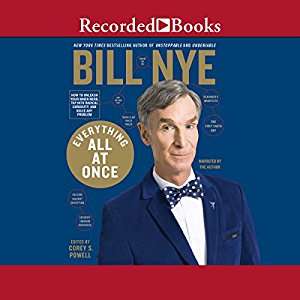 "Everything All at Once is an exciting, inspiring call to unleash the power of the nerd mindset that exists within us all. Nye believes we'll never be able to tackle our society's biggest, most complex problems if we don't even know how to solve the small ones. Step by step, he shows his listeners the key tools behind his everything-all-at-once approach: radical curiosity, a deep desire for a better future, and a willingness to take the actions needed to make it a reality. Problem-solving is a skill that anyone can harness to create change, and Bill Nye is here to teach us how.
Each chapter describes a principle of problem solving that Nye himself uses – methodical, fact-based approaches to life that aspires to leave no stone unturned. He explains how the nerd mindset leads to a richer and more meaningful life; far more than that, it can help address hunger, crime, poverty, pollution, and even assist the democratic process. Throughout the book, Nye draws on his own experiences – leavened with his trademark humor and self-deprecation – to show how he came to think like a Science Guy, and how you can, too. By the end, you will be ready to sort out problems, recognize solutions, and join him in changing the world."
The X-Files: Cold Cases by Joe Harris, Chris Carter, narrated by David Duchovny, Gillian Anderson.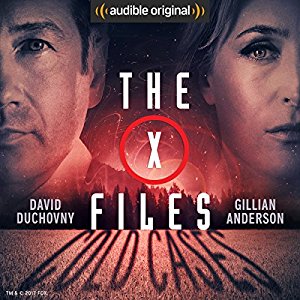 "Set after the events of The X-Files: I Want to Believe and providing additional backstory to the incidents that pulled Mulder and Scully out of reclusion prior to 2016's miniseries revival, a database breach at FBI headquarters allows an unknown group to access and capitalize on those investigations left unsolved – dubbed cold cases – by the secret department once known as The X-Files. As friends and foes of the agency long thought gone begin to inexplicably reappear, former agents Mulder and Scully come out of anonymity to face a growing conspiracy that involves not only their former department but the US government and forces not of this world.
Here, fans are treated once again to Mulder and Scully's irreplicable chemistry as only the series' leads could deliver, Duchovny's deadpan and cynical aloofness finding its natural counterpoint in Anderson's unwavering intelligence and rigidity. Appearances from series regulars and the actors who made them fan favorites round out this must-listen arc: the gruff, no-BS righteousness of Walter Skinner (Mitch Pileggi); the distinctive click-puff of the Cigarette Smoking Man (William B. Davis); and the stooge-like hijinks of three beloved conspiracy theorists called the Lone Gunmen."
What We Lose by Zinzi Clemmons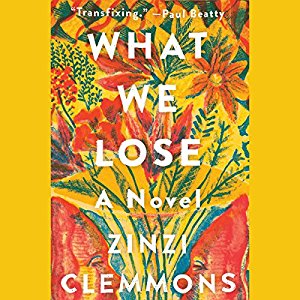 "Raised in Pennsylvania, Thandi views the world of her mother's childhood in Johannesburg as both impossibly distant and ever present. She is an outsider wherever she goes, caught between being black and white, American and not. She tries to connect these dislocated pieces of her life, and as her mother succumbs to cancer, Thandi searches for an anchor – someone, or something, to love.
In arresting and unsettling prose, we watch Thandi's life unfold, from losing her mother and learning to live without the person who has most profoundly shaped her existence to her own encounters with romance and unexpected motherhood. Through exquisite and emotional vignettes, Clemmons creates a stunning portrayal of what it means to choose to live after loss.
An elegiac distillation, at once intellectual and visceral, of a young woman's understanding of absence and identity that spans continents and decades, What We Lose heralds the arrival of a virtuosic new voice in fiction."
Book Riot Linking:
Rioter Emma discusses how—and which—audiobooks have helped her during a time of emotional and literal upheaval.
3 BAD AUDIOBOOKS I LISTENED TO DURING HOME IMPROVEMENT PROJECTS
We make mistakes so you don't have to.
WHY I DON'T LISTEN TO FICTIONAL AUDIOBOOKS NARRATED BY MEN
Narrators can make or break an audiobook, and male narrators who make female characters shrill definitely break them.
More links for your ears:
The Washington Post has a glowing review of David Sedaris' new book–-Audiobooks: David Sedaris reads his diary with relish for the absurdity of life
A list of the audio books narrated by some of your favorite actors—EW.com
How can I check if my eBooks have matching audiobook companions?–Audible.com – Help Center
Ok, this one is only kind of audiobook related, but whatever, I think it's cool: 4 text-to-speech apps that will read online articles to you
Former Vice President Al Gore, Shailene Woodley, Sterling K. Brown And More To Narrate The Audiobook Edition Of An Inconvenient Sequel: Truth To Power—That's all for this week! I'll be back in touch next week from somewhere on the road!
~Katie