Welcome to Mid-July, YA Fans!
This week's edition of "What's Up in YA?" is sponsored by Generation One by Pittacus Lore from Epic Reads.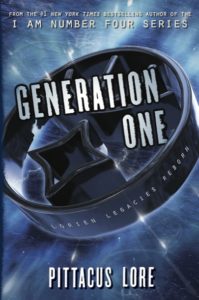 The first book in a new I Am Number Four spin-off series! It's been over a year since the invasion of Earth was thwarted. But now human teenagers have developed incredible powers of their own, known as Legacies. To help these incredible and potentially dangerous individuals, the Garde created an academy to train humans to control their powers and help mankind. But not everyone thinks that's the best use of their talents. And the teens may need to use their Legacies sooner than they thought. The war may be over—but for the next generation, the battle has just begun!
---
I don't know about you all, but as much as I love summer, this is about the time things feel like they're dragging a bit. One of the ways I seem to perk back up, though, is reading a lot of older YA titles. There's something about picking up a great backlist title or two or three to really help those long, lazy days.
A goal of mine over the second half of this year is to do a little more talk of backlist YA in this space. As much as it's exciting to highlight and feature new books, there's power in also picking up an older book and discovering something great. For those who are newer to YA books, too, it's a nice reminder that this category of books is at least 50 years old and has been full and vibrant through many periods of time, not just the present or due to a few Mega Blockbuster series or authors.
Which is to say, I'd love to hear what you as readers might find worthwhile. Do you want more booklists popping up here? More backlist bumps to new titles as they come up — in my mind, this might be noting that if you love Blair Thornburgh's recently-released Who's That Girl you'll definitely want to pick up Robin Benway's Audrey, Wait!  
Worth simply spotlighting recommended backlist reads from authors, writers, and other YA fans? If you have ideas or things you'd like to see as they relate to backlist YA — and I'm talking books more than a year old here, even beyond that since I see backlist as being more than a few years of a book being available — hit reply. I'll keep a list and pull from it to put something special and engaging together as we journey through the world or YA. I want to keep this newsletter as useful to you, the readers, as possible, so your input and suggestions are part of how I do that.
And, of course, those backlist features, whatever they look like, will have a hearty dose of inclusive titles. I've also encouraged the cadre of Book Rioters who love YA to poke around a bit more and build some resources for talking about older, but still excellent, books.
That's my sweet lead-in for this week's newsletter, which is a round-up of what we've been writing on site and what you may have missed.
Thanks for hanging out again and we'll see you next week.
— Kelly Jensen, @veronikellymars